Visit Napa Valley strategically manages tourism
Our goal is to maintain and increase leisure travel and spending in Napa Valley during nonpeak time periods, including November to April (Cabernet Season) and midweek, Sunday through Thursday nights.
On an ongoing basis we track visitor demographics, spending, length of stay and economic contributions to the community to show the true value of travel and why tourism benefits Napa Valley.
I've lived here my whole life. And I just feel like it's very neighborly and very warm and comfortable. Tourism has helped benefit us all. It's helped benefit my family.

Shanti
Reservations Coordinator
This is where I grew up and being in the hospitality industry has afforded me an opportunity to take care of my family and to raise my daughter in a place that I love.

Karen
Sales & Conference Services Manager
Wow, we do live in a great place. This is an awesome place. I have been here all of my life. I have family here.

Guy
General Manager
There's not much of a drawback to having a better economy. It's better for everybody all the way down from contractors, people who aren't even in the tourism industry.

Lyam
Front Desk Agent
I get to help the guests with things to do in the Napa Valley. It makes their day. It puts a smile on their faces. And at the end of the day puts a smile on my face.

Tammy
In-Room Dining Coordinator
The Napa Valley - it's an inspiration for you to do anything.
Napa is, for me it's my life. It's where I grew up and I thank the people that come visit us.

Alejandro
Estate Chef
We're creating new ideas and it's always evolving so that's the best part of all of it. There's never a stagnant moment in my career.

Jack
Bartender
We have so much great resources around us, there's a lot of inspirational people that really just push as hard as they can with the greatest products.
Jill
Mayor
Visit Napa Valley Strategically Manages Tourism
Visit Napa Valley is the destination management organization responsible for promoting our community as an attractive travel destination and enhancing its public image as a dynamic place to visit, live and work. Through the benefits of tourism, we strengthen the community's economic position and provide opportunities for our residents

Why Visitors Love Napa Valley
This word cloud, created from visitor survey responses, shows what visitors to the Napa Valley say is their favorite part about our region.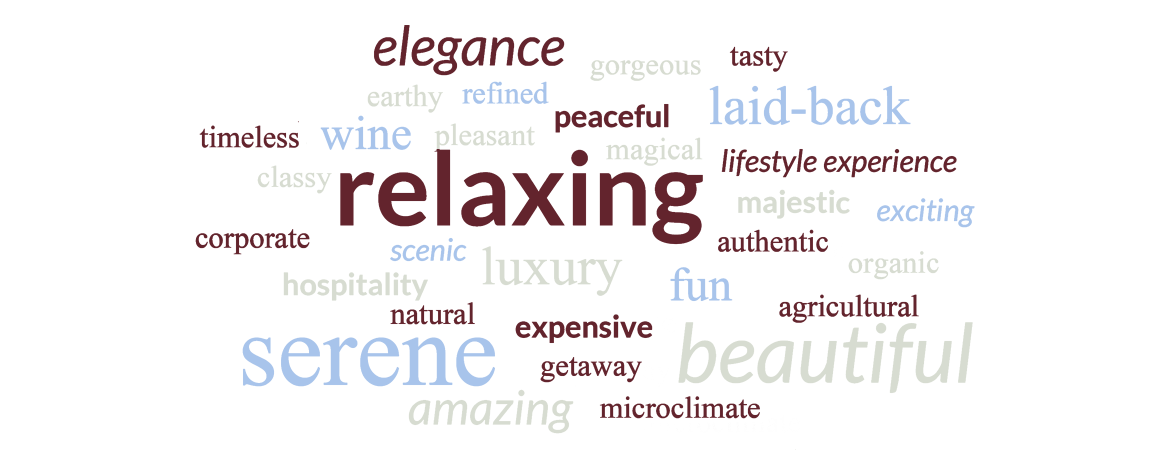 People of Napa Valley
Meet some of the diverse people at the heart of Napa Valley's tourism industry