Napa Valley is 100% open and welcoming visitors. Face masks are recommended but not required indoors. Some businesses may require masks, at their own discretion.
Celebrate the 2021-2022 Holiday Season in Napa Valley
We're celebrating the holidays in true Napa Valley style this season, and our five towns are aglow with twinkling lights and a wealth of good cheer.
This year, let's raise our glasses to the simple joy of gathering with family and friends to enjoy a taste of the good life. From festive family-friendly events and outdoor activities to intimate wine experiences perfectly punctuated with hearty seasonal fare, Napa Valley is filled to the brim with holiday spirit and there's never been a better time to visit.
Come join us for holiday lights and seasonal celebrations in Napa Valley's five towns.
What's Happening
in the Towns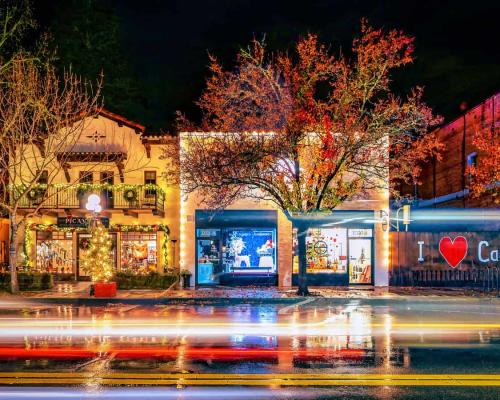 Calistoga
Bring the whole family to experience the cheerful town of Calistoga this holiday season. Festivities throughout the month of December include joyful holiday decorations, the much-anticipated return of The Lighted Tractor Parade, ugly holiday sweaters, merrymaking and tree lighting, plus 12 days of decorated storefronts and hidden tractors, a Holiday Village, and a Christmas Faire!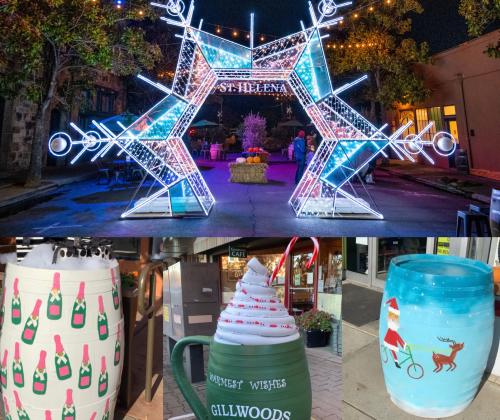 St. Helena
All is merry and bright in St. Helena! Head to Napa Valley's Main Street to soak in the festive vibes and snap the perfect holiday Instagram photos. A 30-foot holiday barrel tree and 26-foot lighted snowflake will light up the town throughout December, and families will enjoy a town-wide barrel hunt as well as holiday-themed events, special offers at St. Helena lodging, and visits with Santa himself.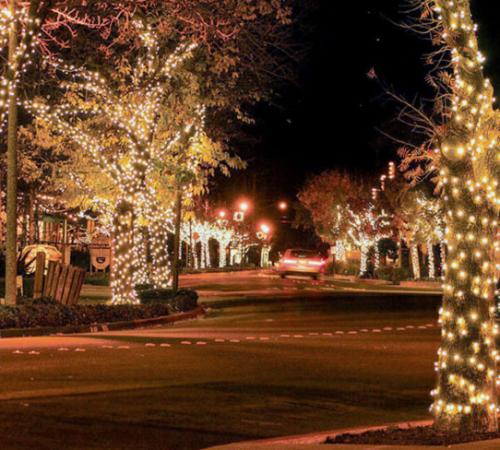 Yountville
The "brightest little town in Napa Valley" is pulling out all the stops with their annual Holidays in Yountville celebration. In addition to holiday lights all aglow, visitors can enjoy wine tastings and pairings, holiday painting events, wreath making, chocolate seminars, turkey and snowman hunts, holiday Wine Train experiences, letters to Santa for kids of all ages, photo opportunities at Santa's Village, New Year's Eve happenings and much more.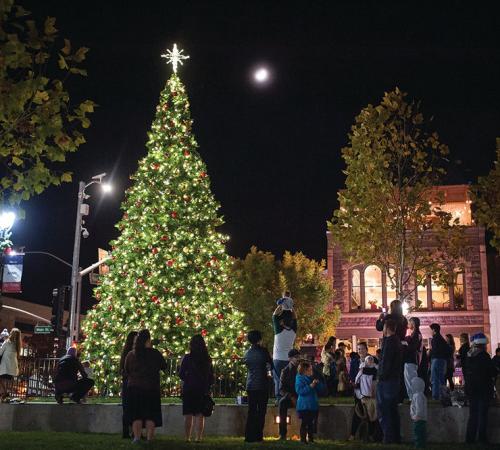 Napa
Holiday revelry abounds in the city of Napa this year. Kick the season into gear with the annual tree lighting, visit the all-new ice skating rink at Vista Collina, and delight in the return of Downtown Napa's annual Christmas Parade featuring Santa Claus as the guest of honor. Arts and culture aficionados will enjoy holiday shows at the Uptown Theatre and Blue Note Napa, and visitors and locals alike will find the perfect gift strolling the downtown boutiques.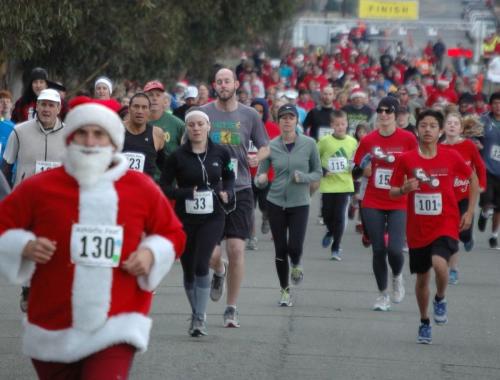 American Canyon
Enjoy the holidays alfresco in American Canyon this season. Lace up your running shoes for the return of the annual Reindeer Run through Wetlands Edge Park, gather with family and friends to watch the tree lighting ceremony, and take advantage of special holiday offers at American Canyon hotels.