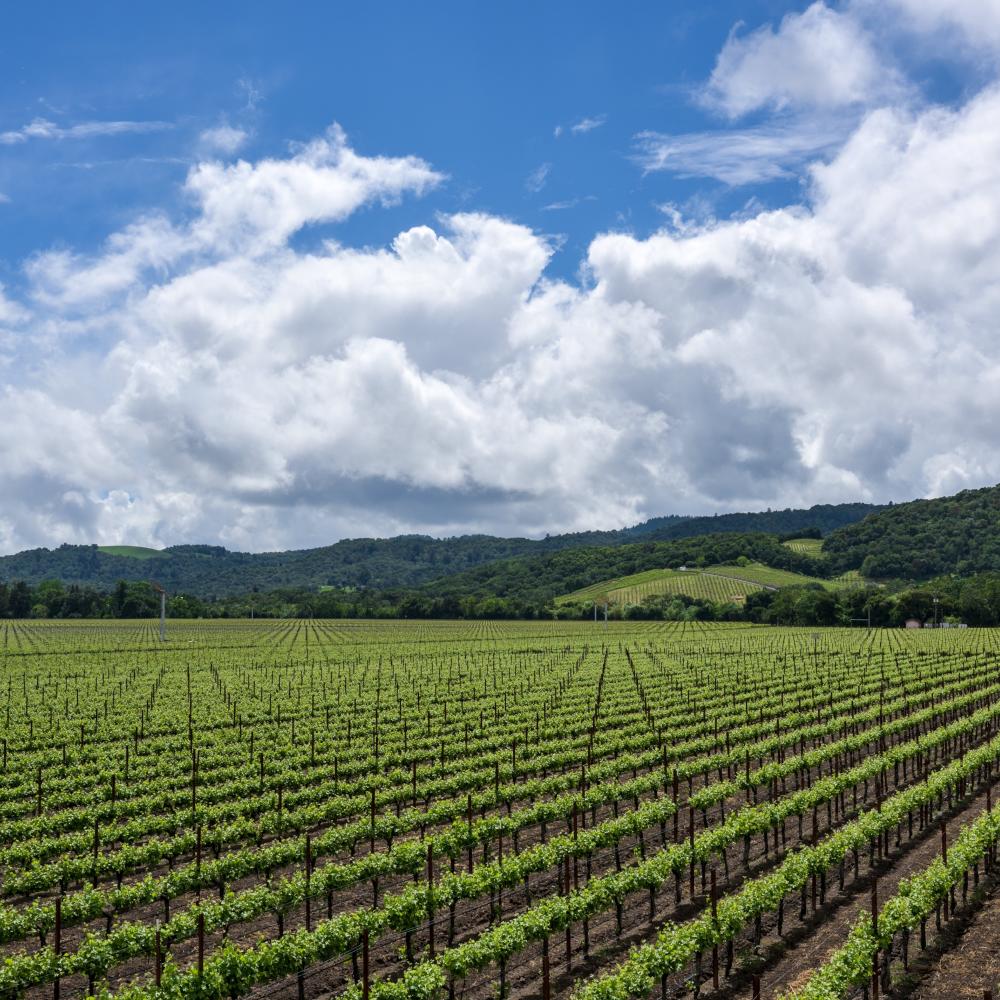 Napa Valley Weather
Come enjoy our near perfect Mediterranean climate
The Napa Valley is blessed with several microclimates that vary in temperature from one another, one of the reasons that such a wide range of wine grape varietals grow so well here.
As a whole, temperatures in the valley vary strongly between the early morning and the evening.
Throughout the year, depending on weather conditions, evening temperatures can be as much as 30 degrees cooler than daytime temperatures.
Daytime temperatures can vary as much as 10 degrees at the same time of day between the northern and southern portions of the valley.
Spring
(March – May)
Spring brings bud break to the vines and bursts with an unbelievable bouquet of color. The valley is scattered with new blossoms and lush green mountainsides from the winter rains.
Average High/Low: 68°F / 47°F
Average Rainfall: 1.8"
Summer
(June – August)
Summer will lure you with golden hills, verdant vines and the warmth of the sun. Summer is when the grapes really start to grow in and by August, harvest begins throughout the valley. Evenings can be cool even in summer, so bring a sweater for outdoor dining.
Average High/Low: 82°F / 55°F
Average Rainfall: 0.08"
Fall
(September – November)
The fragrance of "crush" and a vineyard patchwork of golds and greens celebrate Autumn. By late fall, usually around November, the leaves turn a vivacious yellow and red, making the Napa Valley a must-see fall foliage destination. Make your reservations early for this very popular time of the year.
Average High/Low: 78°F / 49°F
Average Rainfall: 1.5"
Winter
(December – February)
Winter rains pour a few days at a time and are followed by days of brilliant blue, sunny skies, transforming the Napa Valley into many shades of emerald green. Winter can be one of the most beautiful seasons in the valley, with rows of brilliant yellow mustard giving inspiration to a season-long celebration known as Cabernet Season.
Average High/Low: 60°F / 42°F
Average Rainfall: 5.3"
Year Round Packing Tips
Be sure to bring these essentials year round: camera, sunglasses and sunhat. Pack sunscreen in the spring through fall, and an umbrella and rain jacket during winter and early spring.
The style — elevated and effortless – a skirt and blouse / nice trousers for exploring wineries during the day. A dress shirt is perfect for dining out or a night on the town. A versatile crossbody bag is helpful too – you don't want to juggle a big bag and a glass of wine.
The shoes — comfortable flats, stacked heals or wedges, or walking shoes – many wineries have standing tastings at a bar, and tours often include a lot of walking on various terrains.
Layer, layer, layer — since the temperature varies throughout the day, layering is often your best bet for staying comfortable. While daytime is sunny and warm, the temperature always cools down quickly in the evening. A jacket is essential at dinner time.
Spring & Summer — sun dress with a cardigan and sandals / shorts, button down shirt and loafers.
Fall & Winter — scarf, denim, sweater and boots (denim is acceptable year round).