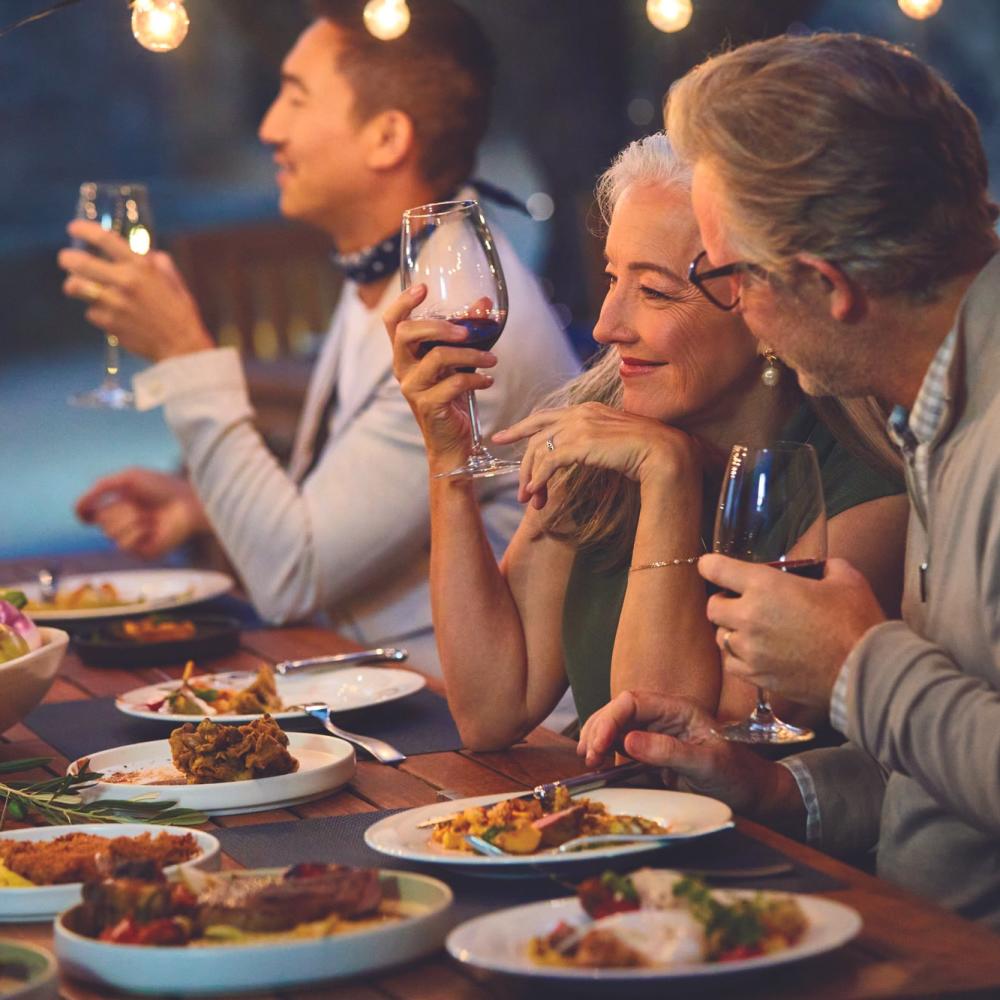 Find Your Dining Personality
Which Napa Valley restaurants appeal to your taste buds?
Welcome to foodie heaven! With more than 150 restaurants and eateries across Napa Valley – from taco trucks to Michelin-rated restaurants – you'll have a wide array of flavors to savor during your stay. And, even better, many focus on local and seasonal ingredients, which are a plenty in the valley!
With so many options to choose from, and with price points suitable for any budget, there is a foodie experience for everyone who visits. To aid in your quest to relish as many bites in Napa Valley as possible, we've curated a restaurant guide with distinct groupings and highlighted a handful of delicious eats for each.
For many locations, reservations are recommended, especially during weekends, holidays, and the peak season (May–September).
Bon appetit!
What's Your Favorite Cuisine?
Which Eatery Is
Right For You?
Food Trucks
Your Personality: You know that some of the best local eats are found on four wheels and have cult-like followings. You're aware some of the most authentic Mexican, heftiest burgers, and finger-licking-good fried chicken is served in tin foil and paper trays. You want in on that quick, affordable grub that is so tasty, there's a (fast-moving!) line down the sidewalk.
Bottom line: You want to sample some of the tastiest, budget-friendly local eats without a reservation.
Sandwich Shops & Takeaway
Your Personality: Your perfect lunch is the straightforward (or creative!) ingredients between two slices of bread. You want a savory and filling meal, without the fuss. You're in a hurry to make your next wine tasting or want to grab some tasty grub for a picnic.
Bottom line: You're on the move and looking for classic deli items, gourmet sandwiches, finger-foods, or ready-to-eat dishes.
Casual Eats
Your Personality: You want an easy-going dining experience that's delicious without the frills or dollar signs. Either counter or table-side service works for you. You had a big lunch and want a chill dinner, or vice versa. Today is casual – from what you're wearing to what you're eating.
Bottom line: Consistently good and chill, it's a memorable meal without the frill.
Local Favorites
Your Personality: You know the locals know best – so that's where you'll dine too. You heard that the ahi tuna burger, the Mongolian pork chop, and the tomato soup in puff pastry are must-eats. You'll sit at the bar so you can eavesdrop on the best menu items. You watch the dishes going by you and chat up the waiter for recommendations before you order.
Bottom line: You want to travel like a local – the hidden gems and the local watering holes are your kind of place.
Surf & Turf (Seafood & Meat Lovers)
Your Personality: You're not far from the coast and you want a taste of its bounty. You love sushi and white wine pairings. Or maybe you're the type that hears "tongue", "cheek", "shoulder", and "ribs", and thinks of cuts of meat.
Bottom line: From raw bars to sushi to burgers and ribeye – you want an unforgettable gastronomic experience, and all the better with both land & sea ingredients.
Inspired Cuisine
Your Personality: As a gourmand, you seek out inspired cuisine when visiting new places. You enjoy sophisticated dining experiences with seasonally inspired menus and top-quality ingredients.
Bottom line: Napa is a foodie hub, and these restaurants are not to be missed.
Fine Dining Splurges
Your Personality: If it's Michelin-rated, you have to try it. You're celebrating and want to share the ultimate dining experience. We had you at "Chef's Tasting Menu." You're looking for epic eats and are ready to splurge.
Bottom line: Whether you're a serious foodie or celebrating a milestone, an exquisite refined dining experience is on your trip itinerary.