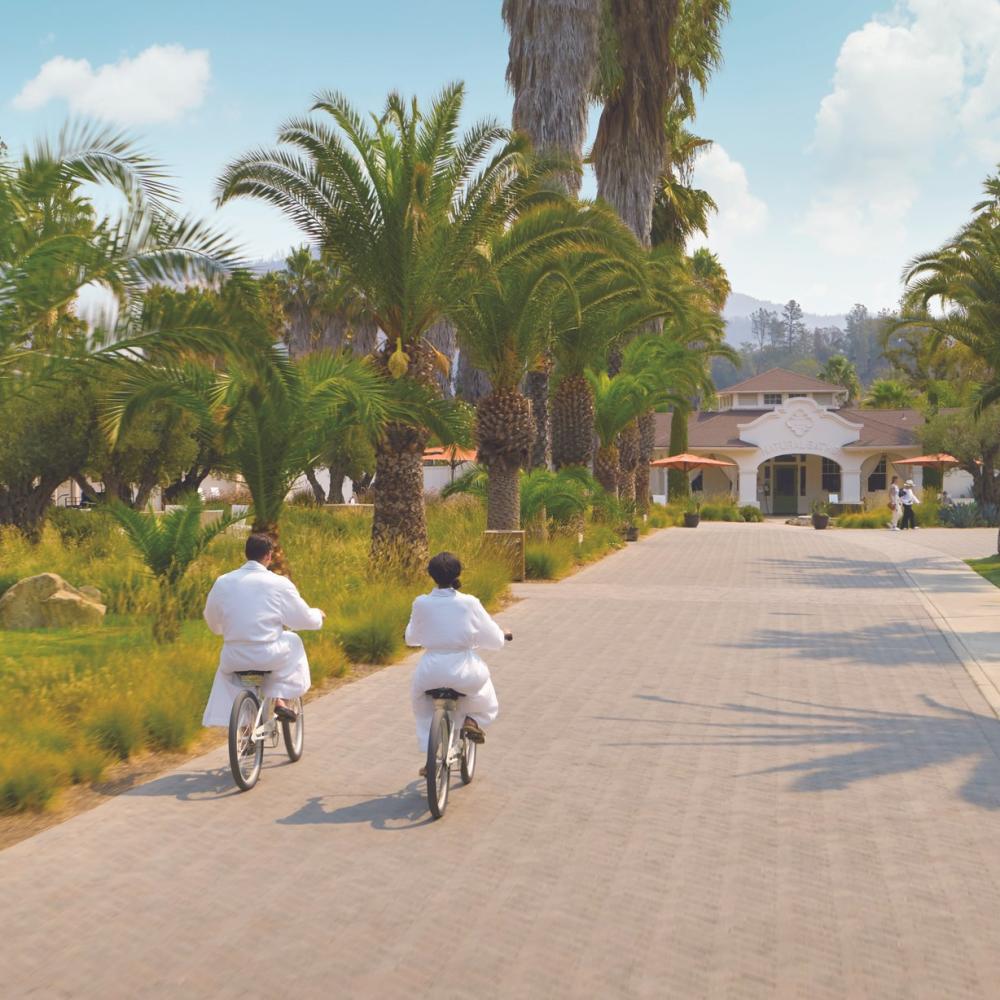 Find Your Lodging Personality
Which Napa Valley lodging spot is right for you?
Delight in the beauty of Napa Valley! With more than 120 lodging properties throughout Napa Valley – ranging from efficient to luxe, practical to full service, and urban to private escape – there certainly is an array of accommodations to suit any style.
After the wine has been tasted, the meal enjoyed, the shopping completed, the hike accomplished, and the spa treatments relished, where will you call it a night? We've compiled a list of some of the many options you might consider based on your preferred "lodging style" and needs.
Peak visitation in Napa Valley occurs May - October. Staying for multiple days? Check if your desired hotel provides special offers for longer stays.
Your room is ready!
Which Accommodation Is Right For You?
Efficient & Practical
Your Personality: You are no nonsense and aren't one for grand, showy affairs. You appreciate methodical, tried-and-true practices. You take pride in your easy-going, hassle-free nature. You find that experiences, not things, are what makes life go around.
Bottom line: You have places to go and people to see and you won't be bogged down with seemingly inconsequential stuff – a straightforward stay is what you're looking for.
Approachable & Established
Your Personality: You are a creature of habit (hey, who switched the coffee brand?!) and surprises are not your cup of tea. You take comfort in never having to reinvent the wheel – that was done eons ago and why change perfection.
Bottom line: You're in your comfort zone when you know what to expect, especially when you want to feel at "home" away from home.
Entourage Friendly
Your Personality: Your idea of an "intimate gathering" involves 50 of your closest friends. Your best vacations are those on which your kids have joined you, and maybe even your parents. Your motto is "the more, the merrier." You know there's no "I" in team.
Bottom line: The best vacations are spent with family and friends, and you need lodging that can not only accommodate everyone, but keep them happy!
Historic & Cozy
Your Personality: You love the nostalgia of turn of the century architecture. You enjoy sipping a glass of wine on the porch or in the back garden. You like to chat with your hosts over a home-cooked breakfast to really learn about what's going on around town. Vacations are meant to be spent at a luxurious, cozy spot where you can unwind.
Bottom line: You want a cozy retreat with warm hospitality and an at-home vibe.
Urban Chic
Your Personality: You like to be where the action is. You like to enjoy a cocktail and the sunset from a buzzy roof deck and then walk two blocks to the best dining spot in town.
Bottom line: A stylish room with a downtown view is your go-to.
Wine Country Charm
Your Personality: You're a romantic soul. You crave lush vineyards, babbling creeks, tranquil gardens, and reflective river scenery. You appreciate the unique character of buildings and interior design.
Bottom line: A delightful atmosphere that exudes charm is precisely what you seek while on vacation.
Secluded Escape
Your Personality: You have a keenly tuned ear for peace and quiet. Your must-have accessory is a pair of dark sunglasses because they're perfect 24/7 and 365. Your social media handle is a pseudonym.
Bottom line: You want a serene, private spot to retreat to and peacefully enjoy your time off.
Refined Luxury
Your Personality: You appreciate quality over quantity. You lead a busy life, but know how to slow down and make the most of your downtime. You want a luxurious resort that caters to you – whether that's assistance with reservations, exceptional on-site dining, wellness treatments, cocktails and cabana time by the pool, or turn-down service.
Bottom line: You're serious about vacation and are ready to splurge.