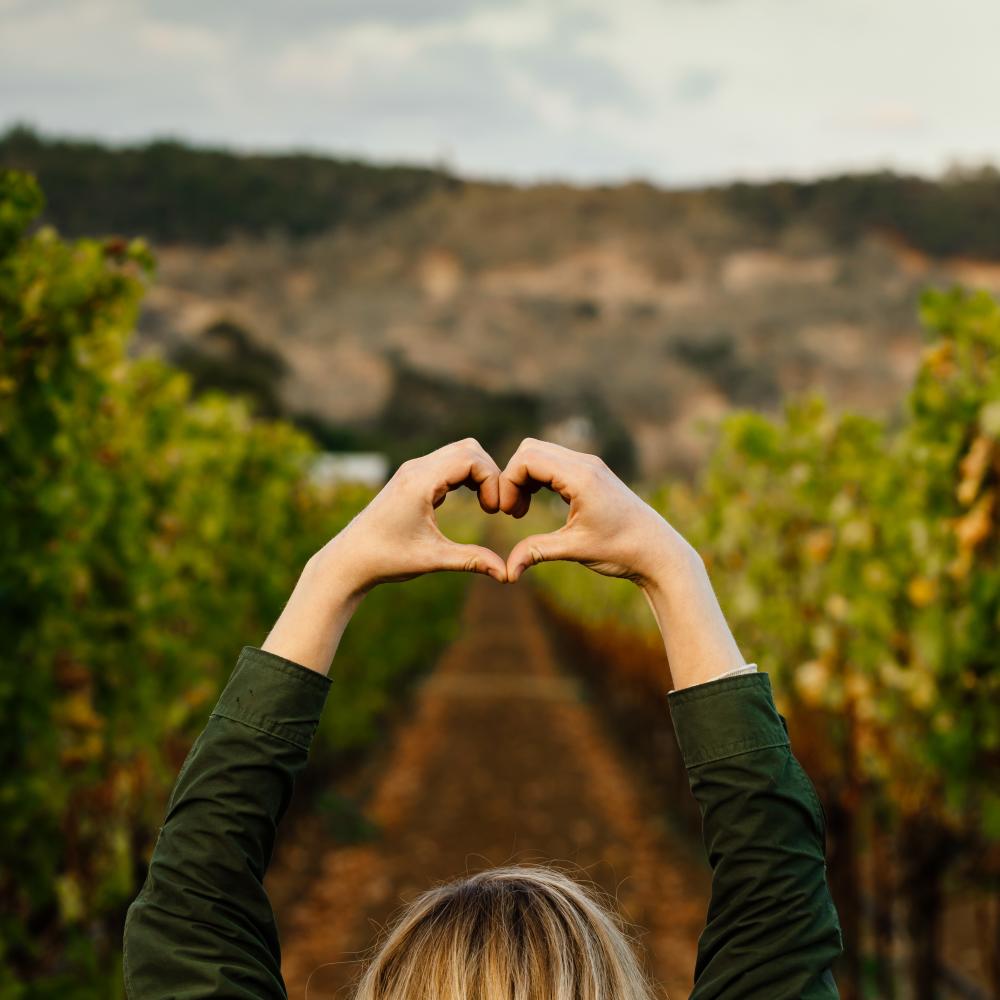 Sustainable Travel in Napa Valley
We love sharing our valley with you, and we hope you treat it as home, so we can share it with visitors for years to come
With seemingly endless rows of vineyards, luscious grapes peeking through the vines, and magnificent mountain ranges on either side of this wine-filled oasis, Napa Valley is easily one of the most beautiful destinations in the world.
The wineries, restaurants, and hotels within the valley have made sustainable and eco-friendly practices a priority, having embraced conservation and land stewardship for more than 50 years, meaning it's basically in our nature.
In 1968, Napa Valley was designated America's first Agricultural Preserve. Translation? The valley's sweeping landscape is set aside for growing — not building.
Here, you'll find useful tips on how to be a sustainable traveler, a list of some of our green wineries and most eco-friendly hotels, and information on conscious transportation. We know sustainability is just as important to you as it is to us, so please help us in protecting the region's natural beauty.
Although the vineyards seem to call for long walks through them, the delicate balance of the vines, earth and cover crop beg to remain untouched.
Buy local goods and produce at our Farmers' Markets - the city of Napa's is held year-round on Saturdays.
Rent a bike or walk when convenient, the Napa Valley Vine Trail connects the city of Napa and Yountville.
When hiking, stick to marked trails - it's safer for you and preserves your beautiful surroundings.
Drive an electric vehicle - Napa Valley has many charging stations throughout the valley. Many hotels, wineries and public parking spaces, as well a supercharger stations at Napa Premium Outlets and Allied Clean Fuels in south Napa.
Pack it in, pack it out. Don't leave trash behind at parks, wineries, etc.
Always have reusable bags in your car for all of the purchases you're sure to make!
Green Wineries
There are more than 90 Napa Green Certified Wineries, and the Napa Valley is home to 40% of all certified sustainable wineries in California.
Many of the Napa Valley's most iconic wineries pride themselves not only on making exceptional wines, but on being sustainability leaders. From soil to bottle, Napa Green Certified vintners make a long series of thoughtful decisions that steward the land and conserve resources:
Stewardship from Soil to Bottle
1
All Napa County vineyards and wineries are situated within the Napa River watershed, teaming with life.
2
The leaders and stewards recognized as Napa Green Land have developed a custom Farm Plan focused on preventing erosion and keeping soils where we want them – in the vineyards.
3
Vineyard managers evaluate pesticides used in the vineyard (generally minimal) and work to ensure they are using low- or no-risk inputs.
4
In the winery a "Green Team" works to integrate sustainability throughout the whole facility – including crush pad, tanks and barrel cellars, caves, staff offices and the tasting room.
5
Awareness and monitoring of all activities is important, including water used for tank and barrel cleaning, efficient lighting and other resource saving technologies.
Did You Know?
Rutherford AVA Leads the Way in Sustainable Winegrowing
Rutherford is the first appellation to achieve 100% participation in the Napa Green Land program.
Other certifications you might see for our wineries
Organic — The wine is either made from organically grown grapes, without any added sulfites, or it's made from certified organically grown grapes.
Biodynamic — Farming avoids synthetic chemicals and views the vineyard as an entire ecosystem. Wines are made without common manipulations such as yeast additions or acidity adjustments.
LEED certification — The winery itself has been built and is operated in an ecologically sound manner: sustainable site development, water savings, energy efficiency, material selection, and indoor environmental quality.
Eco-Friendly Lodging
Napa Valley has helped put green luxury on the map. While the majority of our hotels and resorts are committed to sustainability, water conservation, and green housekeeping practices, a handful of properties go above and beyond when it comes to eco-friendly amenities.

Tips for how to be sustainable during your stay
You don't wash your sheets every night at home, so maybe skip the daily wash and do it every other day — the same goes for towels.
Have a chat with the front desk or housekeeping staff to see what sustainability policies they already have in place that you can take advantage of.
Separate your trash and recycling. If your room doesn't have two separate bins, ask for another from the front desk.
Bring your own reusable water bottle, and when you need some water, ask the staff to bring up a pitcher so you can have water along for the wine tasting ride, without wasting any plastic. (Most wineries provide water along with a tasting, so no need to carry around a water bottle if you don't want to.)
Did You Know?
Bardessono, in Yountville, is one of the few Platinum LEED-certified (the highest standard for environmental design) hotels in the United States.
Conscious Transportation
Transportation is a must when you're looking to explore any destination. Luckily, the Napa Valley has various ways to get around, that don't involve a car. Plus, the temperate climate means that for much of the year, you can get around enjoying the fresh air.
Rent a Bike Or Take The Napa Valley Vine Trail
Whether you're traveling solo, as a couple, in a group of friends, or with kids, you should check out the Napa Valley Vine Trail. From Napa to Calistoga, there are bike rental shops to outfit you with your own wheels. The Napa Valley Vine Trail will take you from downtown Napa 15 miles north on a continuous, level bike path to Yountville. And, there's plenty to do along the way!
Or head out from one of the up-valley towns and explore the crossroads between Highway 29 and the Silverado Trail. Cycling among vineyards out in the fresh air is one of the best possible ways to experience the valley. Just remember that bikes and alcohol don't mix any better than drinking and driving cars!
Ride the Rails
The Napa Valley Wine Train is a great way to see the lower half of the valley (from Napa to St. Helena) from the comfort of a vintage railway car. The train departs downtown Napa and takes you on a 36-mile round-trip journey to St. Helena and back, stopping at notable wineries along the way. You can choose from several featured experiences, including the Castle Winery Tour, Romance on the Rails, and the Grgich Hills Estate Evening Winery Tour. Each includes a multi-course gourmet lunch or dinner and private-label wines.
Take a Tour Or Carpool
Sit back, relax, and let the local experts whisk you around the Napa Valley. Your options are vast, from riding around on a bicycle, electric tuk-tuk, or a private tour in a town car, limo or party bus with your friends. If you want to take a car, make an effort to carpool if you're all headed to the same destination. If you're at a hotel and calling an Uber, use Uberpool.