Joshua's passion for wine brought him to the Napa Valley and cemented his career choice as estate winemaker at Pine Ridge Vineyards. Learn more about his journey and why he chose to live and work in the Napa Valley below. 
Name: Joshua David Mendoza Widaman  
Job: Estate Winemaker at Pine Ridge Vineyards 
Hometown: Columbus, OH 
Education: Bachelor of Science in Viticulture & Enology from UC Davis & Master of Business Administration in Wine Business from Sonoma State 
Q: Describe your path working in the tourism field. 
Growing up in Southern California, I never thought you could actually have a job where you make wine for a living. I lucked out in college when a friend from the Central Coast told me of a magical place where you could actually get a degree in it. Working my first harvest in the Stags Leap District, I found a career that was the toughest job that I had ever had, but it was also the most rewarding. For the 20+ harvests since, I have followed my palate to be a part of teams that craft some of the best wines on the planet. 
Q: What do you like most about working in Napa Valley? 
I get to work where other people go for vacation! How great is that!?! Oh yes, I also get to walk vineyards (tasting winegrapes) and wine caves (tasting wine barrels) for my job. 'Nuff said. 
Q: How does being a member of the Latinx community impact or inspire your work? 
On a daily basis, I work alongside Latinx people that are 1st, 2nd and 3rd generation Californians like myself and my family members. All of us succeed as a result of our hard work and determination. I am constantly inspired by my teammates that always continue to strive to do better against all odds. This reminds me of what my family did to put me in a position that allowed me to get to where I am today. 
Q: Is there anything you'd like visitors to know about the Pine Ridge Vineyards and/or Napa Valley? 
When you first pull onto the estate where our winery and tasting room are located, the verticality of our vineyards will give you a feeling of our eccentric spirit. It is this pioneering mindset that led us to where we are today. We have almost 160 acres of estate vineyards located throughout Napa Valley (Howell Mountain, Rutherford, Oakville, Stags Leap District and Carneros) and 7/10ths of a mile of caves where we age our wines in barrel. If you're not blown away by the selection of wines from distinctive terroirs and grape varieties grown throughout the valley, you'll be spellbound by the sheer audacity of our network of caves.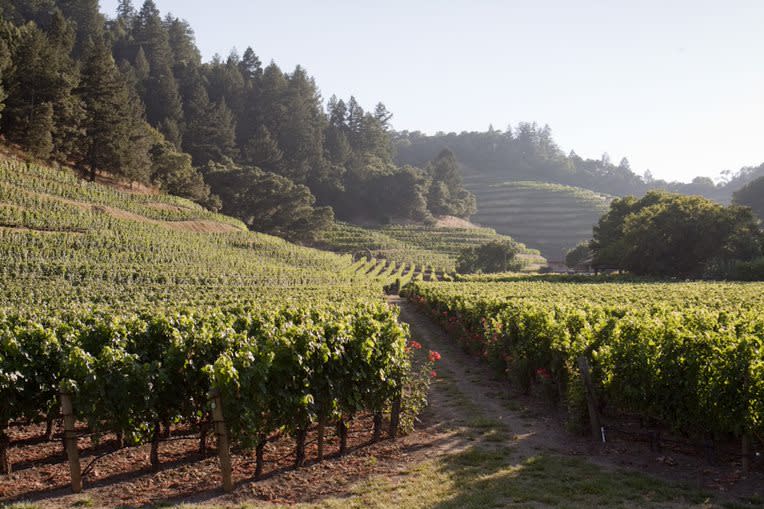 Photo credits: Crimson Wine Group 
Q: What are you most proud of? 
I am most proud of my wife and the family that we have created. It's not easy being a full-time Mother and college professor, especially when your partner is off tending vineyards, crafting wines and going on sales trips most of the year. Truth be told, it isn't that easy for our son and daughter putting up with their parents' busy schedules either. That being said, we somehow find a way to savor our moments that we do get together, and I believe that we are ready to take advantage of the challenges and see the promise in each and every day.   
Q: What are your goals in the industry? 
1.     To make some of the best wines on the planet. 
2.     To leave this world a better place than I found it. 
3.     To be a better coworker/friend/family member each and every day. 
4.     To have fun while doing it!!! 
Stay tuned to meet more of Napa Valley's diverse tourism business community! 

Joshua's favorite things to do in Napa Valley (apart from making wine, of course): 
Mountain biking from Skyline in South Napa to the Oat Hill Mine in Calistoga
Grabbing food at Oxbow Market and seeing concerts at the Oxbow Commons 
Happy hour at the R+D fire pits