Whether you're planning your first trip or your fifth, we've curated the best ways for you to splurge and save on your next Napa Valley vacation.
With hundreds of wineries and tasting rooms, and dozens of restaurants, it can seem overwhelming to choose. We'll help you narrow down your list no matter what your budget.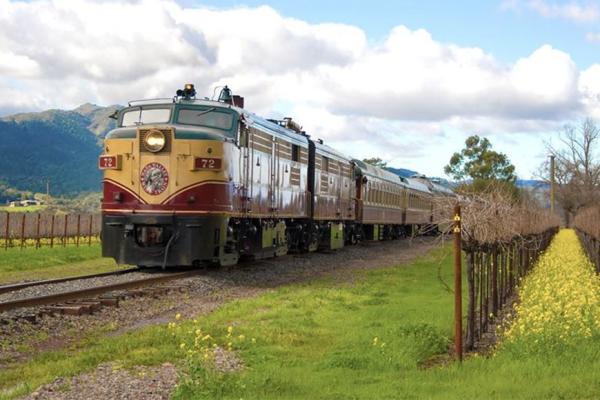 Napa Valley Wine Train
Splurge
Start the day in the best possible way — gliding over vineyards with Napa Valley Aloft Balloon Rides. See the sunrise, snap Insta-worthy pics, and marvel at the beauty of the land. Back on solid ground, toast to your epic morning with mimosas and a light breakfast in Yountville.
Book the Quattro Vino Legacy Tour on the Napa Valley Wine Train for an indulgent, three-hour journey through the valley. Enjoy a four-course meal, plus private tours and tastings at Robert Mondavi, Charles Krug and V. Sattui wineries.
After your day of wine tasting, see a show at The Napa Valley Performing Arts Center at Lincoln Theater, which hosts renowned artists, musicals and Symphony Napa Valley concerts.
Wineries & Tasting Rooms
Want to see something jaw-dropping? Book an appointment at Hall Rutherford for a tasting of their three appellation-designated wines and enjoy the view in their spectacular Chandelier Cave adorned with dazzling Swarovski crystals.
If you're looking for a little privacy, the new Sparkling Suite at Domaine Carneros gives couples an opportunity to book their own private château balcony overlooking vineyards. The Suite includes a private tasting for two of Domaine Carneros sparkling wines and Pinot Noirs, paired perfectly with caviar, charcuterie and all the necessary accouterments.
Restaurants
As evening approaches, arrive early for your reservation at The Restaurant at Meadowood, a Michelin three-star restaurant, to take in the beauty and elegance of the property.
For more Michelin star power, try Kenzo in downtown Napa. The sublime, rich flavors of veritable Japanese Edomae Sushi and Kaiseki delicacies are created with premier and unique seafood selections from the world's most acclaimed fish market, Toyosu, flown in daily from Japan, to delight all the senses.
Bars
If you are looking to wind down your evening with an elaborate cocktail designed by master mixologists, try one of these luxurious bars:
Solbar, in Calistoga, delights guests with a vibrant bar featuring creative cocktails developed by a well-trained bar staff, complimenting Solbar's renowned cuisine.
For a classic experience, the basement speakeasy bar at Goose & Gander in St. Helena offers more than 40 craft cocktails, each made with handcrafted ingredients.
Celebrity Chef Michael Chiarello's Bottega Napa Valley in Yountville prides itself on a knowledgeable bar staff known for mixing craft cocktails to enhance the dining experience either at the indoor, energetic bar, or outside on the restaurant's patio, enhanced with oversized, comfortable furniture and cozy fire pits.
Miminashi, Napa's Japanese style Izakaya restaurant, features one of Napa's most popular bars, mainly because of their famous "Rolodex of Cocktails," featuring 125 new and classic cocktails expertly described on several rolodexes found on the restaurant's lively, u-shaped bar.
In fast-growing American Canyon at the south end of the valley, visitors may imbibe at Table 29 Bistro & Bar at the Doubletree Hotel & Spa, where the bar program features cocktails crafted with locally made gin from the city's award-winning Loch & Union Distillery.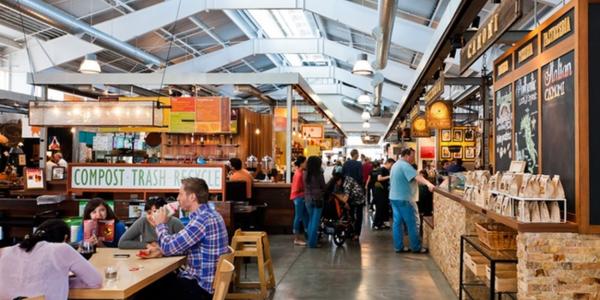 Oxbow Public Market
Save
Walking paths, including the Vine Trail, line the Napa River, making it a gorgeous place to watch the sun rise. Stroll to Oxbow Public Market and grab breakfast from Model Bakery (we suggest their legendary English muffins).
Pop by the Chuck Williams Culinary Arts Museum at The CIA at Copia to see thousands of specialty cooking artifacts.
Want more history? Check out the Napa Valley Museum Yountville's three galleries showcasing local history and art.
Wineries & Tasting Rooms
Find a proper introduction to wine country by booking Beringer Vineyards' Legacy Cave Tour to explore the oldest continually operating winery in California.
Looking for a home-away-from-home? Stop by Bennett Lane Winery in the quaint town of Calistoga. This family-run winery may be small, but they have over 60 wines that have been rated 90 points and above.
If you want to skip a tasting fee, head over to Sutter Home Winery, where you can taste a variety of wines in a historic Victorian mansion overlooking a beautiful rose garden.
Restaurants
For Michelin star dining at a more approachable level, make a reservation at Bouchon Bistro, a French bistro serving traditional fare from Thomas Keller amid elegant, old-world surroundings.
On the more casual side, check out the newly opened Roadhouse 29, a smoked-meat and barbecue eatery with a no-tipping policy where staff and servers a guaranteed a true living wage.
Bars
If you want to enjoy a late night cocktail at one of the valley's casual neighborhood "dive" bars, try one of these:
Susie's Bar offers visitors the chance to meet local Calistogans. This classic neighborhood bar, housed in an old brick oven bakery building, offers a well-stocked top shelf selection of liquors.
St. Helena locals and visitors flock to Ana's Cantina, where on any given night you might find a Napa Valley winemaker or chef belting out a karaoke tune, or a wedding reception extending the party.
In Yountville, Pancha's is one of the most revered neighborhood dive bars in wine country. Its a throwback "cash only" bar and allows smoking on premise.
Head over to the nondescript Henry's Cocktail Lounge on Napa's Main Street, where you will find local industry folks to millennials crowding the intimate "cash only" bar. The bartenders are friendly and knowledgeable, and the drinks are cheap and strong.
Locals of American Canyon frequent the Junction Brewery & Grill, which showcases its own house-made brews, as well as a full bar with a friendly staff and neighborhood vibe.