Adriana has been around the world once or twice and has worked with some of the most esteemed hospitality businesses around the nation. Yet, after all this time, and travel, she says there's no place like California's premier wine country. 
Name: Adriana Regan
Job: Managing Inn Keeper at the Poetry Inn 
Hometown: Napa, CA 
Education: Pierce College 
Q: Describe your path working in the tourism field. 
My path has been curated with challenges, and amazing professionals. My background is in food and beverage and I began my career working in renowned restaurants as a busser and eventually a server. I traveled to Europe for six months, and upon my return I entered the hotel side of the hospitality industry, starting as a front desk associate in Yountville. Eventually, I relocated to Los Angeles for college and worked catering jobs for large, high-profile accounts like DreamWorks, Universal Studios, Disney, Google and Nestle. I had the opportunity to move to Maui and I relocated in 2013. I began working for Marriott International, and through multiple roles, I traveled the islands of Maui, Kauai and Oahu. My years of experience in the Hawaiian market changed how I see myself as a leader in hospitality; managing crises and the impact it has on people. Ultimately, I came back home to Napa to be closer to my mentor and to take the next steps in my career. Today, I am proud to be the managing innkeeper at Poetry Inn, Lede Family Wines' luxury inn located in the Stags Leap District. In this position, I lead all aspects of Poetry Inn's level of service to ensure guests experience the highest level of tranquility, comfort, and service during their stay. 
Q: What do you like most about working in Napa Valley? 
I really enjoy all the different facets of viticulture and hospitality and how they all meld together within the community. I also like leading teams and properties through critical periods (crises, renovations,) interacting with guests and having a human "connection."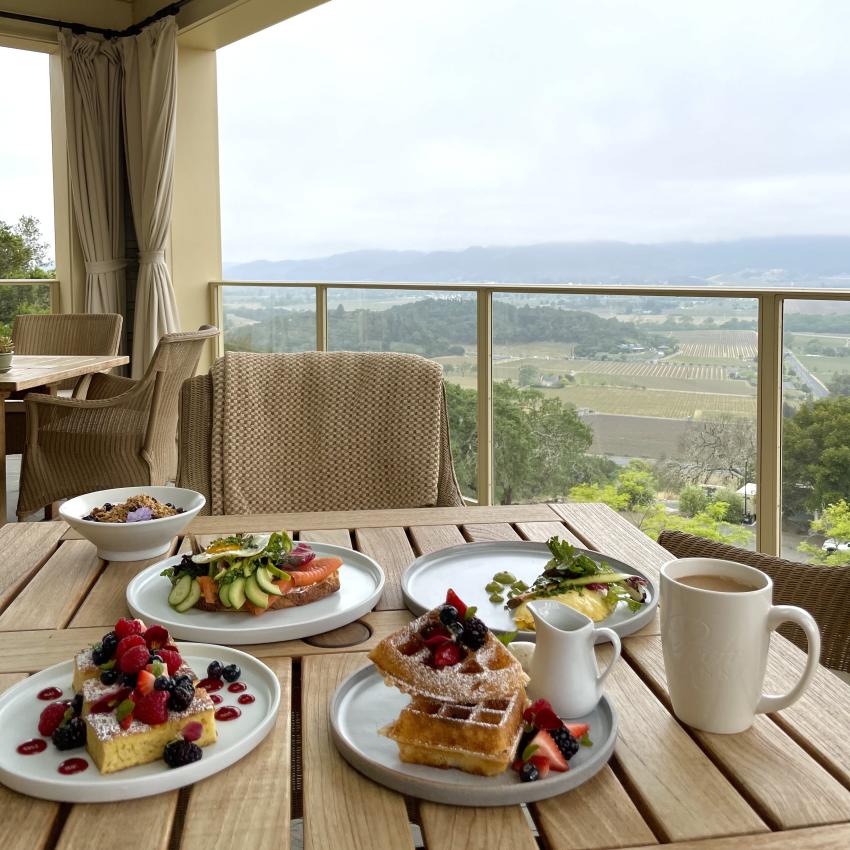 What advice would you give to someone looking to join Napa Valley's tourism industry? 
My humble advise would be, if you are looking to learn more about viticulture, gastronomy and hospitality and embrace challenges, this is your place. However, any industry will challenge you and you have to be willing to constantly learn from mistakes, adapt and be truly honest to yourself and your team. Additionally, and most importantly I think, moving forward with failure and success equally without it shaking your character, integrity and determination on your goals.
Q: How does being a member of the Latinx community impact or inspire your work? 
I am Latina and in operations that is typically considered to be the minority. There were times in my career when I would be part of meetings and be faced with a room of men in leadership roles, and I was the only woman in the room. Now, this didn't discourage me or intimidate me, on the contrary, I realized that I needed to be ten times more prepared than any other person in the room. To this day, I continue to see it as an opportunity to lay a path for other women (Latinas or other) to enter the industry unapologetically and to be prepared to face challenges with integrity, courage, and compassion. 
Q: Is there anything you'd like visitors to know about the Poetry Inn and/or Napa Valley?
The silence and clarity it brings. You can hear your thoughts and connect to nature and yourself  in a unique way. 
Q: What are you most proud of? 
I'd say my persistence and courage to face challenges with grace, decisiveness, character and  above all, compassion. 
Q: What are your goals in the industry? 
I hope to redefine the meaning of luxury in lodging. It seems to me that luxury can be abstract and therefore individual to each person. At Poetry Inn our guests' arrival is personalized, and not transactional. It is liberty to comfortably "be" and enjoy life's meaning moments surrounded by nature, privacy and excellent service. It is what I like to call  "The Land of Yes," where anything is possible and we are able to fulfill our guests expressed and unexpressed wishes. 
Stay tuned to meet more of Napa Valley's diverse tourism business community!