Winter/Spring 2021
Discover what's new in Napa Valley, including new and upcoming experiences, shops, wine tasting opportunities, restaurants and dining, wellness options and lodging.
While 2020 was not without its challenges in Napa Valley, the good news is there's never been a better time to start planning a trip to this iconic Northern California destination. While winter settles over much of the world, Napa Valley enjoys a mild climate throughout the season. Morning fog and winter rains produce the most spectacular sunsets of the year, and rainbows often can be seen peeking over the vineyards. February–March brings the much-anticipated mustard bloom, blanketing the vineyard rows with tiny yellow flowers as the buds begin to burst from the vines- the first promise of a new vintage. And with spring renewal, the Napa Valley offers a wealth of new experiences to enjoy.
Hotel & Lodging News
---
Dr. Wilkinson's Backyard Resort & Mineral Springs, originally built in 1952, is set to unveil a large-scale renovation in early 2021. Considered one of the first resorts in Calistoga and known for its mud bath treatments, the property's new look will include a Southwestern-inspired restaurant, House of Better, featuring healthy New Mexican fare.
Four Seasons Resort & Residences will open in early 2021 with 85 rooms and an on-site vineyard and tasting room – a rarity in Napa Valley. As a nod to Calistoga's wellness roots, the property will offer an eight-room spa with steam pods in which hammocks will be suspended above geothermal pools for guests to absorb the heated vapor.
This year, Solage, part of the Auberge Resorts Collection, will unveil a $30 million-dollar renovation overseen by architect Howard Backen - considered the creator of "Napa Valley Style" - and Los Angeles-based interior design agency Studio Collective. In addition to 11 new accommodations, Solbar - their signature restaurant - will double the size of the patio for outdoor dining and the new PicoBar, with light bites and cocktails, will sit next to an enlarged pool deck with contemporary loungers and cabanas.
The Cambria Hotel, a select service offering conveniently located within walking distance of downtown Napa shopping and restaurants, opens its doors in early 2021. The property features an outdoor pool with a sun deck and poolside bar, fitness center, bicycle rentals, and a full-service restaurant and bar serving locally inspired dishes and regional craft beers.
Bann at Oak Knoll, formerly Oak Knoll Inn, brings a taste of Thailand to the Napa Valley. Built with passion by Chef Lalita Souksamlane, who envisioned the resort-style B&B as a combination of East and West cultures, the property features indoor and outdoor living spaces nestled between the sprawling vineyards of Oak Knoll. Guests will enjoy complimentary farm-to-table breakfast and traditional afternoon tea service, as well as a pool, spa, and outdoor pergolas surrounded by carefully maintained gardens. The word "baan" means "home" in Thai, and each of the four rooms is carefully decorated to reflect traditional design found in the three different regions of Thailand.
R Inn Napa, a contemporary urban boutique hotel in a converted historic building in downtown Napa, has recently completed a large renovation to add five loft suites and a freestanding bungalow to the property. R Inn's independent concept caters to self-sufficient travelers that value design, features, and location without plentiful amenities and services. While the staff is onsite during the day, guests can easily self-check-in and access rooms and common areas with keypad door codes. Accommodations include five stunning loft suites, 10 stylish rooms off an open-air courtyard, and a freestanding Bungalow.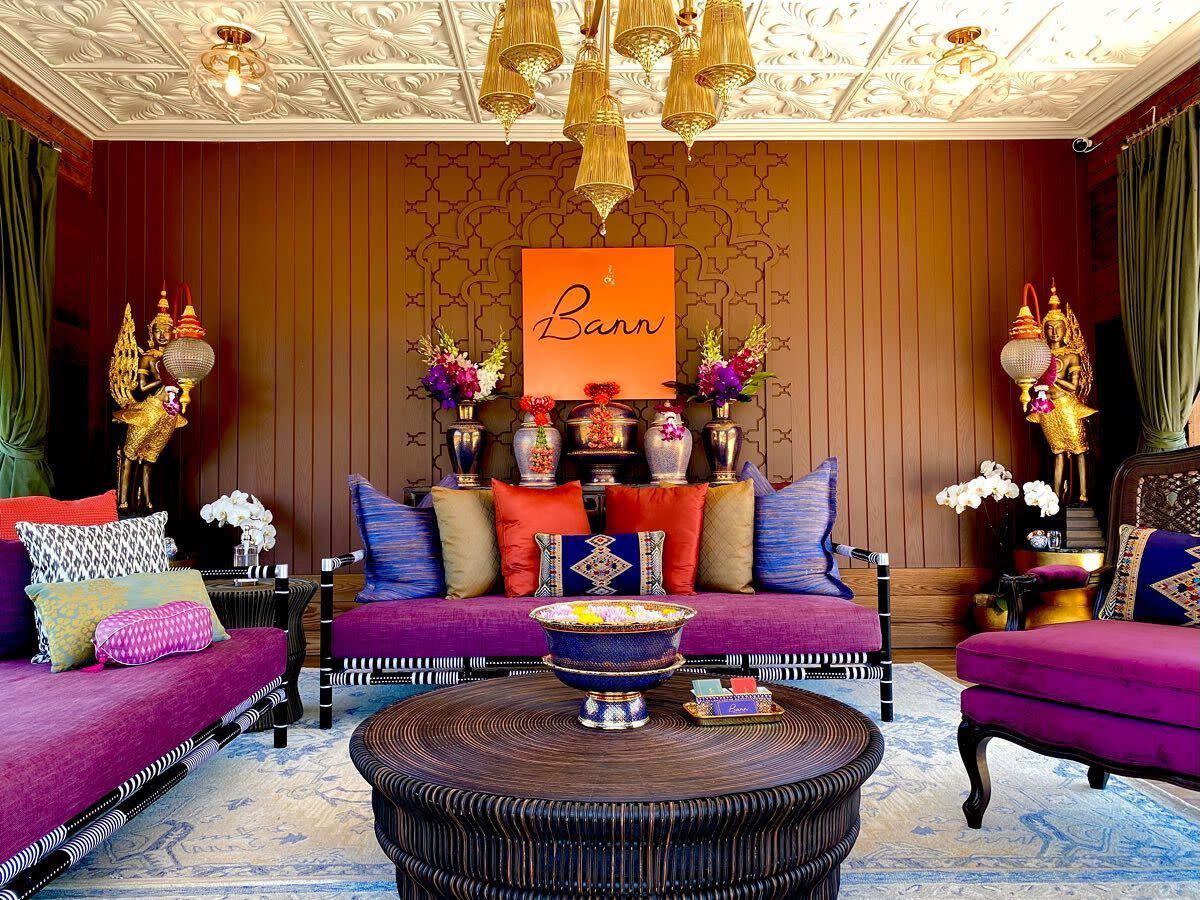 Bann at Oak Knoll
New Culinary Delights
---
Expanded outdoor dining options have popped up throughout the valley in the way of closed streets turned pop-up outdoor parklets. While Napa Valley restaurants were certainly challenged in 2020, many have been able to expand their patios and outdoor areas to create elevated alfresco dining experiences and will be ready to welcome guests back when dining restrictions in the region are loosened.
And in spite of a pandemic, Napa Valley has seen a crop of exciting and innovative new culinary experiences including the emergence of "ghost kitchens" such as Kitchens of the Valley - a pop-up kitchen where some of Napa Valley's top chefs and caterers are whipping up world-class takeout with no storefront presence. Diners in the know preorder and opt for pickup or local delivery. Haven Napa, another recent ghost kitchen introduction, offers up deep fried wings and sides delivered, as well as late-night eats like breakfast burgers and dirty fries.
To the delight of many, Empress M recently made its debut in Napa, answering the longtime call for authentic Chinese cuisine in the valley. The restaurant includes an outdoor area with a gazebo for tea ceremonies, and the extensive menu features dim sum as well as regional Chinese cuisine. Guests will also find libations with an Asian twist, like the potent baijiu, made from sorghum and other grains, and baijiu cocktails.
Bringing a taste of Napa Valley to anywhere in the U.S., Pizzeria Tra Vigne in St. Helena has recently introduced Make Your Own Pizza Kits and Mozzarella al Minuto Kits, available for shipping nationwide. Each pizza kit makes four 10 - 12" pizzas and comes with instructions for rolling out your dough, topping and baking.
Up in Calistoga at the newly renovated Dr. Wilkinson's Resort, House of Better opens early 2021 with a fresh take on wellness. The restaurant is an amalgam of Chef Trevor Logan's rustic, Southwest-inspired Green Chile Kitchen and his pop up, Booster Foods Nutrition Kitchen. Elevated counter service and a playful, backyard experience are anchored by a wood-fired oven and New Mexican chile roaster.
Fleetwood at Calistoga Motor Lodge is slated to open early 2021. Inspired by the bounty wine country, Fleetwood's locally sourced menu will feature produce from nearby gardens, farms, and vineyards, meats from local ranches, and provisions from Calistoga's foragers, picklers, and preservers. The casual eatery will spotlight rustic wood-fired dishes, and a large patio area will serve as a community gathering spot and feature live music on the weekends.
New Shopping
---
Spanning three buzzy blocks in the heart of Downtown Napa, First Street Napa is an ever-growing hub for shopping, dining, and tasting. Known for its locally-owned boutiques and independent restaurants and wineries, the district has recently welcomed a surge of new shops like C'est La Paire for chic boots and handbags; The Bennington Napa Valley for vintage finds; and Copperfield's Books, a mainstay store returning to First Street. Honey Whiskey Boutique as well as nearby Tay & Grace offer up beautifully curated women's clothing and accessories that capture the Napa Valley lifestyle. First Street Napa also plans to welcome the popular retailer Anthropologie to the complex in spring of 2021.
The new Napa Valley Welcome Center also made its debut at First Street Napa, featuring a 16x9 ft. video wall visible from 1st Street. The new 2,550 square-foot space provides a more immersive experience and amenities that better serve both visitors and locals looking to explore the breadth of Napa Valley offerings.
In Yountville, Brian Bolke has opened The Conservatory, a 360-degree luxury retail experience that bridges physical retail with e-commerce. The 900-square-foot space is home to over 175 brands from around the globe, including California favorites like Rosetta Getty's ready-to-wear, jewelry from Lisa Eisner and Irene Neuwirth, beauty by Sweden's L.A. Bruket, and leather goods by London-based Métier.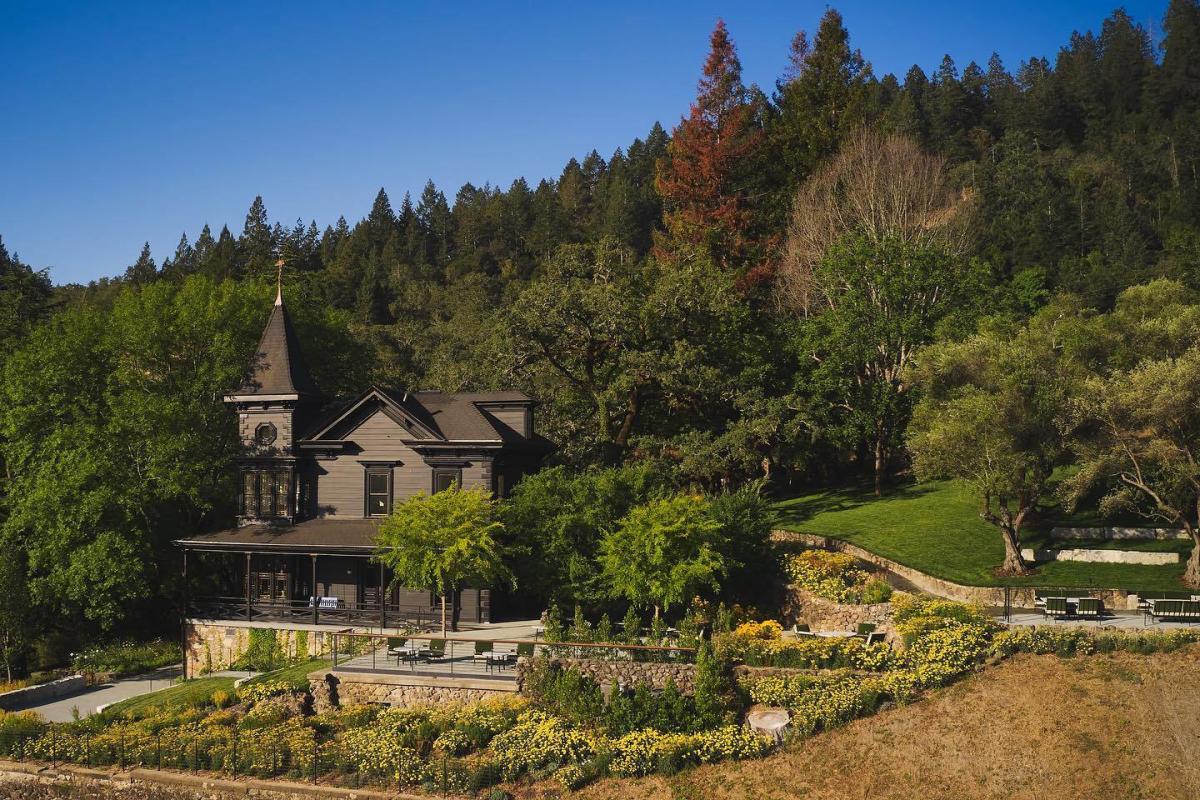 Faust
News from the Vines
---
Animal lovers will gravitate towards Oasis by Hoopes in Yountville, where wines are accompanied by an animal sanctuary and regenerative farm. The outdoor space is dotted with airstreams, lounge areas made with recycled materials, a farm stand (with produce for purchase), as well as rescued chickens, pigs, and goats.
Faust's new tasting room, housed in a St. Helena Victorian home originally built in 1878, opened following a four-year renovation. Known for their Cabernet Sauvignon sourced from organically farmed estates, the new space still features the original cellar from pre-prohibition era as well as an expansive outdoor terrace tasting area.
New downtown Napa tasting room Quilt & Co. provides visitors with an opportunity to learn about local wines that have been cherished throughout the world in a relaxed and sophisticated atmosphere. Quilt & Co. also serves a thoughtful selection of seasonal nibbles from neighbor Avow known for their authentic California cuisine to pair perfectly with the wines.
Possibly the smallest tasting room in the entire Napa Valley and one of downtown Napa's most unique new spots is Shadowbox Cellars, which offers a tasting pairing known as 'Salt & Acid' by appointment. The distinctive combination explores how well acid-driven wines pair with a variety of flavors using handcrafted, small-batch potato chips in a handful of unique flavors.
For those looking for something on the fizzier side, the first and only dedicated Champagne & sparkling wine lounge in Napa Valley, Be Bubbly, has just opened its doors in downtown Napa. Guests can sip a sparkling Chenin Blanc or Rosé from France, a bubbly Lambrusco from Italy, an exclusive Prosecco on tap or try Californian favorites, such as Schramsberg and Iron Horse.
Beyond the Wine
---
Oxbow Public Market, anchoring the popular Oxbow District of downtown Napa, has announced Fieldwork Brewing Company will expand its operation and move to a larger space at the Oxbow Public Market Annex in the spring of 2021. Fieldwork will be located adjacent to The Fatted Calf and Model Bakery. In addition to a larger interior space, the new Oxbow Annex location will allow Fieldwork to fully realize an expanded outdoor "beer garden" experience that will accommodate additional customers, music and other programming.
Located along the Napa River and poised to open early 2021, Ace & Vine is set to shake things up in Napa Valley. The new card room, restaurant, and bar will stay open until 2 am — a rarity in the valley — and will feature gaming tables including Blackjack, Texas Holdem, and Baccarat. The restaurant's diverse menu of American and Asian cuisine includes items such as five spice spare ribs and a Nam Tok burger, while a 4,500 square foot deck overlooking the river features fire pits and plenty of space for guests to spread out and relax outdoors.
The first standalone tasting room dedicated solely to luxury California brandies, California Brandy House, recently opened on First Street in downtown Napa. The new concept will debut with two leading brandy portfolios, Germain-Robin and Argonaut. Visitors will be guided through tasting flights, including single-barrel samples that are only available at the tasting space.
Coming Soon - Spots to Watch
---
Stanly Ranch, part of the Auberge Resorts Collection, is currently under construction on the historic 712 acre Stanly Ranch. When completed, the 500,000 square foot development will include a 135 room luxury resort and spa, 70 vineyard homes, 40 villas, and a working winery. Integrated vineyards, gardens, and a public winery will come together to create an unmatched community and resort destination. Part of a historic estate that has been producing critically acclaimed wines since the late 19th century, the Stanly Ranch Winery will continue to make the most of the Carneros district's ideal climate and cooling breezes for distinctive Pinot Noir and Chardonnay varietals.
Slated to open early 2021, The George is a new generation luxury boutique inn of nine guest rooms situated in downtown Napa's picturesque old town neighborhood. The meticulously restored Queen Anne style Victorian home was originally built in 1891 and is tucked away from the downtown bustle but within easy walking distance to everything downtown Napa has to offer.
Baldacci Family Vineyards will open a new hospitality center in spring 2021, featuring new private tasting rooms, a wine bar, and an expansive outdoor patio overlooking wine country vistas.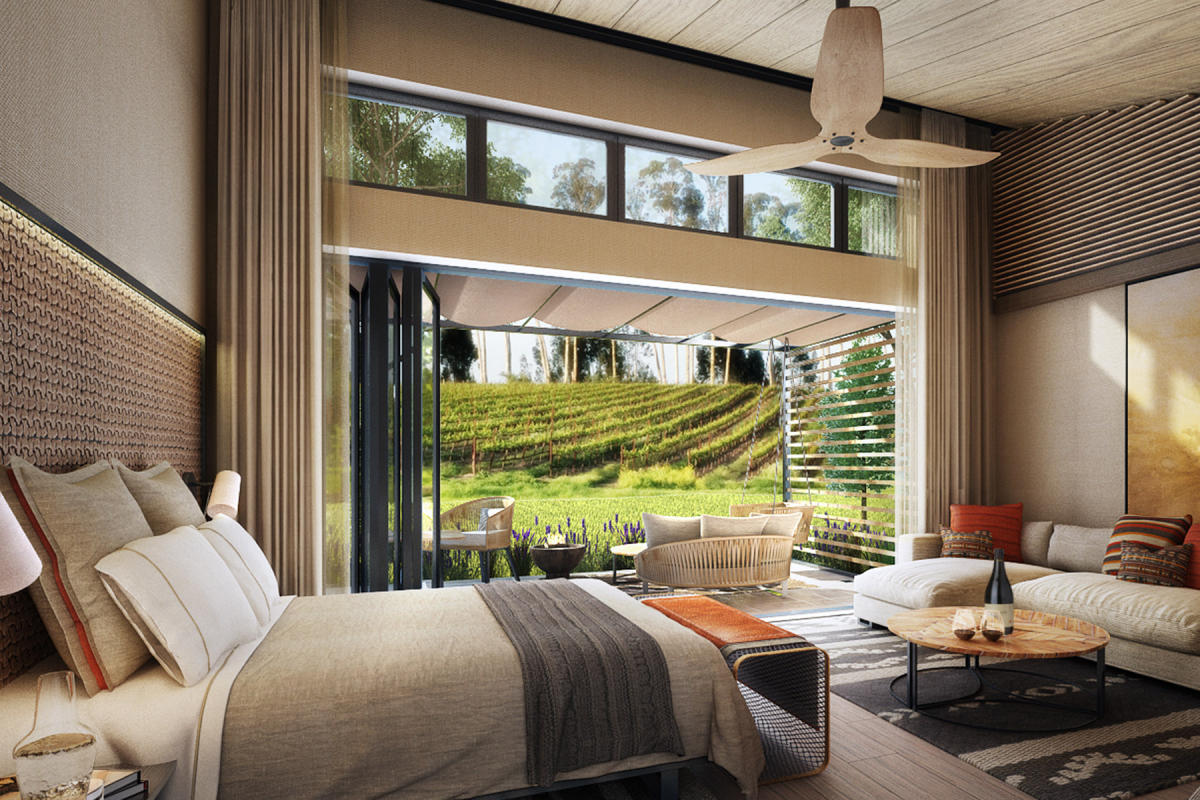 Stanly Ranch