For most, thoughts of dining in Napa Valley conjures up visions of meticulously-plated Michelin-star masterpieces (and prices to match). While of course visitors to Napa Valley can enjoy world-renowned cuisine served up by famous chefs around just about every corner, the bounty of fresh produce in Napa Valley also lends itself to more modest culinary delights —  take the taco, for instance. 
Locals aren't dining at The French Laundry on a regular basis, but they are lining up at some of the area's best taco joints. You haven't experienced Napa Valley like a local until you've dug deep into our taco-obsessed roots. From neighborhood food trucks to strip-mall taquerias (yes, there are also a couple of Michelin-rated taco joints —  it is Napa Valley), we present the Napa Valley Taco Trail. Can you hit them all?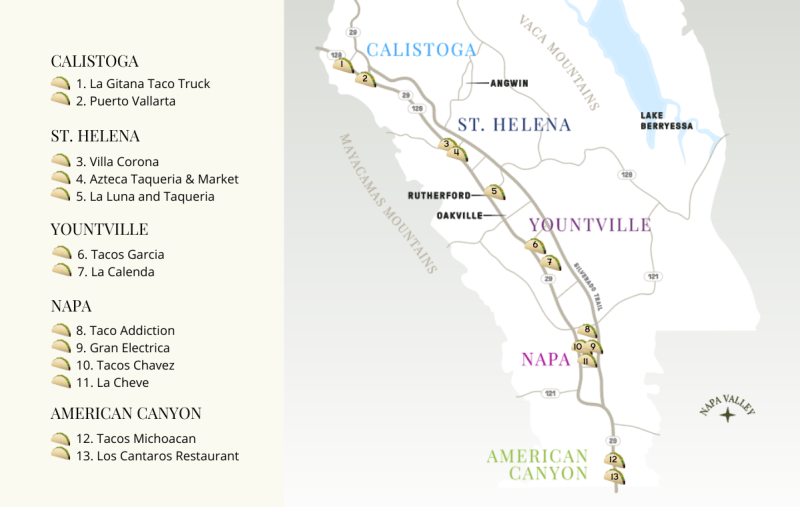 There are even handy Google map directions to take on the entire taco trail from Calistoga to American Canyon! And don't forget to share those terrific taco photos on social using #NapaValleyTacoTrail. 
Calistoga 
1. La Gitana Taco Truck - Map
1102 Tubbs Ln, Calistoga
2. Puerto Vallarta Taqueria - Map
1350 Lincoln Ave, Calistoga

St. Helena
3. Villa Corona - Map
1138 Main St, St Helena
4. Azteca Taqueria & Market - Map
789 Main St, St Helena
5. La Luna and Taqueria - Map
1153 Rutherford Rd, Rutherford

Yountville
6. Tacos Garcia - Map
6272 Washington St, Yountville
7. La Calenda - Map
6518 Washington St, Yountville

Napa
8. Taco Addiction - Map
835 Lincoln Ave, Napa
9. Gran Electrica - Map
1313 Main St, Napa
10. Tacos Chavez (open evenings only) - Map
75 Coombs St, Napa
11. La Cheve - Map
376 Soscol Ave, Napa

American Canyon
12. Tacos Michoacan - Map
3945 Broadway, American Canyon 
13. Los Cantaros Restaurant - Map
3427 Broadway, American Canyon