One of our favorite ways to see wine country is on a bicycle, experiencing Napa Valley's beautiful terrain in the fresh air and at human speed. From the seat of a bike, you can get closer to the vines, sites, and people that make this valley so special. And, as a bonus, you'll be burning enough calories to justify your next tasting or dinner.
Fortunately, biking in the valley is easier than ever before. Since 2008, a local nonprofit coalition has been funding and building a 12.5-mile, dog-friendly trail for walking and biking that runs from South Napa to Yountville in the valley center. Ultimately, the Napa Valley Vine Trail will cover 47 miles from Calistoga to the Vallejo ferry terminal.
There are many bike rental companies in Napa that are worth checking out, including the Napa Valley Bike Shop on Pearl Street in Napa; Napa Valley Ebikes on Silverado Trail, and Fat Tire Bike Rentals on Coombs St. in downtown Napa, to name a few.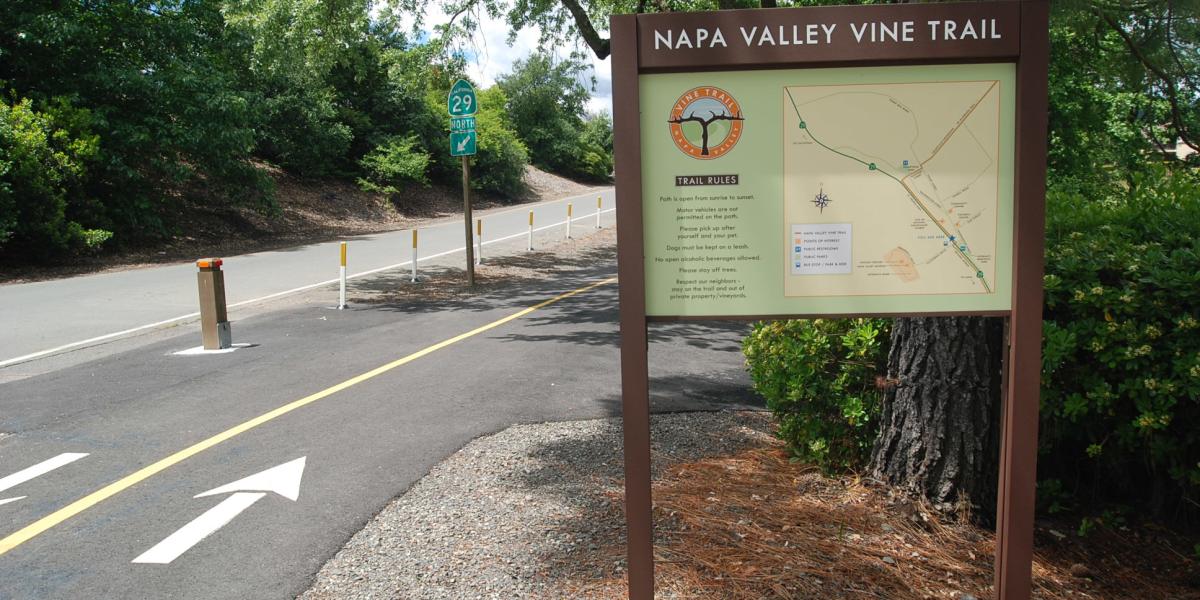 Napa Valley Vine Trail Routes
There are several ways to experience the trail, depending on your starting point. Going south is the shorter route, about five miles round-trip. Going north to Yountville is about 20 miles round-trip. If you're feeling energetic, you can combine these two routes for a 25-mile round trip.
Route #1 — Going south from Downtown Napa
(about 5 miles round-trip)
If beginning in downtown Napa, head two blocks south from Pearl Street to find the paved portion of the Vine Trail.
This will take you 2.5 miles out of downtown Napa and along the river to John F. Kennedy Memorial Park. Here you'll find a playground, picnic sites, softball fields, and sand volleyball courts. Keep an eye out for kayakers and shorebirds along the riverfront. You can bring a picnic to enjoy there, or head back to Napa.
The Oxbow Public Market (at First and McKinstry Streets) is a perfect stop for lunch or coffee, with a riverside deck overlooking the "oxbow" in the Napa River. Next door is The CIA (Culinary Institute of America) at Copia, a sprawling complex with museums, restaurants, shops, and cooking classes.
First Street is also home to a bustling shopping area with plenty of tasting rooms as well as the Napa Valley Welcome Center, which is next to the Archer Hotel. Stop here for maps, directions, recommendations, and wine-country themed gifts.
 

Route #2 — Going north from Downtown Napa to Yountville
(about 20 miles round-trip)
Starting in downtown Napa, head north on Main Street to catch the Vine Trail at Vallejo Street. This is also the site of the Rail Arts District (RAD Napa) – a free outdoor contemporary art installation that runs for two miles along the Vine Trail. It's visually transforming this formerly industrial neighborhood with murals, sculptures, and landscaping.
From here, the Vine Trail parallels Highway 29 ten miles north to the charming town of Yountville. It's an easy, flat ride and suitable for all cycling levels. Once in Yountville, there's plenty to do. The Napa Valley Museum is an excellent showcase for regional art, science and history exhibitions, and educational programs.
The town of Yountville is centered on Washington Street, where you'll find restaurants, tasting rooms, and shops. V Marketplace is a warren of shops and restaurants set in the 137-year-old Groezinger Winery. And Bouchon Bakery is always a favorite for a pastry stop but be forewarned: the lines form early here. 
Continue a half mile north to visit the George C. Yount Pioneer Cemetery and Ancient Indian Burial Grounds. Or, if you're traveling with kids, Yountville Park is a great rest stop. If you've chosen to start your tour in Yountville, heading south to Napa, Napa Valley Bike Tours is the Napa Valley Bike Shop's sister store. They also offer guided and self-guided bike tours and will charge a $20 relocation fee for one-way trips if you don't want to do the full round-trip.
You've reached the end of the Napa Valley Vine Trail, so head back to Napa, taking in the vineyard views along the way. Do note that although there are many opportunities to taste wine on this route, you should use as much caution drinking and cycling as with drinking and driving.