Best Places to Picnic in Napa Valley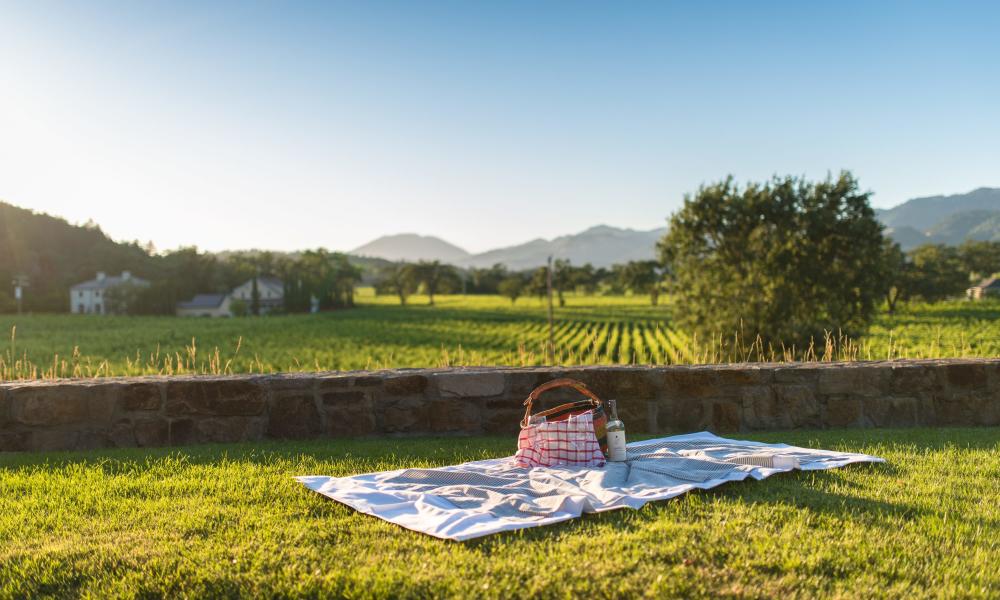 With amazing scenery year-round and picture-perfect weather in the spring and summer months, Napa Valley is a picnicker's paradise. Whether you're seeking a day of hiking and outdoor adventure or looking for a more laid-back family-friendly vibe, there's a picnic spot with your name on it. Here are a few of our favorites, starting at the north end of the valley in Calistoga and working our way down to American Canyon. 
Calistoga
Oat Hill Mine Trail - great for hiking, biking, and outdoor adventure with lots of places to stop and picnic along the way. 
Old Faithful Geyser - perfect for a fun family picnic, where little ones can visit with the animals and see the natural geyser in action. 
Robert Louis Stevenson State Park - picnic with awesome views of Napa, Sonoma and Lake County from the summit of Mount St. Helena, the highest peak in Napa Valley.
St. Helena
Bothe-Napa State Park - one of the best places in the valley to escape into nature, enjoy the great outdoors, and picnic amongst the redwoods. 
St. Helena Crane Park - great for a family picnic, this 12-acre park features bocce courts, volleyball courts, playgrounds, and plenty of places to spread out and have a leisurely lunch. 
Yountville
Insider tip: Alcohol is permitted in all of Yountville's parks, so sit back, relax, and sip away! 
Veterans Park - another great spot for picnickers of all ages, Veteran's Park boasts plenty of expansive lawn space for lounging, plus bocce and volleyball courts. 
Yountville Park - a favorite for local kids because of the awesome playground, this is a perfect picnic spot for parents with little ones. 
Napa 
Fuller Park- conveniently located in the center of downtown Napa, it's a great place to picnic with the whole family or spread out with a group of friends. 
Timberhill Park - perfect for a short secluded walk to picnic with epic views of the Napa Valley. 
Skyline Park - if you're looking for a picnic spot with sweeping Lake Berryessa views, this is the place (but be ready to hike). 
American Canyon
Newell Open Space Preserve - a nature lover's dream. Picnic among the wildflowers and don't forget your binoculars for birding! 
Wetlands Edge Park - great for a picnic with a view of the Napa River and a walk through the surrounding wetlands to watch the wildlife. 
Ready to get out there and enjoy? Read up on packing the perfect picnic lunch, and don't miss our Insiders Guide to the Most Delicious Delis in Napa Valley.