4th of July Fireworks in Napa Valley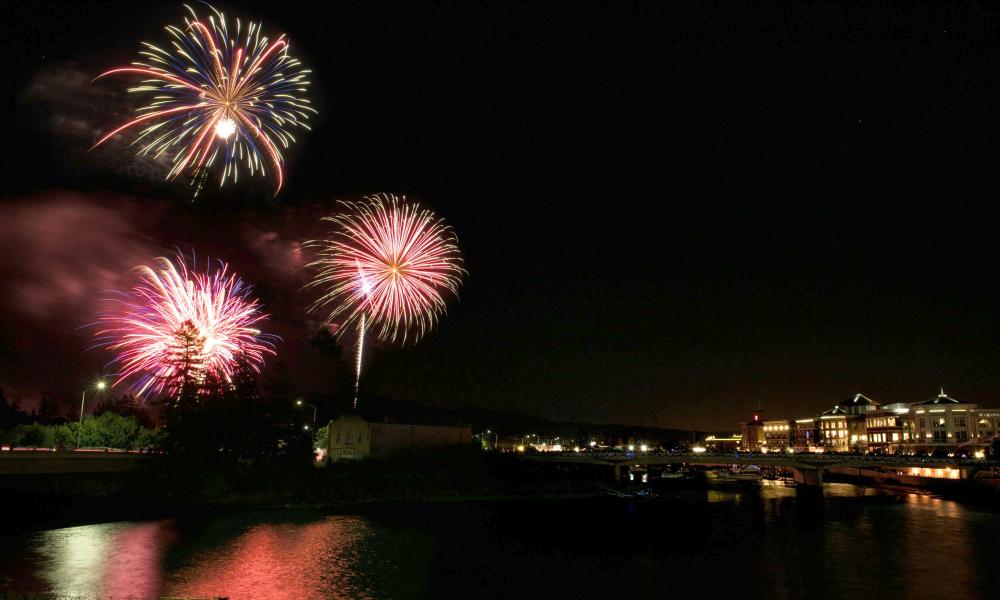 Each town along the valley has its own special spin, with colorful fireworks displays after dark. Here is a list of where you can celebrate and view the fireworks for the fourth of July 2018 holiday in the Napa Valley:
American Canyon
After a day full of activities, American Canyon will cap off the night with a fireworks show at approximately 9:30pm. Community Park II (20 Benton Way) is the prime location for viewing the fireworks – arrive early with folding chairs and blankets to stake out a good spot on the park lawn. Find more details here.
Napa
The day starts with a parade from 10am to noon, moving east on 2nd Street over to 3rd Street. Bleachers for spectators will be located at 3rd and Coombs Streets. From 5 to 8:30pm, there will be a Kid Zone, and live music at Oxbow Commons from 5 to 9:30pm. From 7 to 7:30pm, a "Salute to USA" presentation will be made, then the fireworks display will begin at 9:30pm. Best places to watch will be from Veteran's Park, Oxbow Commons, or the Riverfront promenade. Find full details and a map here.
Yountville
The Veterans Home in Yountville will host its annual Fourth of July Festival, with food and vendor booths from noon to 9pm, a Kid Zone from noon to 6pm (with a giant waterslide, dunk tank, obstacle course, and more). From 1:30 to 5:30pm and again from 7 to 9pm, there will be live music. At 6pm, the Kids' Parade will be led by the Veterans Home Wheelchair Drill Team, the "Hills Angels." And fireworks start at dark. The Yountville community pool will be open and there are baseball games all day at Borman Field. Veterans Home of California, 100 California Drive, Yountville. Find more details here.
St. Helena
Local festivities will begin with a Family Bike Parade down Hunt Avenue at 4pm. Then, from 5 to 6pm, the St. Helena Community Band will be performing at Lyman Park on Main Street. At 6pm, Crane Park will open to the public at 6pm, and a Dixieland band will perform a free public concert on its West Baseball field at 8:15pm. People are welcome to bring picnics, lawn games, and view the fireworks, starting at about 9:15pm, from inside the West Baseball field located at Crane Park or on the St. Helena Primary School Field located off Grayson Avenue. Find details here.
Calistoga
The Napa County Fair Association will again be hosting Calistoga's annual Independence Day celebration. The annual hometown parade will start at 11am, traveling down Cedar Street, Lincoln Avenue, and Fair Way. Then the carnival will open at noon with food, games, and live music. At 6pm, gates will open to the grass infield, where you can claim your picnic spot. Fireworks will launch at dark. Pricing is $15/person in advance, $20/person at the door. Find details here.

Photo Credit: Bob McClenahan