The Good Life isn't simply something you experience in Napa Valley
It's all about how to savor the best that life has to offer. And there's no better place to spend quality time. So come on, grab your appetite for...well, everything, and join me in Napa Valley.
So you're thinking about a Napa Valley escape?
Well, you've come to the right place, because I've got a few secrets to share and insider tricks up my sleeve to make sure you do Napa Valley right. And I believe once-in-a-lifetime experiences should happen at least once a day.
Whether you're ballooning over the vineyards at sunrise, soothing away stress at one of the most blissful spas in the world, or simply savoring a glass of cabernet with friends overlooking a spectacular view, every day in Napa Valley is the best day ever.
This is what The Good Life is to me...
Select an option to find a customized Napa Valley experience: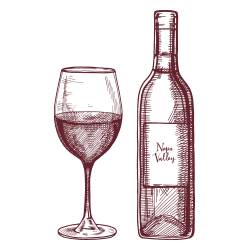 Whether you're seeking stunning views or cellar-worthy vintages, perusing for the perfect picnic spot, or on the hunt for sips with a side of adventure,
your perfect wine experience awaits
Towns & Regions of Napa Valley
Yes, there's more to Napa Valley than just Napa — we have 5 distinct towns and 4 regions for you to dine, shop, sip and stay