Best Places to Watch the Sunset in Napa Valley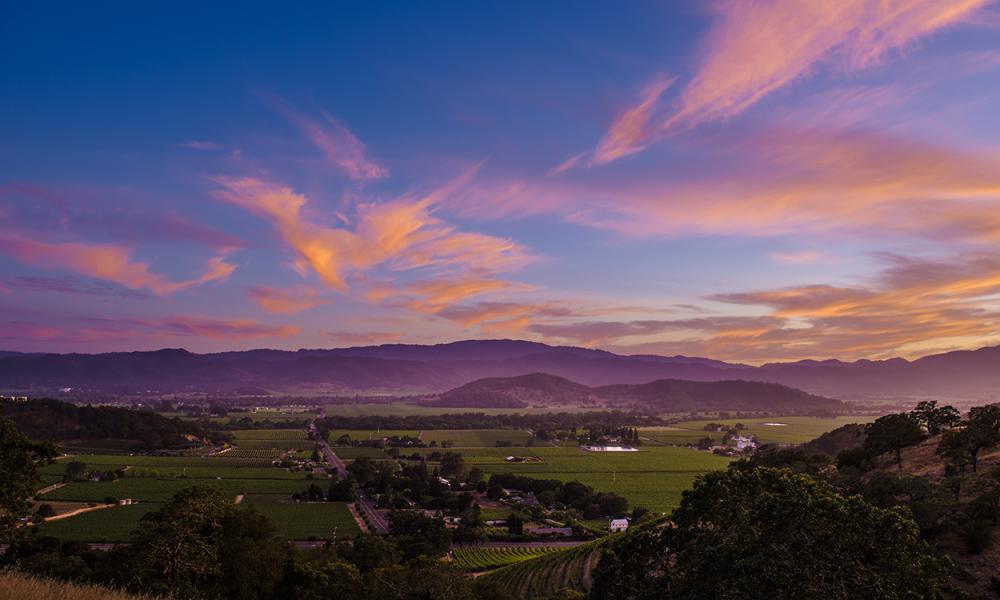 With the coastal Mayacamas mountain range on the west and the dryer, rocky Vaca mountain range on the east, the valley makes for a dramatic sunset. If you are lucky, it will be a little cloudy on the coast that day which creates a cotton candy colored sunset on the west and purple mountains on the east.
Here are the best places to watch the sunset in Napa Valley:
Riding the Napa Valley Wine Train for dinner, be sure to opt for the Vista Dome Cart for an extra amazing view of the valley.
With a cocktail at the Bistro & Bar at Auberge du Soleil or try the full experience with a dinner on the patio of their Michelin-starred restaurant.
Sipping a cocktail at the bar or dining at Harvest Table (St. Helena's newest restaurant), then taking a walk through their stunning grounds and watch the sunset on their Vineyard View Terrace that overlooks the vineyards and mountains.
At the Terrace Lounge at Round Pond Estate, which runs April – October 6:00-8:00 p.m. (reservations required).
On HALL Wine's "Sunset Cruise" tour, which includes a tour of the property and concludes on their terrace overlooking the vineyards with wine, accompanied by cheese. Fridays at 5:30 p.m., May-October. (reservations required).
On the terrace of the Wine Spectator Greystone Restaurant at the Culinary Institute of America at Greystone. Though the CIA is on the west side of the valley, when the sun sets the mountains on the east side of the valley turn purple and reflect the sun beautifully.
Dining on the patio of R+D Kitchen or Brix.
At the Grape Crusher statue along highway 29 at the south end of Napa.
Photo credit: Bob McClenahan