What to pack and wear in the Napa Valley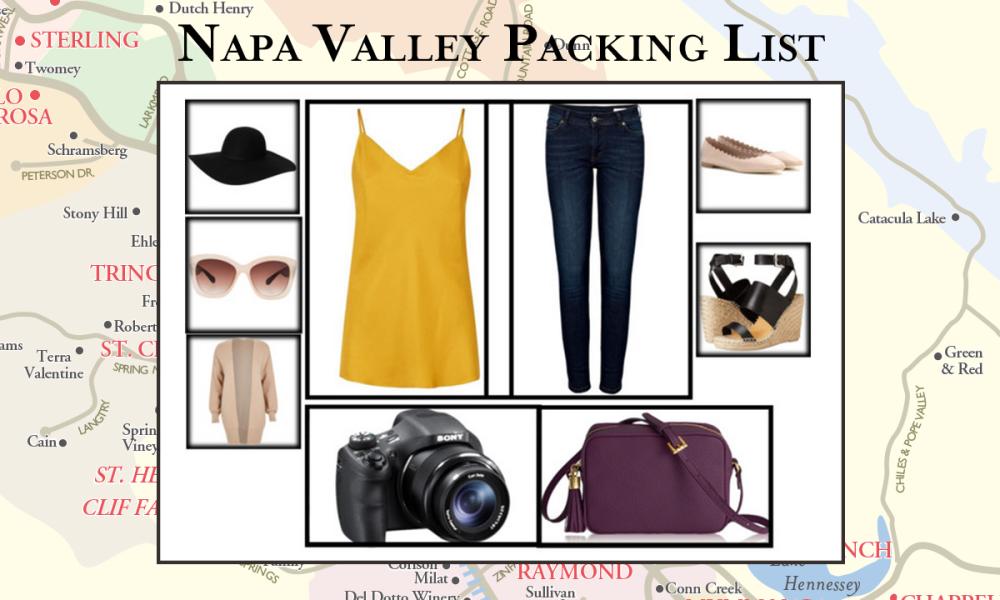 So you just planned your ultimate Napa Valley vacation, but now you need to figure out what to pack and how to prep for your trip. Here are a few travel tips and some ideas for what you should have in your suitcase. Also, be sure to check out our Napa Valley Style Pinterest board for more ideas.
Napa Valley Weather
The Mediterranean climate of the Napa Valley not only allows for perfect growing conditions for grapes, but it also provides near perfect weather year round. The southern part of the valley is much cooler than the northern part and there are wide swings of temperatures from day to night.
| | | |
| --- | --- | --- |
| Season | Avg. High | Avg. Low |
| Spring |     70°F |     45°F |
| Summer |     81°F |     53°F |
| Fall |     76°F |     46°F |
| Winter |     59°F |     40°F |
View more information on Napa Valley weather
Year Round Napa Valley Fashion and Packing Tips
Layer, layer, layer – since the temperature varies throughout the day, layering is often your best bet for staying comfortable.
Spring/summer = sun dress with a cardigan and sandals.
Fall/Winter = scarf, denim, sweater and boots.
Denim is acceptable year round; if it is a fancier scene wear dark denim.
Always bring a light jacket for the nighttime breeze from the bay.
Flats or wedges – a lot of wineries have standing tastings at a bar and there is often a lot of walking around for tours – be safe and comfortable and wear low wedges or flats. Winery tours and tastings average from an hour and half to two hours, which is a long time to be on your feet.
Carry a light purse with essentials (ID, cash, cards, small brush, chap stick, phone – leave the rest in the car). If you are at a wine tasting bar, many don't have hooks for your purse and you don't want to put this season's it purse on the ground or in a wine puddle!
Pack a nice outfit if you plan on eating at any fancy restaurants or for a night out on the town in the bar scene.
If you want to dress like a local vintner, bring a vest. If you don't have one, don't worry, it's a popular item that many wineries sell in their gift shops.
Don't forget your camera, sunglasses, sunhat, umbrella/raincoat during winter and spring, sunblock during spring and summer.
Last but not least, don't wear perfumes or heavy lotions when wine tasting as it can muddle your sense of smell or the people around you and you will not be able to fully enjoy the flavors of the wine.

NOTE: If you forget anything that you must have, there are plenty of shopping destinations to pick up a few items. There is the Napa Valley premium outlets, downtown Napa clothing boutiques, St. Helena main street clothing boutiques, and V Marketplace in Yountville.
We can't wait to see you and if you need any help planning your trip be sure to check out the rest of our website. Pick up maps and guidebooks at our Napa Valley Welcome Center in downtown Napa.