Coronavirus Toolkit
Visitor Impact of Coronavirus

California and Napa County
California issued a Blueprint for a Safer Economy on August 31, 2020 with revised criteria for loosening and tightening restrictions on activities based on county-level COVID-19 metrics. With coronavirus case rates on the decline and the COVID-19 vaccine rollout continuing to ramp up, Napa County advanced to Tier 3 (Orange/Moderate), allowing wineries to resume indoor operations. More specifically:
Wineries, breweries and distilleries can open indoors at a 25% capacity.
Hotels remain open to leisure travelers and their fitness centers and pools can open at a 25% capacity.
Restaurants can serve indoors at a 50% capacity.
Bars can open outdoors with modifications.
Gov. Newsom also announced that the state plans to retire its tier system on June 15 as long as it has sufficient supply of vaccines and hospitalizations are low. All sectors of the economy, in all 58 counties, will be able to reopen at or near full capacity with risk reduction measures, including the mask mandate, remaining in place. More information on the state's move beyond the Blueprint is available here.
Updated Blueprint for a Safer Economy guidance also allows small gatherings, receptions, conferences and indoor live events and performances to resume on April 15. Napa County falls in the orange tier guidelines, which allow:
Indoor events with a maximum capacity of 150 people if all guests are tested or show proof of full vaccination.
Outdoor events with a maximum of 100 people. Or a maximum of 300 people if all guests are tested or show proof of full vaccination.
Public health officials also lifted its 120-mile travel advisory but still discourage out-of-state travel. New recommendations for nonessential, or leisure, travel include taking a COVID-19 test before and after you travel, even if you have been vaccinated, and self-quarantining for seven days, even if your test is negative. Also see the Centers for Disease Control and Prevention's new guidance on domestic travel. 
California public health officials emphasize that physical distancing is the most important strategy to lessen the spread. The governor and public health officials have also directed everyone in California to wear face coverings outside the home.
Find more details around the coronavirus situation in Napa County. More information and updated Napa Valley statistics can be found below:
Gov. Newsom also announced the statewide launch of CA Notify, a digital tool that will help reduce the transmission of COVID-19. Californians can opt in to receive COVID-19 notifications informing them if they have been exposed to someone who has tested positive for the virus. Meanwhile, Napa County announced that it is transitioning to using the state's MyTurn vaccine registration tool.
Health & Safety
Protocols
Additional Resources
Lodging
Restaurants
Wineries
​Bars, Breweries, and Distilleries
Social Events and Meetings

Provisional event guidelines have been reviewed by the Napa County Public Health Officer, so that hotels and venues can operationally prepare for future approval of gatherings by the State of California. Additional guidelines may be distributed by the State, and there is no current timeline for approval.
California Hotel and Lodging Association released its "Clean + Safe Guidance for Meetings + Events"
Research &
Analysis
Smith Travel Research US Hotel Overview - 10/29
Weekly Analysis
The Monthly Travel Recovery Data Report by U.S. Travel is a forward looking monthly summary of the latest economic, consumer and travel indicators, trends and analysis. Key March highlights include:
Consumer Sentiment
VNV
Sales & Marketing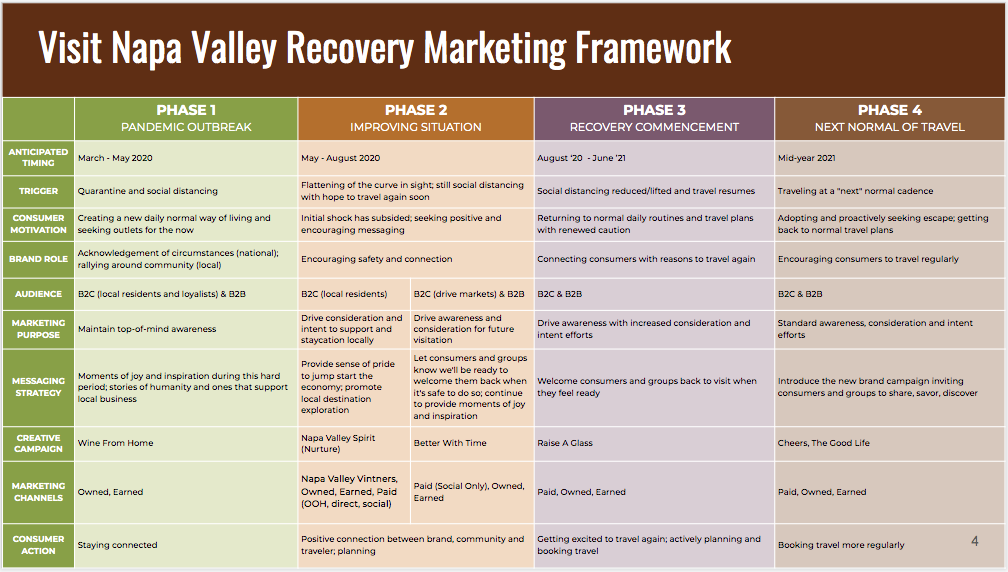 Talking
Points
Suggested Talking Points for Guests and Employees
It is important to manage expectations and be transparent about the modified guest experience, while continuing to provide warm hospitality.
Napa Valley's tourism businesses are proud to be responsibly open, adhering to and exceeding industry best practices for safety, cleanliness and hygiene to protect visitors, employees and community members.
Social distancing, indoor and outdoor mask use, limited occupancies, advanced reservations, and other health protocols are required by the Napa County Public Health Officer.
If you are planning a visit to Napa Valley, we kindly ask that you help protect yourself, your family, and our community from the threat of COVID-19 by minding the safety protocols, only visiting with members of your household, keeping your distance and wearing masks unless seated.
We ask residents and visitors to do their part:

Wear a mask in public.
Wash your hands regularly.
Keep at least six feet of physical distance when in public.
Limit mixing with people you don't live with.

Due to Coronavirus health and safety restrictions wineries are open for outdoor service only, restaurants have indoor occupancy restrictions, and varying weather conditions may temporarily impact operations.
With limited capacity, advanced reservations are required for wine tasting and strongly suggested for dining. Please confirm reservations directly. Bars and breweries are currently closed.
Napa Valley's rural, agricultural setting and spacious landscapes naturally allow for a socially distanced experience while still enjoying all that Napa Valley has to offer.
Napa Valley is committed to the highest safety standards by going above and beyond mandated requirements in order to protect the health and welfare of employees, guests, and our community while providing world-class hospitality.

*When asked, be prepared to provide examples of newly established health & safety standards to protect the health & safety of both guests and employees. For example:

Sanitizer stations are located in all public spaces; and guest areas are fully sanitized with UV light sterilizers prior to each guest arrival and after each guest departure.
All guest contact points - including restrooms; countertops; chairs; tables; and door handles are sanitized on an on-going basis using CDS/OSHA approved cleaning supplies.
Employees will receive temperature checks before each shift and wear face coverings/protection at all times.
All guest seating will be outdoors and include appropriate social distancing practices.
Operational
Best Practices
Re-opening
Once you decide when to reopen your business and welcome guests, consider the following communication channels to share hours of operation; your reservation policy; as well as health and safety practices and sanitation protocols to mitigate guest concerns:
On your website home and reservations pages
On your main phone line
Storefront signage (printed in an easy-to-read font, not handwritten)
Signage in public areas
Social Media Channels

Guest Reservations
Communicate health & safety protocols as part of the reservation process, including encouraging guests to bring and wear face coverings in public areas and respect the practice of social distancing.

Guest Safety
Clearly display health & safety requirements in multiple locations in all public areas
Provide hand sanitizer stations in all public areas
Utilize "contactless" payment methods if possible
Disinfect areas after each guest experience (countertops; tables; chairs; etc.)
Post CDC guidance on proper hand washing practices in all restrooms (consider posting this information in multiple languages to broaden guest communication)

Guest Experience
Set expectations about the guest arrival and be transparent about updates or revisions to the guest experience. For example:
Will you take the temperature of the guests when they arrive?
Will guests be asked to wear face protection while in public?
Will valet parking be available or will guests need to self-park?
For hotels and resorts:
Will spa and Fitness Centers be available and if so, what will be the new protocol? Will in-room dining be offered?
Will reservations be necessary to swim or sit at the pool?
Will restaurant reservations be necessary?
Will housekeeping services be provided/adjusted?
Key
Resources
For further information, we encourage you to visit official sources of public health information:
We also encourage you to refer to our tourism industry partners:
Relief
Resources
Local Resources
Contact your local Chamber of Commerce chapter for additional resources
CDC
Information
View Frequently Asked Questions from the CDC, which includes:
Coronavirus Disease Basics
How it Spreads
How to Protect Yourself
Symptoms and Testing
View Five Facts from the CDC about Coronavirus, which includes:
For most people, the immediate risk of becoming seriously ill is currently low
Simple things to do to keep yourself and others healthy