Coronavirus Toolkit
Visitor Impact of Coronavirus

California and Napa County
With coronavirus case rates on the decline and the COVID-19 vaccine rollout continuing to ramp up, Napa County advanced to the least restrictive yellow tier of the state's Blueprint for a Safer Economy System on June 8, 2021. More specifically:
Hotels can remain open with modifications, with their fitness centers at 50% capacity. Indoor pools and spas are also now permitted.    

Inside restaurant dining is allowed up to 50% capacity.

Wineries, breweries and distilleries can open indoors with modifications: a max 50% capacity indoors, or 200 people, whichever is fewer.

Museums can open indoors with modifications.
When California fully reopens the economy on June 15:
Most capacity limits will disappear and there will be no more requirements for physical distancing.

The state will align its mask and travel rules with CDC guidance, which allows vaccinated individuals to go without masks in most indoor and outdoor situations.

Public health measures will remain for mega events, which include 5,000+ people indoors or 10,000+ outdoors. Indoor mega event attendees will be required to confirm proof of vaccination or negative COVID-19 status to attend. Outdoor mega event attendees will be strongly encouraged to do so.
Find more details around the coronavirus situation in Napa County. More information and updated Napa Valley statistics can also be found below:
Health & Safety
Protocols
Additional Resources
Lodging
Restaurants
Wineries
​Bars, Breweries, and Distilleries
Social Events and Meetings
COVID-19 Testing

​​As the economy continues to move toward reopening, the companies below offer large quantity, and rapid, COVID-19 tests to keep your staff and visitors safe: 
Research &
Analysis
Monthly Analysis
The Monthly Travel Recovery Data Report by U.S. Travel is a forward looking monthly summary of the latest economic, consumer and travel indicators, trends and analysis. Key May highlights include:
In April 2021, travel spending tallied $73.9 billion and reflected a drop of "only" 24% below April 2019 levels
Now, nearly nine in 10 American travelers have plans to travel in the next six months – a new pandemic high
Three quarters (74%) feel their employees are willing to travel for business in the current environment, up from 65% last month
Overseas travel to the U.S. remained 87% below pre-pandemic levels in April, showing virtually no improvement in recent months
Consumer Sentiment
VNV
Sales & Marketing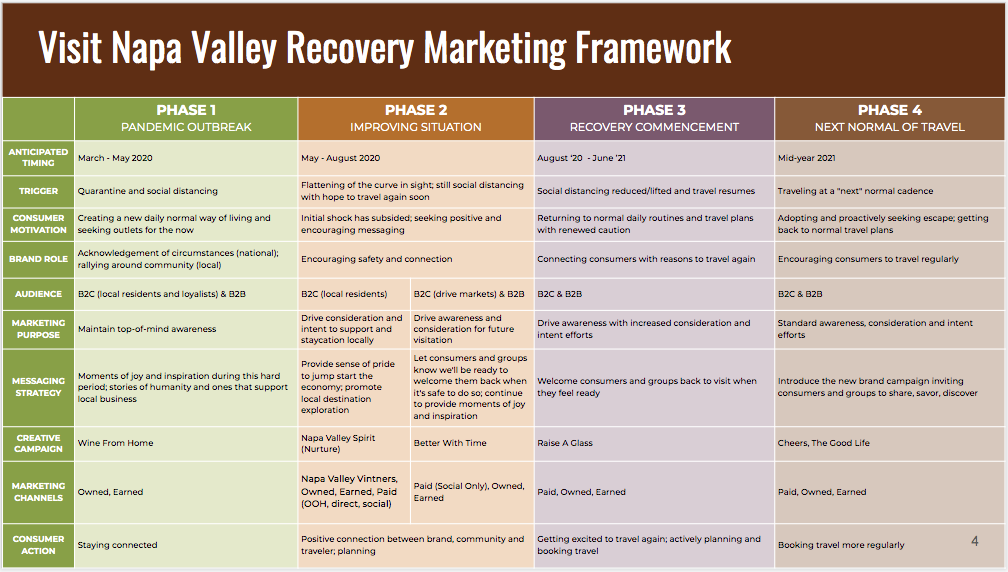 Talking
Points
Suggested Talking Points for Guests and Employees
*updated for June 15 reopening.
It is important to manage expectations and be transparent about the modified guest experience, while continuing to provide warm hospitality.
June 15 Statewide Reopening
When the state fully reopens the economy on June 15:

There will be no capacity limitations

There will be no physical distancing restrictions

Vaccinated individuals can go without masks in most indoor and outdoor situations

The entire state will move into this new reopening phase as a whole.

While very limited measures will remain, we will finally see life getting back to normal.

California will not implement an official "vaccine passport" system to verify vaccination status, but businesses and event organizers may decide on their own to require customers to prove whether they've been vaccinated or recently tested.
Mask Wearing
Starting June 15, fully vaccinated people will be allowed to resume everyday life without needing to wear a mask in California, except in hospitals, public transit and congregate housing facilities like nursing homes.
Traveling
People who are fully vaccinated can travel safely within the state and nation.

For travelers who are not fully vaccinated, it is recommended to 1) get tested before the trip, 2) wear a mask and 3) avoid crowds.
Large Events
Outdoor
For large outdoor events, defined as more than 10,000 attendees, the state recommends operators screen for vaccinations or negative COVID-19 tests. These include pro sports venues, concerts and theme parks that have capacities of 10,000 or more.
Indoor
For large indoor events, defined as more than 5,000 attendees, the state requires operators to screen for vaccinations or negative COVID-19 tests.
In both cases, attendees can "self-attest" to their vaccination or negative status, meaning operators do not demand physical proof. Also, unvaccinated people can be admitted to outdoor events if they wear a face covering.
Health & Safety
The health and safety of customers and travelers is, and will continue to be, the number one priority in Napa Valley.

Napa Valley's rural, agricultural setting and spacious landscapes naturally allow for a safe experience while still enjoying all that Napa Valley has to offer.
Operational
Best Practices
Re-opening
Once you decide when to reopen your business and welcome guests, consider the following communication channels to share hours of operation; your reservation policy; as well as health and safety practices and sanitation protocols to mitigate guest concerns:
On your website home and reservations pages
On your main phone line
Storefront signage (printed in an easy-to-read font, not handwritten)
Signage in public areas
Social Media Channels

Guest Reservations
Communicate health & safety protocols as part of the reservation process, including encouraging guests to bring and wear face coverings in public areas and respect the practice of social distancing.

Guest Safety
Clearly display health & safety requirements in multiple locations in all public areas
Provide hand sanitizer stations in all public areas
Utilize "contactless" payment methods if possible
Disinfect areas after each guest experience (countertops; tables; chairs; etc.)
Post CDC guidance on proper hand washing practices in all restrooms (consider posting this information in multiple languages to broaden guest communication)

Guest Experience
Set expectations about the guest arrival and be transparent about updates or revisions to the guest experience. For example:
Will you take the temperature of the guests when they arrive? Will you ask for a vaccine card?
Will guests be asked to wear face protection while in public?
Will valet parking be available or will guests need to self-park?
For hotels and resorts:
Will spa and Fitness Centers be available and if so, what will be the new protocol? Will in-room dining be offered?
Will reservations be necessary to swim or sit at the pool?
Will restaurant reservations be necessary?
Will housekeeping services be provided/adjusted?
Key
Resources
For further information, we encourage you to visit official sources of public health information:
We also encourage you to refer to our tourism industry partners:
Relief
Resources
Local Resources
Contact your local Chamber of Commerce chapter for additional resources
CDC
Information
View Frequently Asked Questions from the CDC, which includes:
Coronavirus Disease Basics
How it Spreads
How to Protect Yourself
Symptoms and Testing
View Five Facts from the CDC about Coronavirus, which includes:
For most people, the immediate risk of becoming seriously ill is currently low
Simple things to do to keep yourself and others healthy