Visit Napa Valley
Monthly Report
November 2020
Consumer Strategy
A phased response was developed to provide a messaging roadmap for COVID-19 recovery, and continually adjusted based on consumer sentiment and local conditions.
In November, we continued our Raise A Glass theme, officially kicking off Cabernet Season and looking towards the holidays. Messaging conveyed the cozy atmosphere and the joys of an al fresco rural lifestyle of the Napa Valley to our local urban drive market, (#BYOB bring your own blanket). Autumn colors, red wine, fire pits, heated dining, endless views, outdoor exploits, hot mineral springs, comfort food, and holiday shopping and decor — along with the health and safety measures taken to protect our visitors, employees and the community.
---
Paid
A $225,000 Raise A Glass advertising campaign was planned for September - December 2020 to maintain the foundational layer, reaching prospects through channels where they spend the most time, while adding high reach vehicles to generate broad awareness and interest in the destination.
Report Period: 11/1/20-11/30/20
Media Channels & Partners:
Out-of-home: Clear Channel Outdoor
Audio Streaming & Display: Pandora
Display/Native: Google Display Network
Social: Facebook/Instagram
Search: Google Search
Video: YouTube

Goal:
Drive awareness with increased consideration and intent efforts
Welcome consumers and groups back to visit when they feel ready
Drive interested audiences to the website to explore and plan their visit, linking to partner content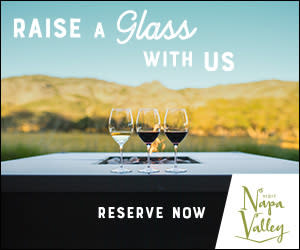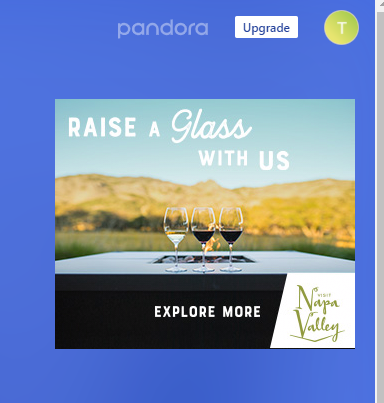 ---

"Raise a Glass" 1.0 Total Delivery (Sep-Nov):
Overall the campaign has generated strong engagement with a high CTR and over delivery on sessions
Regular optimizations has resulted in efficiencies in driving site traffic, with cost per session improving to exceed goal through the end of November
Overall impression delivery has been impacted by heavy competition with election ads and holiday shopping causing CPM to be higher than anticipated, also as some channels ran longer than initially planned due to pauses for fires.
---

"Raise a Glass" Key Highlights (Nov):
Facebook/Instagram:
Overall, Video 0:15 ThruPlay Rate improved MoM coming in at 59% (42% in October)

Strong view rates were generated across all target segments (Luxury, Aspirational, Retargeting, and Lookalike), all above 55%
Dive Right In creative performed the best with a 61% ThruPlay Rate, compared to World Class at 57%
Single Image CTR remained strong with an overall of 1.22%, well over goal at 0.40%

All four audience segments performed well with CTR over 1.0%, with Aspirational leading at 1.43% CTR
Overall TOS came in at 0:19, slightly under goal (0:20), in-line with previous performance

Retargeting audience produced the highest TOS at 0:39
General Sell creative generated a low TOS at 0:07 and was paused to help improve overall performance

YouTube:
Performance remained strong and above goal with a completion rate of 54% (goal 40%)

The Aspirational Audience was the top performing with a completion rate of 56%, in-line MoM, compared to Luxury at 50%
Overall, Poolside continued to be the top-performing creative
Google Display Network:
CTR showed strong improvement MoM with a 1.36% CTR, compared 0.71% CTR in October

All three audiences showed strong engagement with Luxury and Retargeting segments at the top with a 1.41% CTR

Overall, TOS remained strong at 0:36, up from 0:32 in September

Retargeting audience generated the most interest with a high 0:43 TOS

SEM:
CTR improved MoM coming in at 11.71% from 10.13% in October (goal: 8%)

TOS has also improved MoM coming in at 2:51, up from 5-seconds, well above goal
60% of search terms were driven by Dining, Brand, and Wine keywords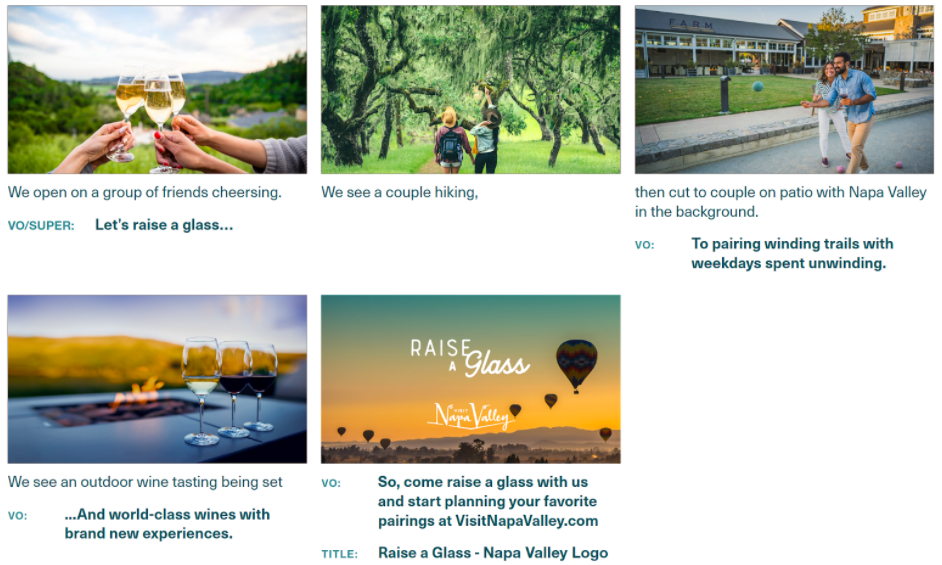 ---
Owned
Website
Since last month, organic search traffic to the website is up 12%, paid search is up 29% and display network traffic is up 499%. After the Glass Fire in September, we resumed paid advertising in November, and organic traffic also rebounded.
Organic search traffic is just slightly down by -1% YoY. There are a couple of top-performing organic search pages that are showing decreases YoY - the home page (-21%) and the winery map page (-42%). This is the result of search volume for top keywords, such as "napa," "napa valley," and "napa winery map" decreasing YoY.
The content that is performing well is the Coronavirus page, Wineries (+51% YoY), Michelin Starred Restaurants (+31% YoY), Things to Do (+84% YoY), and Napa Valley Zoom Backgrounds blog post.
Top Pages Viewed (November 2020)
* compared to previous year
Top Cities by Sessions in CA & outside CA (November 2020)
* compared to previous year
Channel

(

November 2020)
Following
YOY Change
Engagement
YOY Change
Facebook
153.0K
+1.4%
33.1K
-72%
Instagram
118.3K
+14%
35.5K
-35%
Twitter
29.8K
+1%
1.6K
+4.8%
Pinterest
6.0K
-.05%
N/A
N/A
November social strategy focused on embracing the outdoors for a mild fall/winter in Napa Valley, showing off gorgeous fall foliage, and inviting our CA neighbors to enjoy a wine country escape.
Towards the end of the month, VNV focused on enjoying holidays in the towns, and our Napa Valley Gift Guide was featured to boost holiday shopping.
Although the total number of engagements are down compared to last year due to a decrease in post frequency, engagement rate per impression is +42% on Facebook and +30% on Instagram.
Town Instagram takeovers highlighted fall foliage.
Blog
6 blog posts published in November, including these 4:
Sales
---
Travel Trade

Delta Airlines Travel Agents Webinar

250 Agents Attended the Webinar
Hosted by Visit Napa Valley and Clif Family Wines

Visit California Star Program

International platform that educates travel agents on California destination Napa Valley
Agent certification of Napa Valley knowledge to sell destination

Group Meeting Planner

ITA Group Meeting Planner Virtual

Wine Tasting Hosted by Cakebread Cellars

14 Group Sales Leads

Partnership

Lodging Partner Visits/ Introductions/ Trends/ Needs:

Meritage/Vista Collina
Carneros Resort
Embassy Suites
Auberge Du Soleil
Hilton Garden Inn
Bardessono/Hotel Yountville
Silverado Resort
Napa Valley Lodge

* additional visits planned

Napa Valley Welcome Center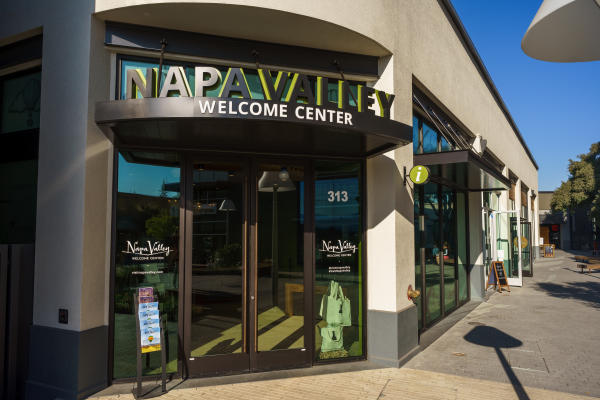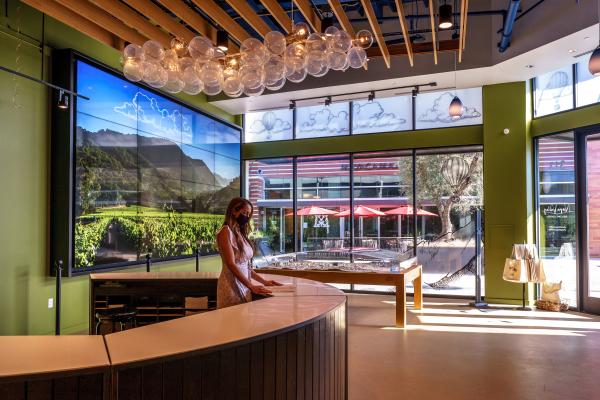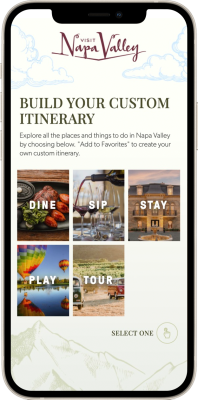 ---
Community & Industry Relations
---
Community

Community Organizations Active in Disaster – 11/30

Introduction to organization and sub committees

Industry

GIN – Guest Industry Network – 11/19

Introduction of Whitney MacDonald and Philip Hansell to group. Reports of townships activities/ attractions

Bay Area DMO Meeting – 11/20

Discussed current challenges and competition of other states being open for meetings/ gatherings. TOT/TID. Shared virtual engagement – Trivia anyone?

Welcome Center

Opened November 12 at First Street Napa!
More than 1,200 guests, and active retail sales
Many guests were Napa Valley locals who were excited to see the new space, and to have VNV back and active in the community
New digital "no touch" concierge service to build itineraries for the visitors is well received

Guests enjoy the personalized QR code to download the itinerary right to their phone
Through this system we are able to focus qualified guests to their ideal restaurant, winery, or activity.
Smith Travel
Research Data
Smith Travel Research - Napa County

November
Occupancy
ADR
RevPAR
Revenue
Supply
Demand
2020
45.5%
$260.44
$118.43
$16.9M
142,980
65,016
2019
70.2%
$318.92
$223.83
$33.6M
150,360
105,529
YOY % Change
-35.2%
-18.3%
-47.1%
-49.7%
-4.9%
-38.4%
Smith Travel Research - Napa County
Calendar YTD
November
Occupancy
ADR
RevPAR
Revenue
Supply
Demand
2020
43.0%
$269.96
$116.2
$175.9M
1,513,671
651,514
2019
73.7%
$342.81
$252.61
$422.6M
1,672,829
1,232,683
YOY % Change
-41.6%
-21.3%
-54.0%
-58.4%
-9.5%
-47.1%
Smith Travel Research

November 2020
Occupancy
YOY %
ADR
YOY %
RevPAR
YOY %
Napa County
45.5%
-35.2%
$260.44
-18.3%
$118.43
-47.1%
Sonoma County
49.4%
-32.6%
$141.96
-16.2%
$70.17
-43.6%
Monterey County
45.1%
-32.9%
$199.02
-4.3%
$89.79
-35.8%
San Francisco County
31.1%
-60.8%
$117.01
-59.2%
$36.36
-84.0%
American Canyon
67.4%
-19.0%
$97.98
-29.8%
$66.01
-43.1%
Calistoga
56.1%
-11.1%
$330.90
0.2%
$185.54
-10.9%
Napa
43.2%
-40.6%
$188.20
-24.8%
$81.29
-55.3%
Yountville
31.6%
-52.4%
$593.59
9.6%
$187.63
-47.8%
Unincorporated Co.
44.1%
-31.7%
$408.12
-17.6%
$180.08
-43.7%
Luxury
Group
34.3%
-52.3%
$236.15
-16.6%
$81.00
-60.2%
Limited Service
66.2%
-12.6%
$126.17
-22.0%
$83.57
-31.8%
Smith Travel Research
Calendar YTD
November 2020
Occupancy
YOY %
ADR
YOY %
RevPAR
YOY %
Napa County
43.0%
-41.6%
$269.96
-21.3%
$116.20
-54.0%
Sonoma County
54.2%
-28.3%
$140.78
-23.2%
$76.30
-44.9%
Monterey County
48.7%
-34.1%
$182.62
-21.5%
$89.03
-48.3%
San Francisco County
40.8%
-51.3%
$215.98
-22.9%
$88.06
-62.5%
American Canyon
56.2%
-32.6%
$110.32
-29.1%
$62.02
-52.2%
Calistoga
45.9%
-36.7%
$313.54
-9.4%
$143.96
-42.7%
Napa
43.5%
-41.6%
$198.86
-26.9%
$86.57
-57.3%
Yountville
36.4%
-49.4%
$524.24
-5.4%
$190.87
-52.1%
Unincorporated Co.
36.6%
-47.7%
$473.77
-9.4%
$173.49
-52.6%
Luxury
41.5%
-38.9%
$912.88
0.2%
$378.40
-38.8%
Group
36.3%
-50.7%
$244.26
-19.9%
$88.62
-60.5%
Limited Service
55.9%
-28.4%
$133.16
-26.7%
$74.40
-47.5%