In the olden days, back before Napa was a hotspot for food and wine, the big city was mostly agricultural, with farms and ranches everywhere.
Today, you can capture that vibe at Connolly Ranch.
The 12-acre parcel in Browns Valley is a working farm that bills itself as farm-based education center, a place where programs and experiences are designed to encourage the next generation of environmental stewards.
According to Heidi Soldinger, development director of the Connolly Ranch Education Center, the place attracts roughly 10,000 visitors annually, and enables visitors of every age to learn by doing.
"We believe that nature provides all the learning resources kids and grownups need," Soldinger says. "Experiencing science, agriculture, history and the great outdoors through absorbing and interacting with a hands-on curriculum leaves a mark and creates educational moments that will last everyone a lifetime."
There are three main sights to see at Connolly Ranch: The barn, the edible garden, and the grove.
The barn is all about animals—more than 40 of them in all. Start your visit by wandering into the barnyard and interacting with some of the goats and chickens that call the ranch home. Grab some straw or leaves and feed the goats by hand. With appropriate supervision, head into the chicken coop and check for eggs.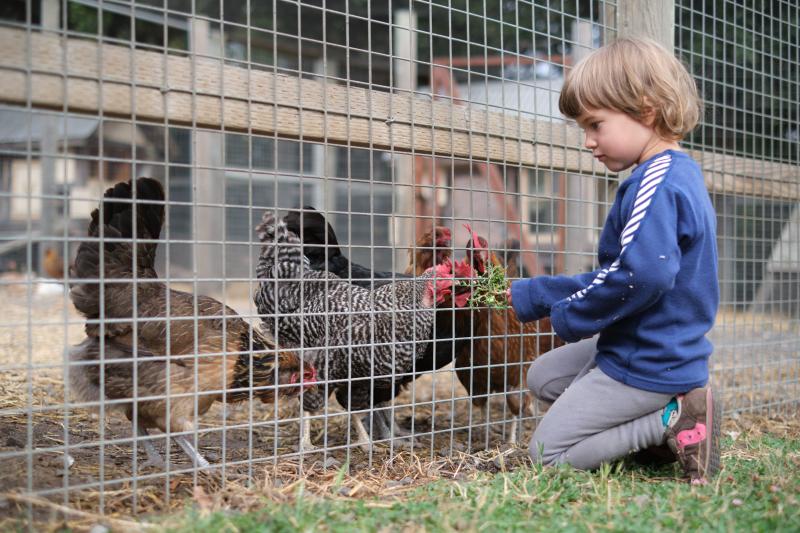 If you're feeling like you want to rest, you can even pull up a patch of hay and read to the animals. Believe it or not, many goats love story time. The barn cat, Earl Grey, might even come and plop in your lap.
In the edible garden, visitors are encouraged to smell the sunflowers, marvel at the nasturtium and maybe even sample a cherry tomato, straight from the vine.
Of course, they also learn about cultivating land, composting, watering and planting seeds.
"It's important to understand the lifecycle of a plant and what it means to have a rich nutritious soil for growing veggies," says Soldinger.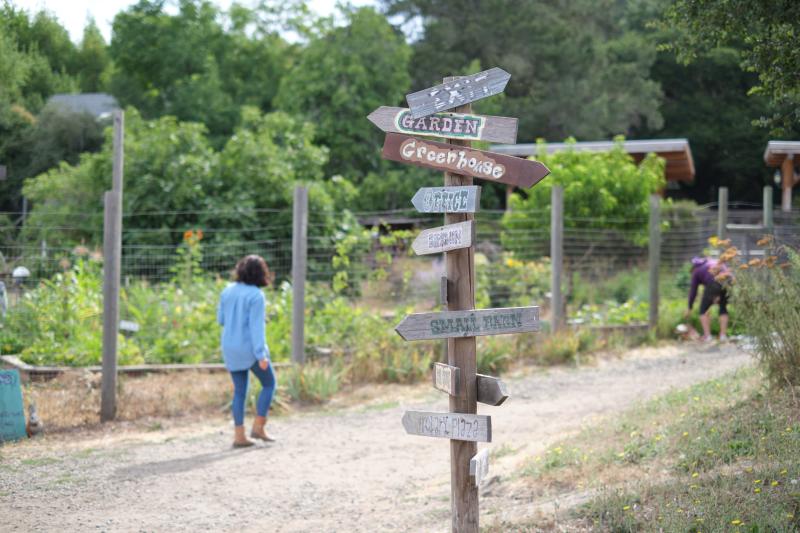 Perhaps the most popular spot at Connolly Ranch is The Grove, an open play area surrounded by eucalyptus trees and old-growth Redwoods. In this part of the property, Soldinger and her colleagues have installed some tire swings, set up a few picnic tables, and built a giant sandbox right near the base of an old felled redwood. There also is a woodland trail that runs from the Grove to the front parking lots.
With all these diversions, families spend most of their time here, playing and exploring, then chowing down for a picnic lunch.
Connolly Ranch certainly is rife with history. The farm dates to 1917, which means it recently celebrated it's 100th anniversary. It remained in the Connolly family for generations. Then, in the early 1990s, Peggy Connolly gifted the parcel to the Land Trust of Napa County, which still owns it. Soldinger's outfit is the nonprofit that runs the place.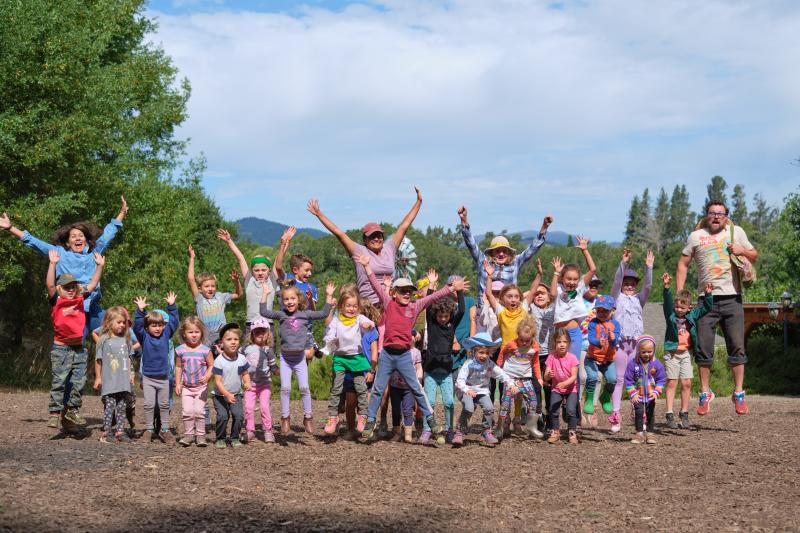 Today there are three ways for members of the general public to experience the ranch.
Every Friday between 11 a.m. and 12:30 p.m., the ranch opens for a 90-minute guided farm experience that spends about 30 minutes at each of the three stops. Fees for this are $20 per adult and $7 per child 2 and older.
The first Wednesday of every month is Walk-In Wednesday, when admission to the ranch is free from 3-5 p.m.
Finally, the ranch opens from 9 a.m. to noon on the second Saturday of every month to give locals and visitors alike a taste of what goes on inside.  On these days, ranch staff offer a 75-minute guided tour that leaves at 9:30 a.m. There's also a camp available from 11 a.m. to 2 p.m.
Consider all these options part of an immersive experience; you won't leave Connolly Ranch without a personal connection.