Did Somebody Say Take a Hike?: Hiking in the Napa Valley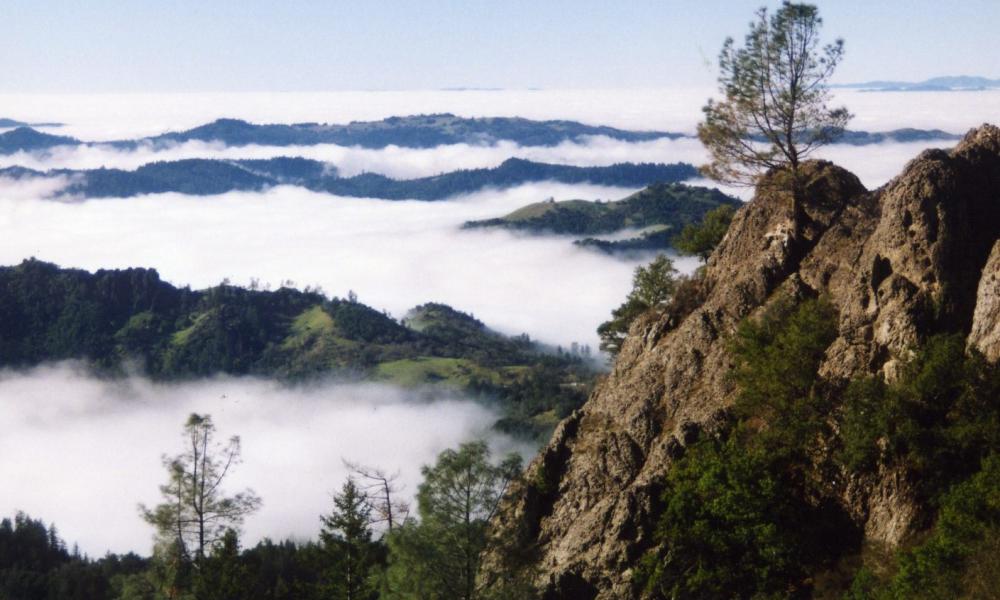 The Napa valley is home to the some of the finest vineyards in the world, and the components that collectively make for exceptional vineyards—steep mountainsides that renew the valley's soil, crisp morning air, perfectly sun-kissed days balanced with just enough rainfall to keep it all green—are the same elements that hikers live for as well.
The Mayacamas Mountains rise more than 2,600 feet (790+ meters) from nearly sea-level to their summit, lining nearly the full length of the western side of Napa Valley from San Pablo Bay to majestic Mount St. Helena towering to 4,342 (1,323 meters) feet at the valley's head. Likewise the Vaca Range of similar height and length runs the valley's eastern side. At a place halfway between the towns of St. Helena and Calistoga, the two masses nearly connect with just a mile between them. The view of valley vineyards and steep, densely forested mountains is magical. And here, the hiker will find the less-traveled paths of wine country at Napa Valley-Bothe State Park on Route 29.
At just under 2,000 acre (806 hectares) the nature preserve, founded in 1960, features a variety of hiking opportunities where one could spend a slow-paced couple of hours or explore the day away. One trail, aptly known as the History Trail, wanders into the hillside from the park's campground. Coming across the remains of a stone fountain and an old barn there are other traces that this was once a different place—some ornamental garden plants still exist and you know you have wandered into what was once San Francisco socialite Lillie Hitchcock Coit's summer estate. Known today for San Francisco's iconic Coit Tower that bears her name, her garden back in the day were a renowned gathering spot. Along this trail find the pioneer cemetery and Mill Creek. The partially-restored 1846 Bale Grist Mill is here and on busy days park docents are milling grain ($5 fee for mill access). This easy hike will take just a couple of hours at a leisurely pace.
For the more adventurous, there are the Ritchey Canyon, Coyote Peak, and Redwood Trails that together create a number of inter-connected options given time allotted to explore the groves of coast redwoods, or the mixed forest of mighty Douglas fir, oak, bay and madrone as well open meadows, year-round creeks and seasonal wildflowers of this eastern slope of the Mayacamas. Easy directions to well-marked trails can be obtained at the park's visitor information area.
Picnicking is encouraged and top-notch portable meals can be easily procured at any number of local, farm-fresh delis for the occasion—and don't forget a bottle of delicious Napa Valley wine. The park is open year-round thanks to the non-profit Napa County Regional Park and Open Space District which manages this California State Park.
Here's more information about hiking and biking in The Napa Valley.