The Napa Valley's natural beauty coupled with grand wineries, immaculate resorts and foodie hotspots, make for the ultimate location for snapping epic selfies and gorgeous #WishYouWereHere photos. Here are some of the most iconic places to photograph to fill your walls or Instagram feed with:
The Grape Crusher Statue
This is one of the first signs that you've reached wine country. You can find him in south Napa on Vista Point Drive. From the Crusher, there are views of the wetlands, San Francisco Bay and rolling vineyard hills.
Napa Valley Sign
There are actually two Welcome to the Napa Valley signs! They are both along Highway 29, which is the main freeway that will take you through the valley. One is in Oakville past Napa Cellars and right across the street from Cardinale Vineyards. The second is up in Calistoga right near Larkmead Ln.
The Carneros Inn
This south Napa resort's pool has the most epic view over the vineyard-covered hillside and the donuts at Boon Fly Café, which are made fresh to order, are delicious and equally as photographable.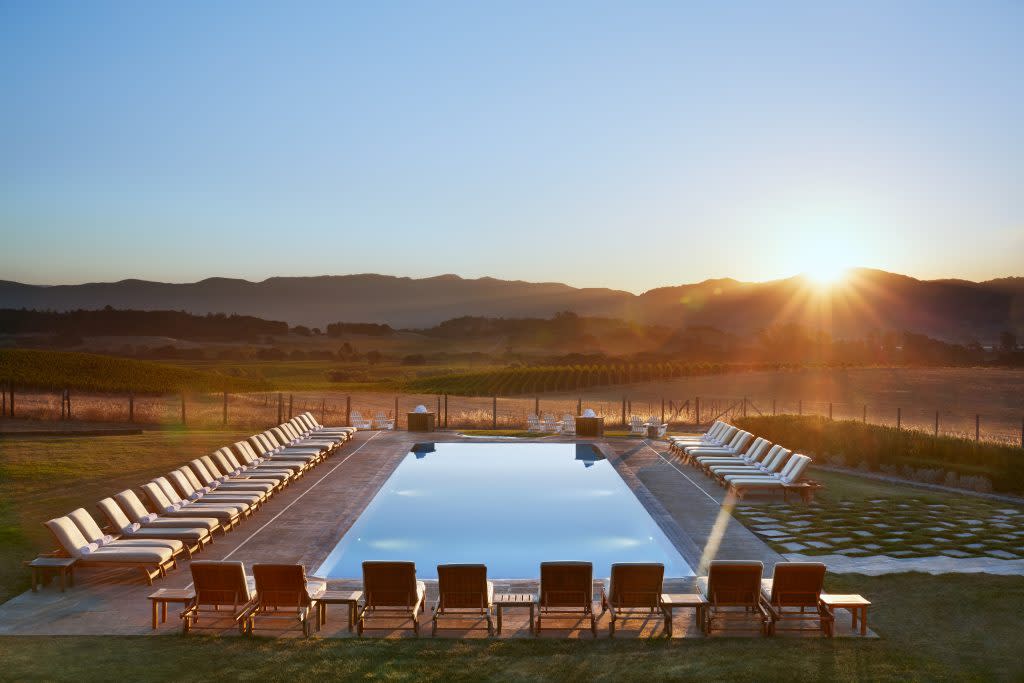 Auberge du Soleil
Located in Rutherford, the view from the deck at the Michelin-star restaurant and Bistro & Bar is not to be missed. The food and drinks are also equally as amazing! You can gaze out over the entire valley floor while sipping and noshing.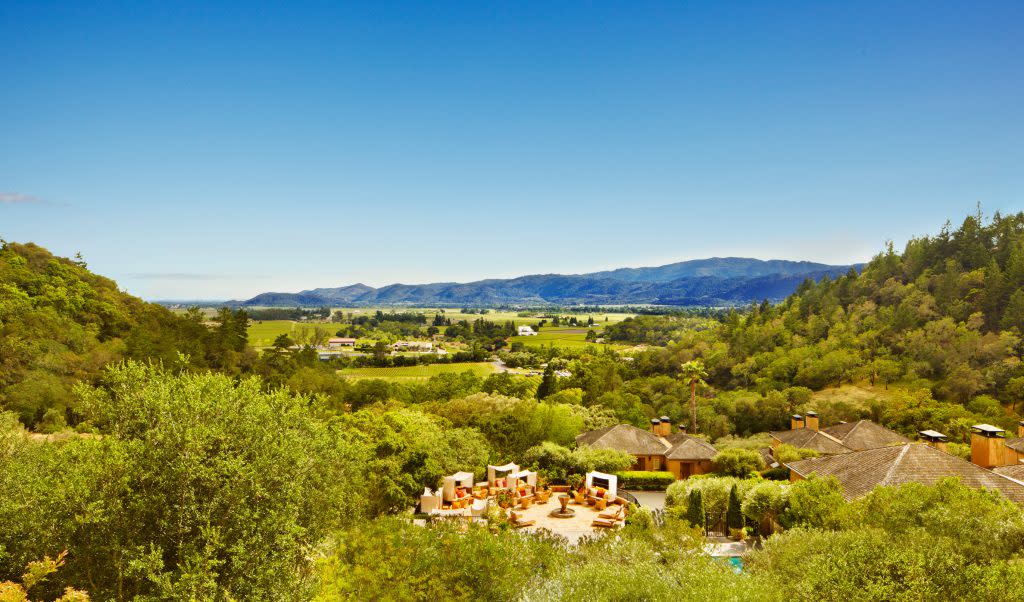 Oxbow Public Market
This food mecca in downtown Napa is the perfect place to stop for a bite or two, or three. Just to name a few of the most popular items: the burgers at Gott's Roadside, Oyster platter from Hog Island Oyster Co., Three Twins ice cream cones, and the delicious coffee from Ritual Roasters. Snap away as you enjoy the different flavors.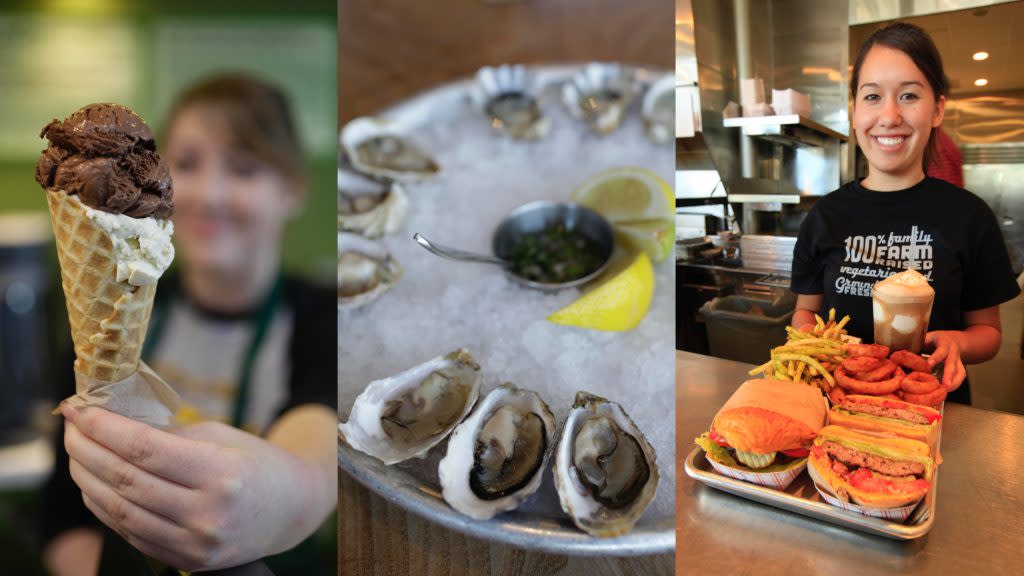 Domaine Carneros
This wine chateau is in the southern part of Napa in Carneros. It is inspired by the classic 18th century Château de la Marquetterie in Champagne, France – home of Champagne Taittinger. The dramatic chateau also features patio wine tasting and exquisite gardens.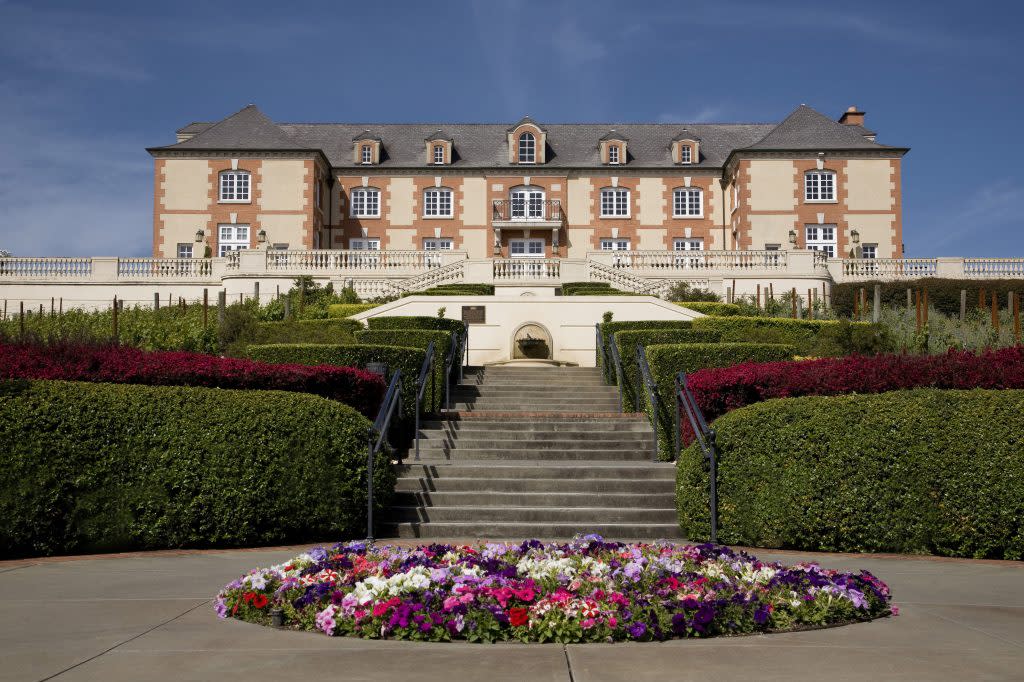 HALL Wines
The 35-ft tall art sculpture, Bunny Foo Foo, at HALL wines in St. Helena is quite the showstopper. It's frequently dressed up for different occasions (Easter, Halloween, 4th of July, the new Star Wars movie opening). Here is #BunnyFooFoo in a light up witch hat!
Castello di Amorosa
This authentic 107-room castle is just south of Calistoga and has a moat, drawbridge, torture chamber, and defensive towers – you'll swear you're in an ancient hill town in Tuscany. Be sure to save room in your Instagram feed for this beauty, at every turn you will be amazed by something breathtaking.
Hot Air Balloons
Whether you're in the basket high up above or on the ground looking to the sky, hot air balloons soaring through the Napa Valley is a site not to be missed.
Artesa Winery
The emphasis on elegance and art, offset by breathtaking vistas of Napa Valley, makes Artesa an essential destination for snapping that perfect pic. Sip and swirl through their wine while browsing through the art displayed inside. Out front, enjoy the view of the Carneros region with sculpture displays and water features.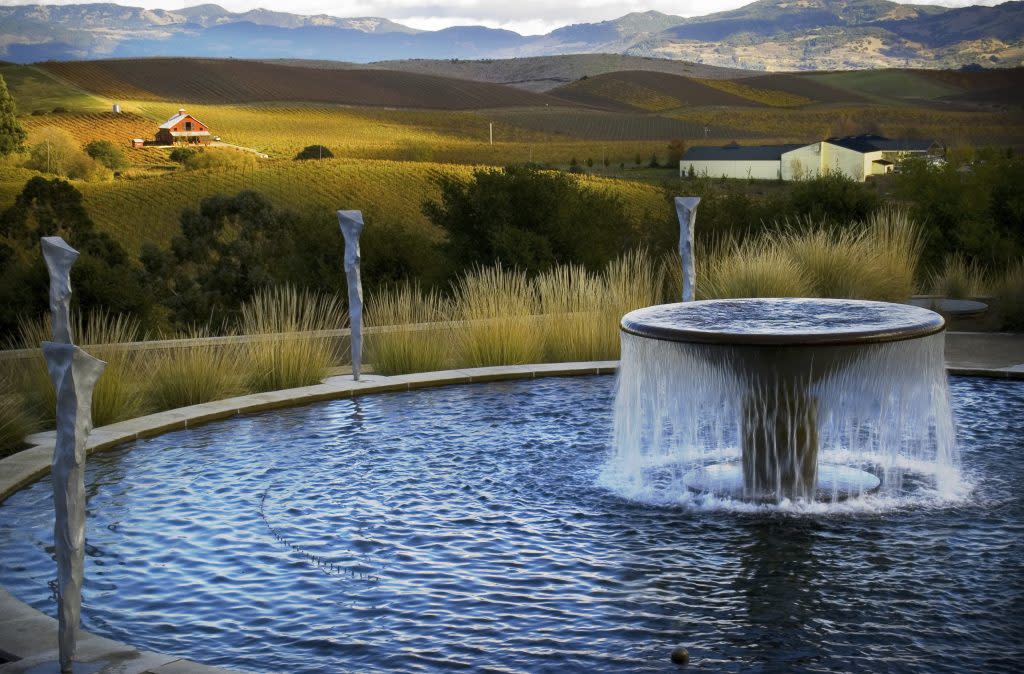 Be sure to hashtag your photos #VisitNapaValley for a chance to be featured on our social channels!
Cover photo credit: Bob McClenahan