Looking to go off-the-beaten-path in Napa Valley? Look no further than California State Route 128 east, also known as Sage Canyon Road, which winds its way through the Vaca Mountain Range and up to Lake Berryessa.
On this hidden gem of a road trip, you'll find historic boutique wineries, uncompromised views, and plenty of opportunities for outdoor adventure.
The curvy roads and changing topography along the way make for an epic cruise, and you'll feel like you have stepped back in time to an undiscovered Napa Valley.
Auberge du Soleil or Shady Oaks Bed & Breakfast would make a great home base to set out and explore this beautiful region.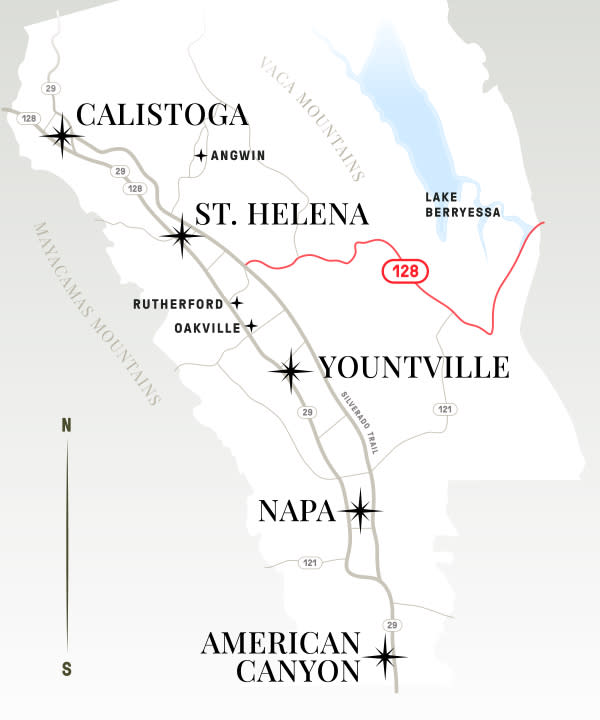 Start your journey at Conn Creek Winery on Silverado Trail. As one of the only wineries to source Cabernet Sauvignon grapes from nearly all of the Napa Valley's distinct appellations, Conn Creek is focused on what Napa Valley does best: Cabernet Sauvignon and other Bordeaux varietals. The energy-efficient facility was perhaps the first "green" winery building in Napa Valley and includes 12"-thick walls made of Styrofoam, steel mesh, gunite and a total of 20,000 corks.
Insider tip: Make an appointment for Conn Creek's internationally-acclaimed Barrel Blending Experience, where guests are invited to taste Cabernet Sauvignon from many of Napa Valley's appellations before becoming "winemaker for a day" and blending your own bottle to take home.
From Conn Creek, take Hwy 128 heading east and continue for approximately 4.5 miles, following Sage Canyon Road to get to Chappellet Winery. Located on Pritchard Hill overlooking Lake Hennessey, Chappellet features some of the best views in the Napa Valley, not to mention spectacular wines.
Insider tip: Make sure your phone is charged because you'll want to Instagram a shot from atop the hill looking over Lake Hennessey (featured in the cover image).
Head back the way you came for about 1.5 miles, then turn right to get back on 128 east. Continue for about 5 miles until you reach Nichelini Family Winery. This serene, rustic winery was established in 1890 and is one of the oldest family-owned wineries in the valley. Nichelini wines are so rarely offered to the public, that purchasing their small-lot wines from the property is a very special treat.
Insider tip: Pack a picnic lunch to enjoy on the property, and relax with a spirited game of bocce ball before getting back on the road.
Continue your off-the-beaten-path adventure on 128 east for another 3.5 miles until you reach Turtle Rock Bar & Café. With dollar bills adorning the ceiling and walls, this tiny dive bar is a popular oasis for locals and visitors exploring Lake Berryessa.
Insider tip: Leave your mark by hanging a signed dollar bill on the ceiling, and don't miss the homemade eggrolls, perfect with a cold beer after a day of wine tasting.
End your adventure with a golden hour hike or a peaceful kayak ride at Lake Berryessa, the largest lake in Napa County at 23 miles long. There are year-round recreational opportunities at this beautiful spot, but spring and summer are obviously the most popular seasons to get up there and enjoy the views.
Insider tip: Grab a cabin or camping spot at Pleasure Cove Marina - where you can also rent a kayak, SUP board, fishing boat, houseboat, or party pontoon - and spend the next day soaking up the lake life.
Looking for a longer adventure? Reverse the route and extend your road trip to explore the entirety of Hwy 128, which stretches all the way west through Sonoma County to the Mendocino Coast - check out a longer, multi-day "Wine to Waves" itinerary here.
Summer Road Trip Pro Tips:
Make reservations. Wineries are open by appointment only at this time, so it's important to plan ahead.
Don't forget the obvious essentials: Car chargers, plenty of water, snacks, sunscreen, swimwear, picnic blanket, etc.
Cool it. Don't forget a cooler for the car to store road trip snacks and purchased wines (you don't want them overheating in the trunk on a hot day!).
Skip the stilettos. Flat shoes are a must-have for exploring the vineyards, squeezing in a spontaneous hike, or bringing your best bocce game.
Layer up. It can get hot during the summer days, especially in the Lake Berryessa area, but tasting rooms and wine caves can be downright chilly - it's always best to bring a sweater to combat fluctuating temps.
Rock out. Create a rocking playlist to pump up your road trip crew - if you're short on time, we love BottleRock Napa Valley's 2021 Playlist! 
Other Wineries to Explore:
Maxville Winery - A visit to Maxville Winery is like stepping into a secluded wine country all your own. With a 35-acre lake, over 1000 acres of pristine Chiles Valley vineyards, and wine tasting experiences that are completely customized, it's like discovering old Napa Valley. Give them a call to create your very own personalized experience!
Kuleto Estate - Located on the eastern edge of the Napa Valley overlooking Lake Hennessey and the town of Rutherford, this extraordinary mountaintop estate features 82 individual vineyard blocks, three distinctive soil types, and a range of elevations and exposures.
Somerston Estate - The Estate is a secluded property high in the Vaca Mountains of the eastern Napa Valley. They focus on producing Bordeaux-style wines that reflect the quality and unique nature of their property. This 1,628-acre property includes over 225 acres of sustainably farmed hillside vineyards with elevations ranging from 800 feet to 2,400 feet.
Outdoor Recreation Activities:
Moore Creek Park at Lake Hennessey features 15 miles of dog-friendly trails. There is also a swimming hole at the very top of the trails. The lake also features a new boat dock and kayaking is permitted, but no bodily contact is permitted, as it is the valley's drinking water.
Lake Berryessa is the largest lake in Napa County at 23 miles long, with a 2,000-acre wildlife area along its east side. One of the largest bodies of fresh water in California, it offers boating, water skiing, wake-boarding, tubing and other fast-paced water sports, plus quiet coves for kayaking, swimming and fishing. In the summer, the water can reach 75 degrees — the perfect cool-down after a hike or a stroll through sun-drenched vineyards.
Cover photo credit: Bob McClenahan