Ah, Yountville - small in size but big on flavor, it's one of our favorite little pockets of the valley. Often referred to as the culinary capital of Napa Valley, Yountville is home to some of the region's best restaurants — as well as a swath of luxury accommodations, a world-renowned art scene, and walkable wine tasting rooms. Not sure where to begin your Yountville adventures? We've got you covered with a three-day itinerary that taps into the very best things to savor, share, and discover in Napa Valley's smallest town. The small wine-growing region of Oakville (it's not officially a town) surrounds Yountville, so of course, we'll explore that too. 
Did you know? With more than one Michelin star per 1,000 residents, Yountville claims the most Michelin stars per capita of anywhere in North America.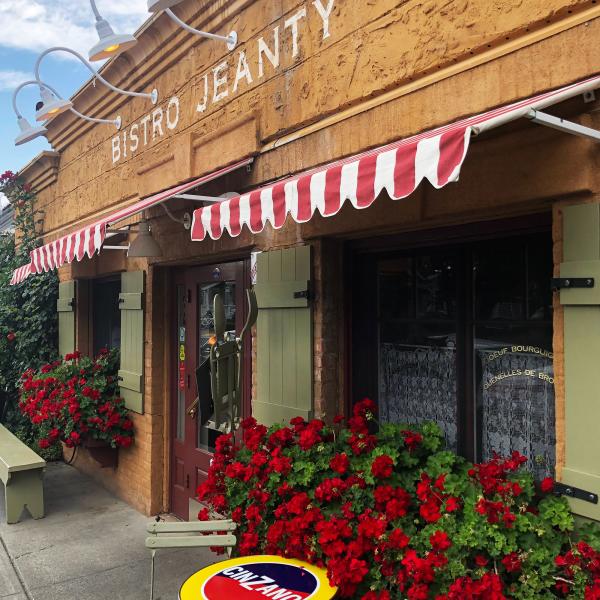 Bistro Jeanty
Day 1
On day one you'll dive deep into the history of Yountville. According to the town's website, during the early part of the 1800s, the area that now makes up Yountville was owned by Mexico. George C. Yount received an 11,887-acre land grant from the Mexican government in 1836 and was responsible for planting the first grapes in Napa Valley in what is now Yountville. 
Morning
Grab a coffee and pastry at Kelly's Filling Station, and then stop into the Napa Valley Museum for a nostalgic moment that will bring you back to childhood. Dangerous Games - Treacherous Toys We Loved as Kids is on display now through February 2022. This original exhibition is devoted to the wacky, whammo, wonderful world of the Slip 'N Slide, Lawn Darts, Creepy Crawlers, Clackers, and other tantalizingly toxic toys.
For a glimpse into the history of George Yount and other early pioneers of the valley, head to the 1881 Napa Wine History Museum located next door to Oakville Grocery, the oldest continually-operating grocery store in California (pop in if you're looking for tasty snacks to take home!). The museum honors the rich history, legacy, and heritage of this world-famous winegrowing region, and also serves more than 30 Napa Valley wines by the glass, allowing visitors to taste wines from each of Napa Valley's 16 different appellations in one spot (you can also see soil samples from each appellation while you sip!). 
Afternoon
Next, head just up highway 29 to Mustards Grill for a classic wine country lunch. Cindy Pawlcyn's 'deluxe truck stop' has been a Napa Valley landmark for over 30 years, serving up classics that have earned a cult following from locals and visitors alike. The Mongolian pork chop is famous for a reason, and if you're in the mood for comfort food, try the "mighty meatloaf."   
It's time for wine! Soak up a little bit of Oakville history with a visit to one of Napa Valley's oldest wineries, Far Niente. The winery was established in 1885 by John Benson — a forty-niner of the California gold rush and uncle of the famous American impressionist painter, Winslow Homer. The building itself is a piece of art designed to astound the eye and the palate, as it functions as a gravity flow winery, gently moving the grapes through each stage of production. The name "Far Niente" comes from an Italian phrase that romantically translated means, "without a care," and it's been carved in stone on the front of the building since 1885. Book an alfresco tasting overlooking the stunning gardens to enjoy scenery straight out of a storybook. 
Check in to Maison Fleurie in downtown Yountville, which is the oldest hotel in Napa Valley. Once a lively hotel and saloon (and bordello, according to some local stories) stopover for gold-seeking railroad travelers, Maison Fleurie was built in 1873 as the Magnolia Hotel, constructed of stone from local quarries. The inn's lavish gardens, overflowing with roses and other colorful blossoms, led to its new name "Maison Fleurie" which means "flowering house." The property features 13 cozy suites and offers complimentary bike rentals for exploring Yountville. 
 
Evening
All that history works up an appetite! Gourmet dining in Yountville dates to 1977 when Philippe Jeanty opened the restaurant at Domaine Chandon. Today, enjoy Chef Jeanty's French fare at the Michelin-rated Bistro Jeanty, which has been a Yountville favorite since opening in 1997. Be sure to try the tomato soup with puff pastry - we know locals that visit weekly for their tomato soup fix!   
Hotel Yountville
Day 2
Yountville is the ideal Napa Valley town to explore on foot, and on day two you'll be embracing the art of passigiata and exploring at a slower pace (bonus points for being a sustainable traveler!). 
Morning
Start the day off right with coffee and pastries at Bouchon Bakery - it's best to get there early to beat the daily lineup of hungry travelers!  
Coffee in hand, it's time to explore the Yountville Art Walk, a collection of 35 large-scale works from local and world-renowned artists dotting the downtown. You can download a map and tune into the audio tour, or opt for a guided Art Walk experience with a Yountville local.  
Insider tip: Locals love to walk Yount Mill Road for its striking scenery. You can also stop to feed (and pet) the longhorns that graze the fields alongside the road. Pick up a few small crab apples, and you're in business. 
 
Afternoon
Lunchtime! Stroll over to La Calenda for authentic Mexican cuisine from Chef Kaelin Ulrich. While Chef Kaelin is from Oaxaca, the traditional fare at La Calenda casts a glance across a range of regions, including the Baja Peninsula, the Nayarit coast, and Veracruz. The colorful patio is a lively lunch spot, and the fish tacos are the stuff Yountville dreams are made of. Be sure to also try the restaurant's own handcrafted house beer, "El Chefe" a Mexican lager brewed with California corn by Berryessa Brewing Company.
Book a tasting at nearby Priest Ranch Wines, where you can delve into the joys of food and wine pairing with the Bacon + Wine Experience (we're pretty firm believers that bacon makes everything better). This tasting pairs four distinct thick cuts of pork belly with four wines that have been selected to enhance the flavors of one another perfectly.
Check into Hotel Yountville — the perfect home base for exploring Yountville on foot — and take advantage of November's Yountville Dreaming package that includes breakfast in bed from Heritage Oak, a $200 spa credit, in-room Bath Butler experience, and two Yountville Dreaming Cocktails. 
Evening
For dinner, make a reservation at The North Block Restaurant, which was recently added to the 2021 Michelin Guide. Chef Nick Tamburo from NYC's Momofuku brings fresh energy to Yountville with his take on refined California cooking featuring locally-grown, ingredients. Rotating with the seasons, the menu features meat and vegetarian dishes infused with raw and smokey elements, in addition to woodfired, naturally-leavened pizzas.
Before turning in for the night, enjoy a post-dinner stroll along Washington Street, which is aglow with twinkling lights and alive with the sounds of visitors and locals alike enjoying a taste of the good life.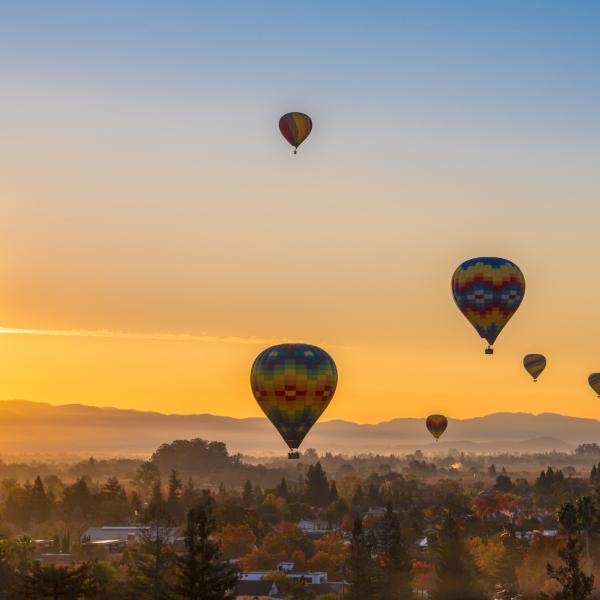 Napa Valley Aloft
Day 3
It's your last day in Yountville, and it's time to check some things off that bucket list and splurge a little! 
Morning
First on the schedule is a sunrise hot air balloon ride — trust us, it's well worth the early morning wake-up call. Floating over the splendor of the valley is a bucket list experience you're sure to dream about long after your visit, and Napa Valley Aloft's Optimal Yountville Experience ends with brunch at Ottimo followed by a tasting at Handwritten Wines complete with truffle potato chips. 
Next, head over to the Silverado Trail for a VIP Tasting at Cliff Lede Winery. Take in sweeping views of Poetry Vineyard from the luxurious outdoor lounge while being guided through a selection of single vineyard, appellation series, platinum or library wines. 
Afternoon
Just up the road, check into Poetry Inn for the ultimate in wine country luxury and privacy. Nestled on a hilltop among the vineyards, this five-room boutique B&B boasts some of the best views in Napa Valley, and a decadent brunch menu to match. 
After dropping your bags, indulge in pre-dinner snacks and bubbles at Thomas Keller's newly opened Regis ova Caviar & Champagne Lounge pop-up in downtown Yountville. Guests are encouraged to order caviar and roe by the gram or tin to enjoy alongside their small plates. Servers help to curate the experience, suggesting caviar pairings based on flavor, texture, and value. Menu highlights include Daniel Boulud Smoked Salmon with Meyer lemon schmear and bagel wafers, and Hass Avocado Mousseline, with a Hass avocado purée served with heirloom corn tortilla chips.
Evening
For your last meal in Yountville, head to dinner at Bottega, where Chef Michael Chiarello is cooking up bold Italian flavors with a wine country twist. The menu is always changing, but don't miss the burrata appetizer and Chef's handmade pasta perfection. Bottega is also known for their negroni - we love the Pink Panther! 
Whew! That's a lot to pack into three days, and yet… there's so much more to explore in Yountville. If you're thirsty for more inspo, find complete lists of wineries, places to stay, where to dine, and things to do in Yountville — and don't forget to enter to win a dream getaway!