Get Warm in Calistoga – Mud Baths & Mineral Pools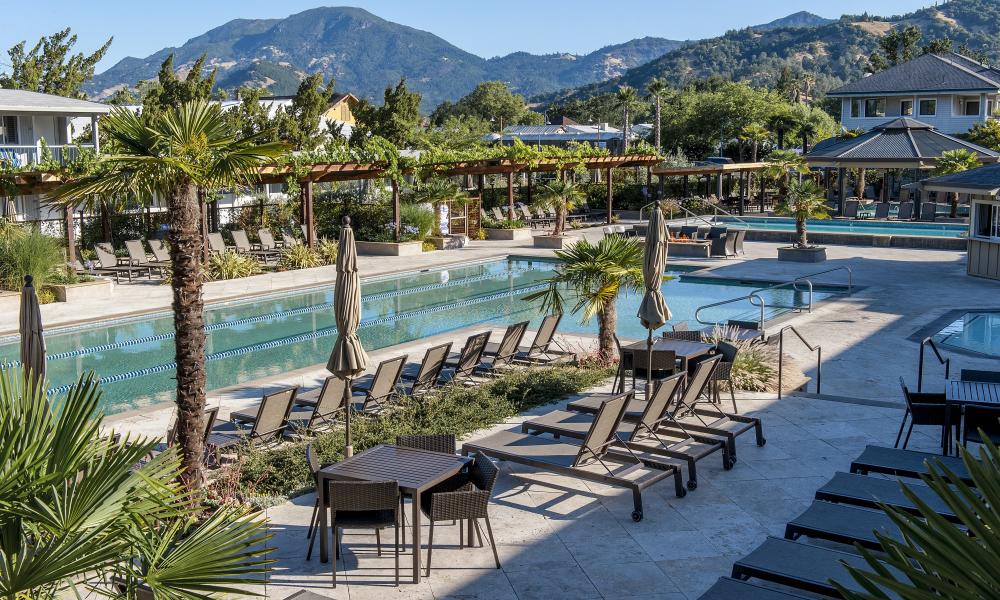 Okay, so we don't have white winters in the Napa Valley, but that doesn't mean you don't get cold here in January. And when you do, there's a perfect solution: Get yourself to Calistoga to soak in some hot mud, the town's signature spa experience. Between the heat and the toxic-cleansing process, it's a guaranteed way to suck the cold right out of you. Combine that with a relaxing massage and you're halfway to heaven. Here are some favorite Calistoga spas, with their featured treatments. And, because winter is low season, you can often get special rates and the town is less crowded.
Indian Springs Resort. A charmingly updated version of the original 1861 spa, Indian Springs is the state's oldest continuously operated mineral pool and spa venue. The property has four thermal geysers and a deposit of pure volcanic ash. The waters supply the mineral pool and steam rooms, and combined with the ash, create the special mud for their famous mud baths.
Spa Solage. This is one of Calistoga's most elegant spas. The Bathhouse and Mud Bar features healing geo-thermal pools and mineral-rich mud therapy in a gorgeous setting of farmhouse-style cottages.
Mount View Hotel and Spa. Dating from the 1920s, this charming venue also offers a full menu of spa services, including a mineral mud bath and an "oxygen bath," which cleanses the pores, increases serotonin levels and circulation, and enhances the immune system.
Golden Haven Hot Springs Spa and Resort. This longtime venue offers the classic mud-bath experience: the mud bath, the hot mineral Jacuzzi, and the blanket wrap. The combination of clay, peat, and mineral water bath relaxes muscles and joints, detoxifies, and refreshes the skin. After a private soak in the Jacuzzi, you'll retreat to a blanket wrap with aromatherapy as you cool down – and probably doze off.
Calistoga Spa Hot Springs (pictured above). This recently updated spa and hotel also offers the traditional mud bath with locally harvested volcanic ash mud. You can enjoy natural mineral and steam baths or experience "the Works," a two-hour combination massage and bath treatment. 
Dr. Wilkinson's Hot Springs Resort. This Napa Valley icon was one of the original spas to offer mud baths in Calistoga, and it remains an original today with an authentic mid-century vibe. Founded in 1952 by John "Doc" and Edy Wilkinson, it continues to be run by their children, Carolynne and Mark, and maintains the family commitment to health and relaxation. Its classic mud treatments include a mud masque with cucumber slices for your eyes, and it offers full 30 or 60 minute massages (longer than at some other spas) and a range of other bodywork methods.
 Baths at Roman Spa. This venue offers a full menu of "mud and mineral adventures," as well as several different kinds of massages, including Japanese Reiki. Hotel guests receive 10% off treatments, excluding Saturdays and holidays.
What are you waiting for? As I write this, there is frost on the front lawn – as soon as I've finished, I'm calling to book my own appointment!