Whether you're looking to be a more eco-friendly traveler or just prefer to slow down and explore at a more relaxed pace, there are plenty of ways to enjoy wine country without renting a car or using rideshare services. Napa Valley is home to breathtaking scenery and mild weather year-round, and getting out of the car is one of the best ways to experience the destination. Below, you'll find some of our favorite ways to travel car-free:
Bike for Wine
No matter the season, seeing the valley au natural is the way to go. And there's no better way to do that than by bicycle. Rent cruiser bikes from Napa Valley Bike Tours in Yountville, where you'll have easy access to the Napa Valley Vine Trail, or snag e-bikes from Fat Tire Bike Rentals in downtown Napa to explore the many activities, shops, restaurants, and tasting rooms downtown. Clif Family Winery also offers new Tour de Chef cycling experiences that include bike rentals and end with a tasting and a yummy bruschetta on the patio.
Insider tip: Many hotels - Carneros Resort, Cottage Grove Inn, Napa Valley Lodge, and The Estate Yountville, to name a few - offer complimentary bikes onsite for guests.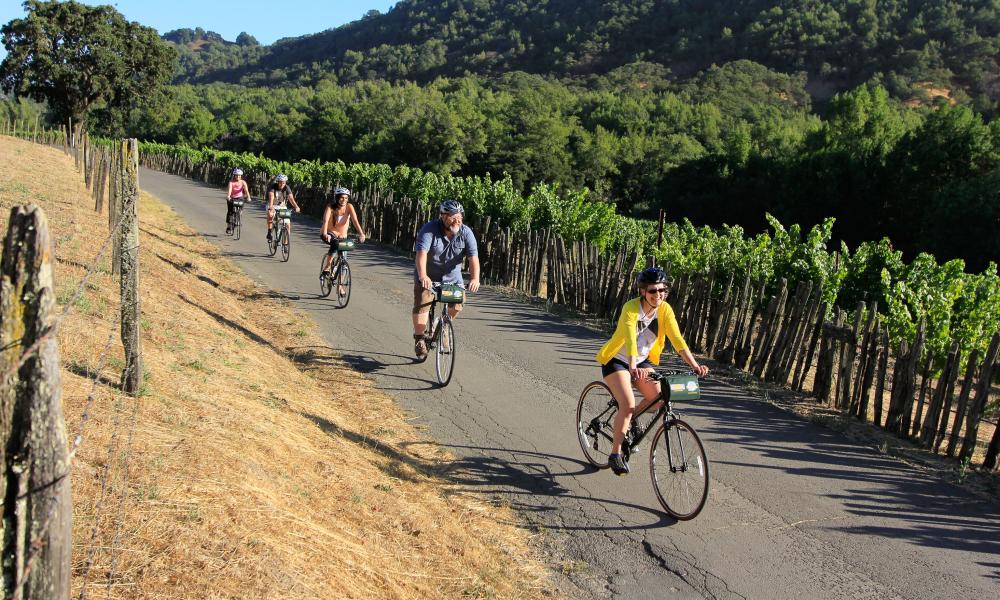 Hop Aboard the Trolley
The open-air Napa Valley Wine Trolley is one of the friendliest tours around, and they can customize a tour for your group, or for a more spontaneous experience, you can simply hop aboard a daily tour. The guides are all local experts and love to entertain visitors with stories of the history and people of Napa Valley. Every detail of each hand-built replica cable car, from the all-wooden carriage to the solid brass bell, is an authentic feature right off the original blueprints of a California Street Cable Car.
Insider tip: The Wine Trolley is a great place to make new vacay friends! By the end of the day, you'll be chatting with your other tour buddies like you've known them for years.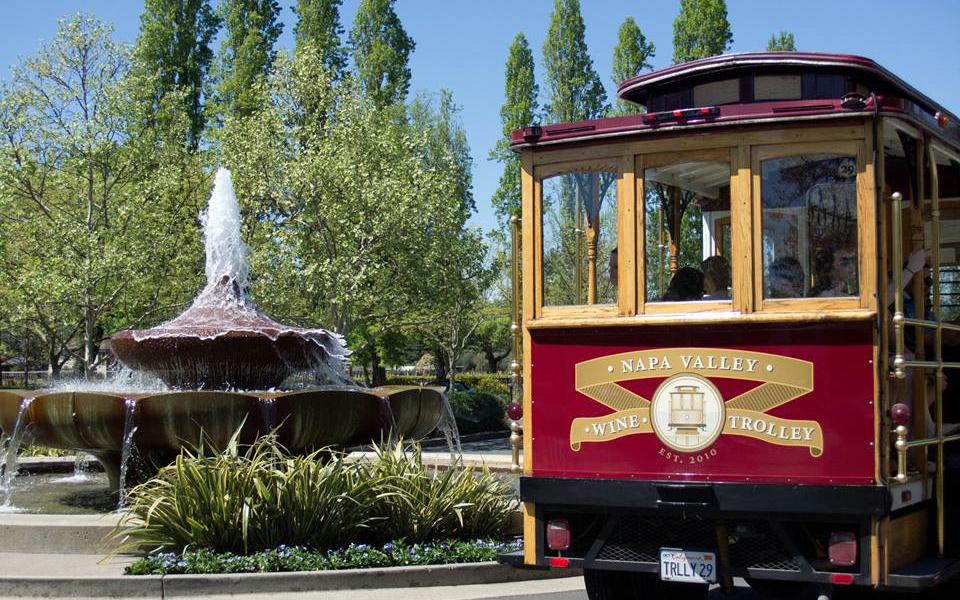 Take a Tuk-Tuk Vineyard Safari
Napa Wine Safari offers up a true wine country adventure that gives you a front-row seat to some of Napa Valley's smallest family-owned boutique wineries. You'll walk through the vineyards, enjoy a peaceful lunch among the vines, and maybe even taste wines with the winemakers.
Insider tip: The safari tour takes you through the backroads of the Coombsville AVA (American Viticulture Area), which is Napa Valley's newest AVA. Most people who visit Napa never pass through it or even know it exists.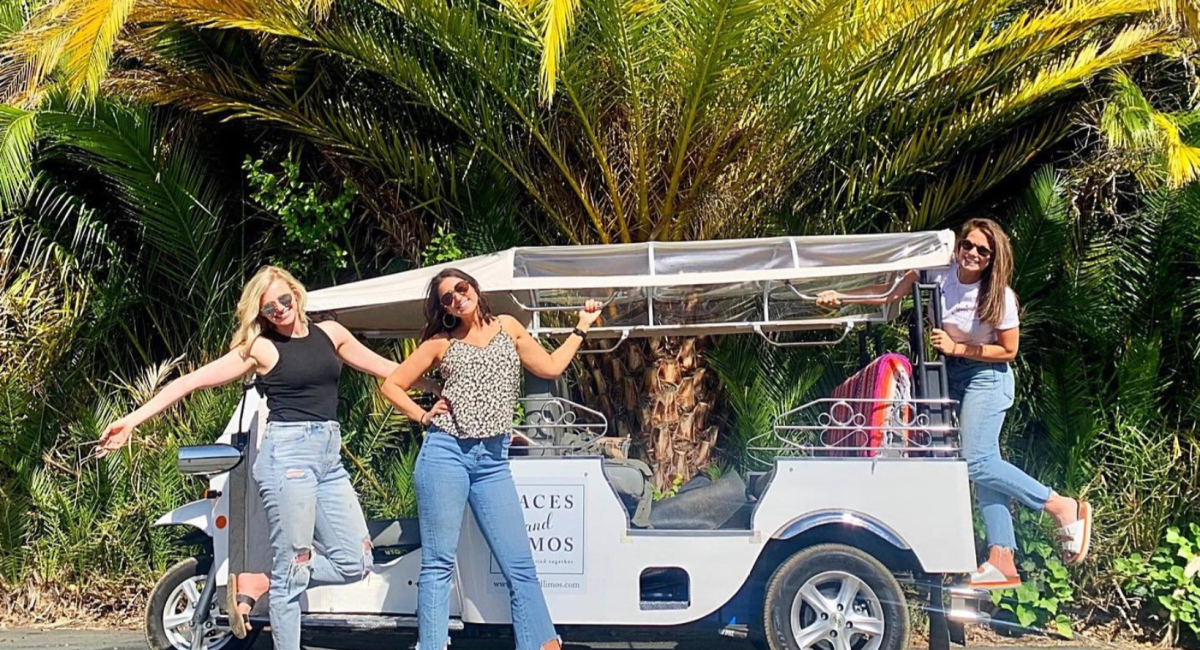 Take the Train
All aboard! The Napa Valley Wine Train is better than ever. Sit back, relax, and get whisked away on this classic rail adventure that stops at three storied Napa Valley wineries.
Insider tip: Opt for the open-air car for a truly immersive experience. There's nothing quite like rumbling past rows of vineyards with the wind blowing through your hair.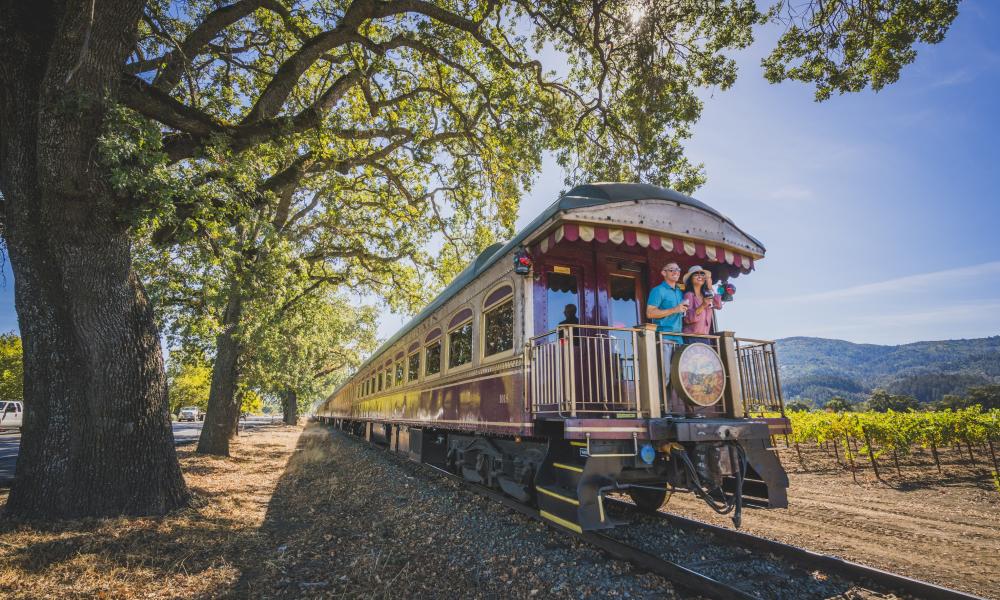 Use Your Own Two Feet
Napa Valley's five towns are very walkable, and taking a day to explore each town on foot allows you to be truly immersed in the unique sights, sounds, and flavors of the valley. Hike the wetlands in American Canyon, explore more than 50 walkable tasting rooms in Downtown Napa, follow the Art Walk or curate your own culinary crawl in Yountville, get your shopping fix at the many artisan boutiques along Napa Valley's Main Street in St. Helena, and soak up the easygoing vibes and farm-to-table flavors in Calistoga.
Insider tip: Take the Vine Trail! The Napa Valley Vine Trail runs parallel to Highway 29 and offers easy walking access to many favorite wineries. The Setting Inn in Napa and Hotel Yountville are two great options for a home base near the Vine Trail.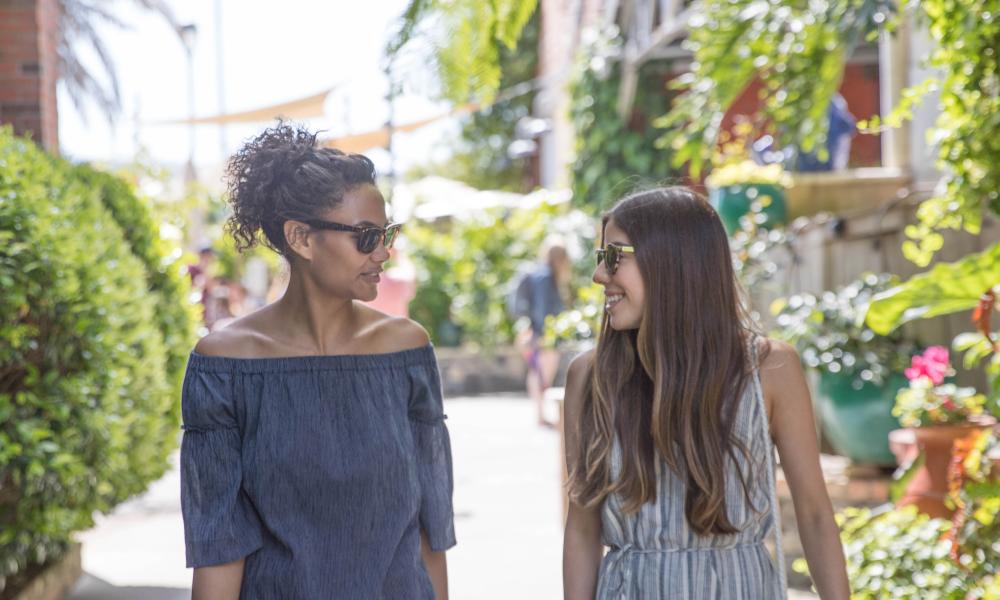 Let a Driver Take Care of You
For those in the mood to be chauffeured in style, Napa Valley transportation companies are ready to do the driving so you can sit back, relax, and savor a stress-free experience. Not only can they be your designated driver, but they can also take care of the planning for you.

Need help getting to Napa Valley from the Bay Area or a nearby airport? Check out the transportation options to the Napa Valley
For a budget-friendly car-free option from the Bay Area/Sacramento, Amtrak offers Thruway Bus Service (which also connects to several Amtrak stations) through on their Route7, operating daily between Martinez and Arcata.