In Yountville, meetings truly have a flavor all their own. The town is considered the "Culinary Capital" of Napa Valley, home to several fine dining establishments – plus stellar wineries and hotels – that welcome groups of all kinds to focus, relax, and refuel.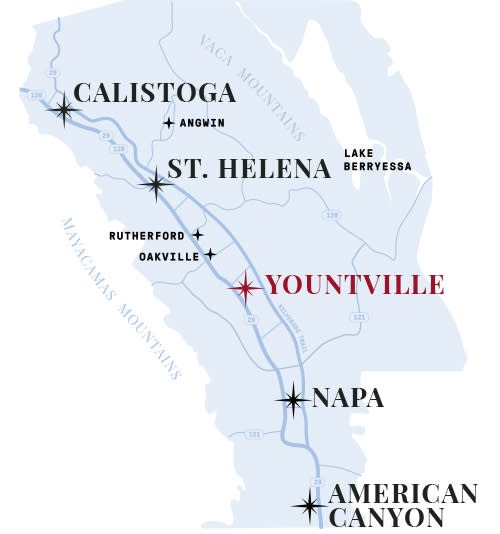 Below are some of the many facilities and team-building activities available in Yountville for your next group event. You can also find more information about Yountville, including its wineries, restaurants, and attractions here.
MEETING VENUES 
Yountville provides groups with the canvas and spirit to crush meetings with state-of-the-art facilities, flexible meeting spaces, and incredible natural surroundings. Here are a few of our top picks: 
Bardessono – With over 1,665 square feet of indoor space and more than 4,000 square feet of outdoor space, the venues at Bardessono offer al fresco terraces, water elements, eclectic landscape, and a poolside patio. The hotel also features an on-site restaurant –  Lucy Restaurant & Bar at Bardessono –  so your group doesn't have to go far to refuel after a long day of meetings. Did you know that the hotel is also one of the few Platinum LEED-certified (the highest standard for environmental design) hotels in the United States?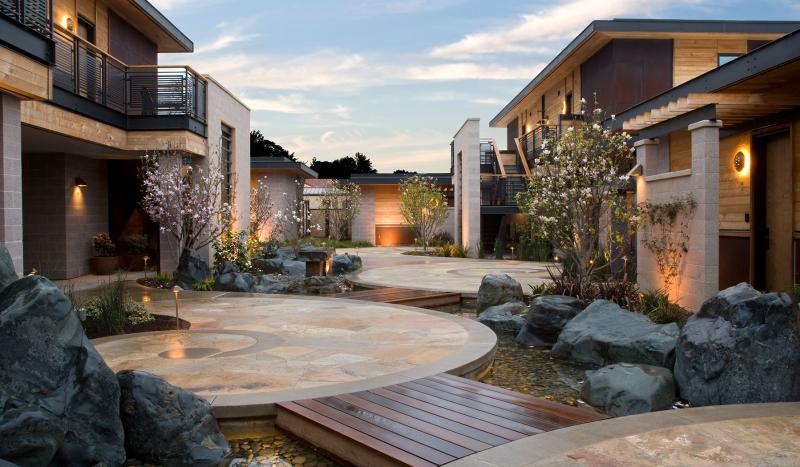 Chandon – Treat your group to views of vineyards and rolling hills at Chandon. Just minutes from downtown Yountville, the winery is just a walk from Yountville's array of dining and group experience options. The property also has a range of manicured and unique event spaces plus sparkling wines to enliven any group get together. 
Bottega Napa Valley – For 30 years, Chef Michael Chiarello has made his home in Napa Valley, cooking, making wine, and sharing the best of Napa Valley. If you're planning an event that calls for something extra special, Chef Chiarello and the Bottega staff can provide a one-of-a-kind setting and create a menu to mark the occasion. Groups can also try Chef Chiarello's Coqueta and Ottimo. 
Yountville is filled with meeting spaces for your team. Check out the full list of venues. 
TEAM BUILDING ACTIVITIES
Michelin-starred restaurants, award-winning tasting rooms, world-class art, fine accommodations, and incredible natural surroundings are all within walking distance in Yountville. Treat your team to some of these group experiences:  
Outdoor adventures – Yountville is a picturesque town best explored on foot. Rent a bike from Napa Valley Bike Tours to experience the town en plein air. Or your group can embrace the art of passigiata and explore the Yountville Art Walk, a collection of 35 large-scale works from local and world-renowned artists dotting the downtown.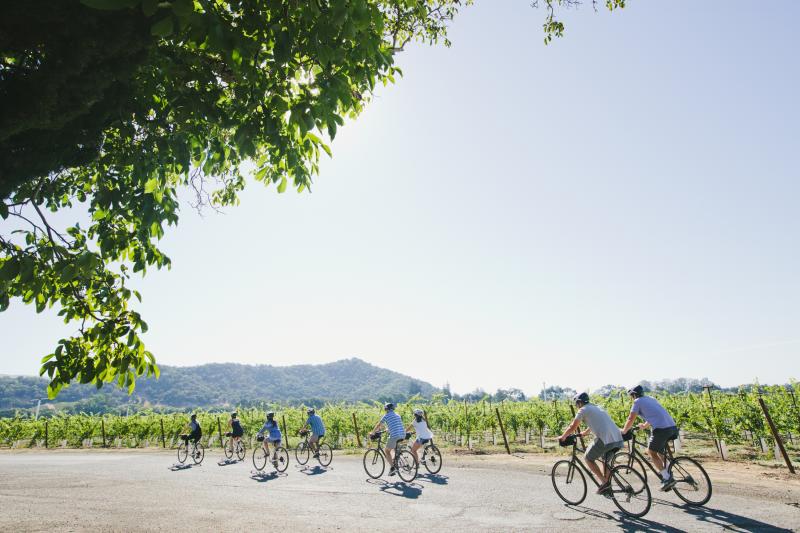 Adventure from high above the valley – If you really want to give your group an unforgettable adventure, Napa Valley Aloft Balloon Rides offers an exhilarating, four-hour hot air ballooning experience for groups. Hot air ballooning is an iconic Yountville experience and one of the most unique and inspiring ways to appreciate the valley's lush, rolling hills and gorgeous coastline.
Wining – With 15 stroll-able tasting rooms and 7 nearby wineries, Yountville is the perfect stop for wine tasting. Soak up a little bit of history with a visit to one of Napa Valley's oldest wineries, Far Niente. Take in sweeping views of Poetry Vineyard at Clif Lede Vineyards. Check out some of the walkable tasting rooms in Yountville here.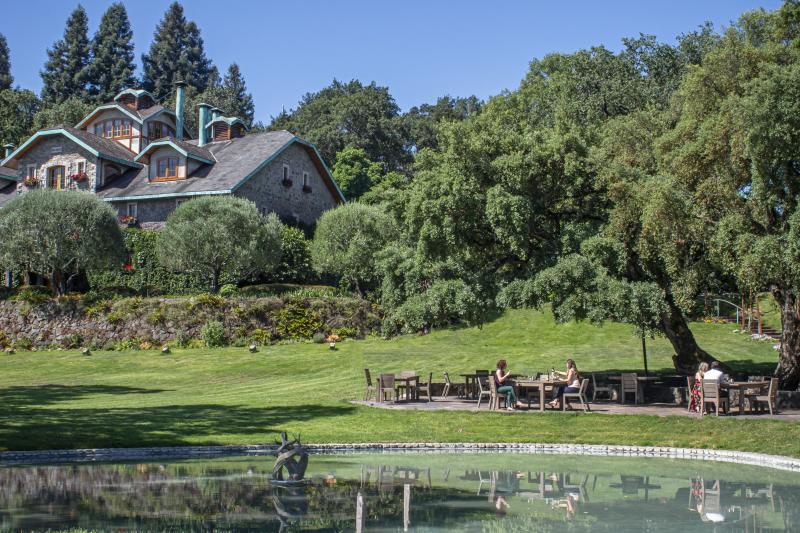 Dining – If your group is on a quest for stellar food, Yountville shines bright. Tacos by Thomas Keller? Check. Authentic French cuisine? Look no further than Bistro Jeanty. You can even treat yourself to a Spanish tapas spread to delight the whole group at Coqueta, or order up truck‑stop‑style favorites like the famous Mongolian pork chop from Mustard's Grill. Whatever the craving, Yountville restaurants will do the cooking for your group.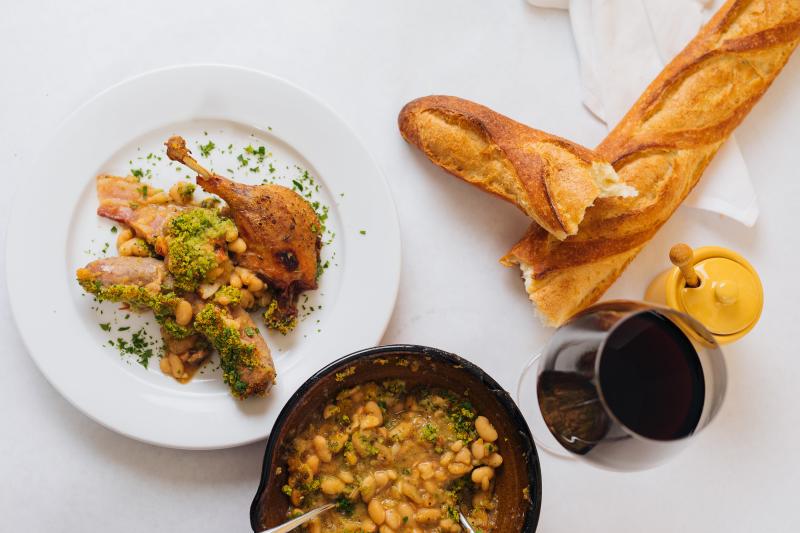 NICE TO KNOW 
With more than one Michelin star per 1,000 residents, Yountville claims the most Michelin stars per capita of anywhere in North America.
The town was founded by George C. Yount, the first Euro-American permanent settler in Napa Valley. Yount was also the first person to plant grapes in Napa Valley in 1839. The area grew slowly, with just a few homes, and began to develop a reputation as a gourmet destination in the 1970s. Today, this picture-perfect, 1.5-square mile town is the ideal place to practice passeggiata — the art of the stroll.
Yountville's historic sites include The Shops at The Marketplace, in three 1870 stone buildings that once housed a winery, barrel room, and distillery. Today, it's home to restaurants, galleries, and boutiques.