Group Sales Toolkit
Visit Napa Valley
Helping bring group business to Napa Valley
Visit Napa Valley engages in a variety of direct sales efforts designed to reach the meeting planner audience. These pursuits are designed to educate and inspire planners to host their events in the Napa Valley.
The following materials help tell the Napa Valley Meetings story:
Platform
The Signature Blend
Meetings in the Napa Valley surely have a flavor all their own. Authentically collaborative and distinctively creative, meetings and conferences here have the option of occupying countless unique venues, a variety of hotels, impeccable open spaces, beautiful wineries and incredible restaurants, all offering the perfect blend of inspiration and functionality.


Headline + Logo Guidelines
Use these downloadable headlines through your website, social media channels, and more.
The predesigned headlines will be provided in .EPS and .PNG format and should always be placed over an image that allows for best legibility. Recommended placement will be over solid backgrounds free of clutter. Placement of this headline will be crucial to the legibility. Subtle drop shadows are recommended but not a must.
These headlines should only be used in the following colors:
HEX code
White - ffffff
Black - 000000
Navy blue - 1a2b55
Visit Napa Valley logo
Brand logo should not be replaced, removed or modified in any shape or form. Single color to be used.
Partner Logo
The partner logo should be placed in the designated "partner logo here" area and follow the size of the VNV logo and be sized within the allotted box.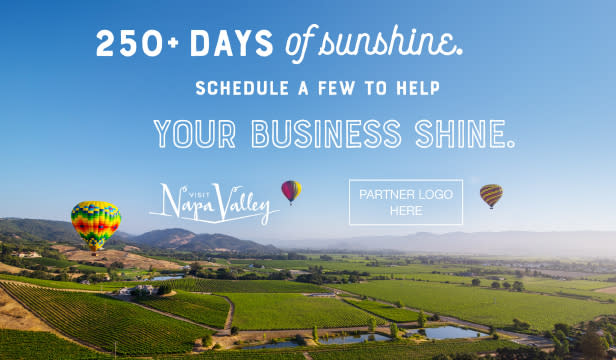 | | | |
| --- | --- | --- |
| | | |
| HEX: ffffff | HEX: 000000 | HEX: 1a2b55 |
Here, the spirit of collaboration is always in season.
250+ days of sunshine. Schedule a few to help your business shine.
What's good for the mind, body, and soul is also good business.
Farm-to-table fuels productivity.
Miles & miles of trails. And plenty of space to stretch your business goals.
If it pleases all five senses, it makes perfect business sense.
An idyllic landscape to strategize your business outlook.
Here, productivity comes in nice long pours.
Copy Blocks
50-Word Format:
Beyond Napa Valley's stunning outdoor venues, world-class wineries and restaurants, idyllic scenery, and 250+ days of sunshine, you'll discover a spirit of collaboration that gives meetings in Napa Valley a flavor of their own. Here, creativity, inspiration, and innovation safely come together so you can crush that meeting.

---

100-Word Format:
While the heart of the Napa Valley may be found in a glass, its soul is revealed through the spirit of collaboration. From the humble beginnings of early winemakers redefining what a winery could be, to today's local growers collectively sharing agricultural innovations, you'll find this collaborative spirit alive in every corner of the valley. Ultimately, it's what gives meetings here a flavor all their own. With boutique hotels and resorts, outdoor venues for groups of all sizes, ample wellness opportunities, and an environment that both inspires and fosters innovation and creativity, we provide guests with the canvas, and spirit, to safely create legendary meetings.

---

Long Format:
While the heart of the Napa Valley may be found in a glass, its soul is revealed through the spirit of collaboration and innovation. A spirit that is defined by equal parts authenticity and creativity. From our winemaking's humble beginnings, to legendary winemaker Robert Mondavi's redefining of what modern-day wineries could be, to our local growers' unwavering belief in sharing agricultural innovations, the spirit of authentic collaboration is weaved throughout the valley's storied history. Here, it can be experienced in every corner.
Beyond our unique outdoor venues and ample wellness opportunities; beyond our world-class wineries, 10 Michelin stars, 5,000 guest rooms, and 250+ days of sunshine, is where you'll discover a collaborative spirit that gives meetings in the Napa Valley a flavor all their own. As guests, we hope it inspires you to create breakout sessions that don't simply focus on growing profit margins, but also growing as a team — in the same way Robert Mondavi financially backed competing wineries to transform the Napa Valley into a legendary wine region. We hope this spirit encourages a culture of cooperation within your organization, just as our local grape growers rely on one another's expertise year after year to ensure a successful harvest for the entire region. And we hope it fosters a culture of creativity and innovation, similar to the numerous winemaking breakthroughs such as cold fermentation that were not only pioneered in the Napa Valley, but also shared amongst all our wineries, for the benefit of all those who call the Napa Valley home.
But it doesn't end there. In continuing with this spirit of collaboration, and as a completely complimentary service, Visit Napa Valley staff is available to provide guidance on everything you need to make your stay here a success. We can assist with lead sourcing, site inspection tours, and transportation options. We can even offer up ideas for creative team-building activities and create itineraries for your group visit. Our team knows every corner of the Napa Valley and its history, and we're here to share our unbiased insights and insider tips.
And of course, whether it's your desire to convene your team in a posh resort or boutique hotel, to work amongst the rolling vineyards or storied wine caves, or even dream up grand plans in gorgeous gardens or vintage barrel rooms, you can rest assured that the Napa Valley has the venues, square footage, safety protocols, and incredible locations to help you Crush That Meeting.