The Most Extravagant Napa Valley Wine Tours & Tastings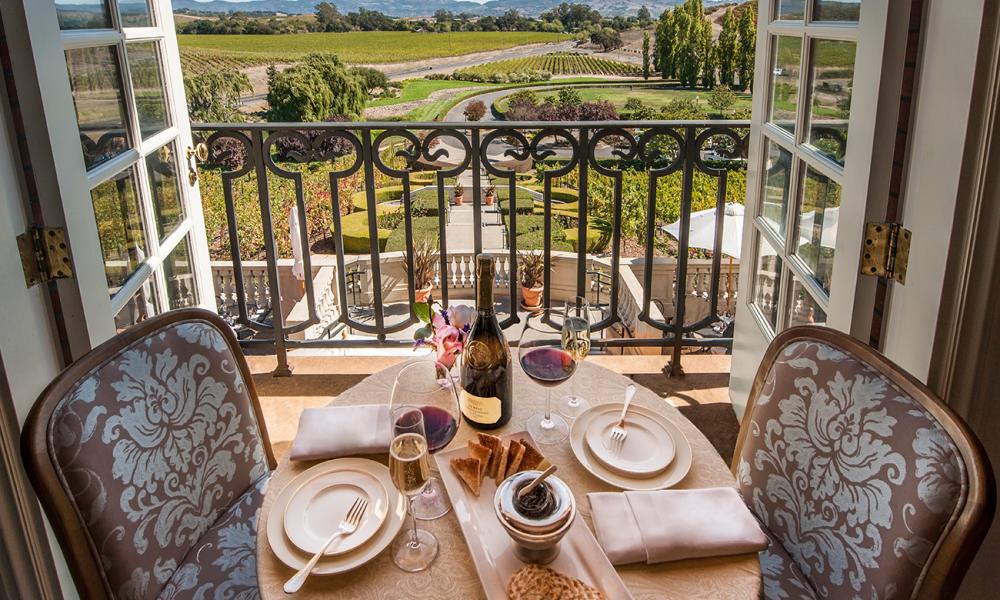 If you love wine and are looking to do something out of the box or treat a special someone to an extraordinary day in Napa Valley – then this list is for you! From caviar with bubbles to Wagyu beef with Cabernet Sauvignon, these are some of the most extravagant wine tours and tasting experiences in the Napa Valley:
Raymond – Winemaker for a day
Get ready to experiment in Raymond's wine lab, fully equipped with metallic red and silver lab coats and hats to protect you from any possible wine spillage. Learn the winemaker's art while blending your own red wine. Following the blending session, you can take home a bottle of your blend that day with your own custom label. 90 minutes, $100 per person
Chimney Rock Winery – Ganymede Private Tour & Lunch
Famous for superb Stags Leap District Cabernet Sauvignon, Chimney Rock is the perfect place for red wine lovers. Explore one of Chimney Rock's most treasured blocks of estate Cabernet Sauvignon on their Ganymede tour. Embark on a private, guided tour of their estate vineyards and cellars with a winery ambassador then enjoy a seated tasting of their wines with lunch and continued wine services on their veranda. 120 minutes, $130 per person.
Domaine Carneros – The Sparkling Suite
The new Sparkling Suite gives couples an opportunity to book their own private château balcony overlooking Carneros vineyards. The Sparkling Suite includes a private tasting for two of Domaine Carneros sparkling wines and Pinot Noirs, paired perfectly with caviar, charcuterie and all the necessary accouterments. As a keepsake, you'll be gifted with your most memorable wine of the day. Up to 120 minutes, $500 per couple.
HALL Wines – Appellation Exploration
The exploration begins with a tour of HALL Rutherford's state-of-the-art production facility where the discussion will encompass the winemaking practices at HALL. Walk through their cave's for a barrel tasting and then enjoy the view in the spectacular Chandelier Cave adorned with dazzling Swarovski crystals during a seated tasting of three appellations designated wines. All wines are paired with seasonal food prepared by celebrity chefs. 90 minutes, $125 per person.
Round Pond Estate – Signature Tour & Lunch
Take a peek-behind-the curtain at how Round Pond creates their farm to table products. Start the morning off with a toast of sparkling wine cocktails and freshly baked scones while learning the history of the Estate. The classic Round Pond Red truck will whisk you to off to the Vinegar Acetaia where you will learn about their Red Wine Vinegars. Then venture to their olive oil mill to explore how they perfected the craft of making liquid gold. Taste a bit-o-honey near their beehives and head to the barrel room for a barrel tasting. Finally, head back to their estate garden for a delicious farm-to-table lunch. 5 hours, $200 per person.
Judd's Hill – Bottle Blending Day camp
Taste your way through a red-wine blending session to create your perfect Bordeaux-style blend wine. Hand-bottle and label your final product to take home with you that day. The Bottle Blending Day Camp has several options: $225 enables you to take home 3 finished bottles of wine (maximum of 4 participants); $395 results in 6 bottles (maximum of 4 participants); $775 is a 12-bottle adventure (maximum of 8 participants).
Signorello Estate – Enoteca
Taste your way through a private and intimate food and wine pairing exploration in Signorello's indoor tasting area. Enjoy their current and reserve wines paired with a four-course Italian inspired meal. The highlight: Snake River Farms Kobe Wagyu beef that pairs perfectly with their Cabernet Sauvignon. 120 minutes, $175 per person.
Long Meadow Ranch – Full Circle Wine Experience
Start your day off at the Logan-Ives House at Long Meadow Ranch Winery with fresh coffee and tea, fruit and pastry. Then you will be whisked off to the Long Meadow Ranch's Mayacamas Estate, their home ranch located high above the Napa Valley in the Mayacamas Mountains. Explore the ranch on foot (or aboard a vehicle) while taking in stunning views of the Napa Valley from their organically farmed vineyards and orchards. Chances are you'll also catch sights of their Highland cattle, horses, chickens and other ranch inhabitants. At the adobe-style winery, visit their wine cave and frantoio, one of the few traditional olive oil mills in Napa County, before returning to the Logan-Ives House for a seasonally inspired meal paired with LMR wines. 4 hours, $195 per person.