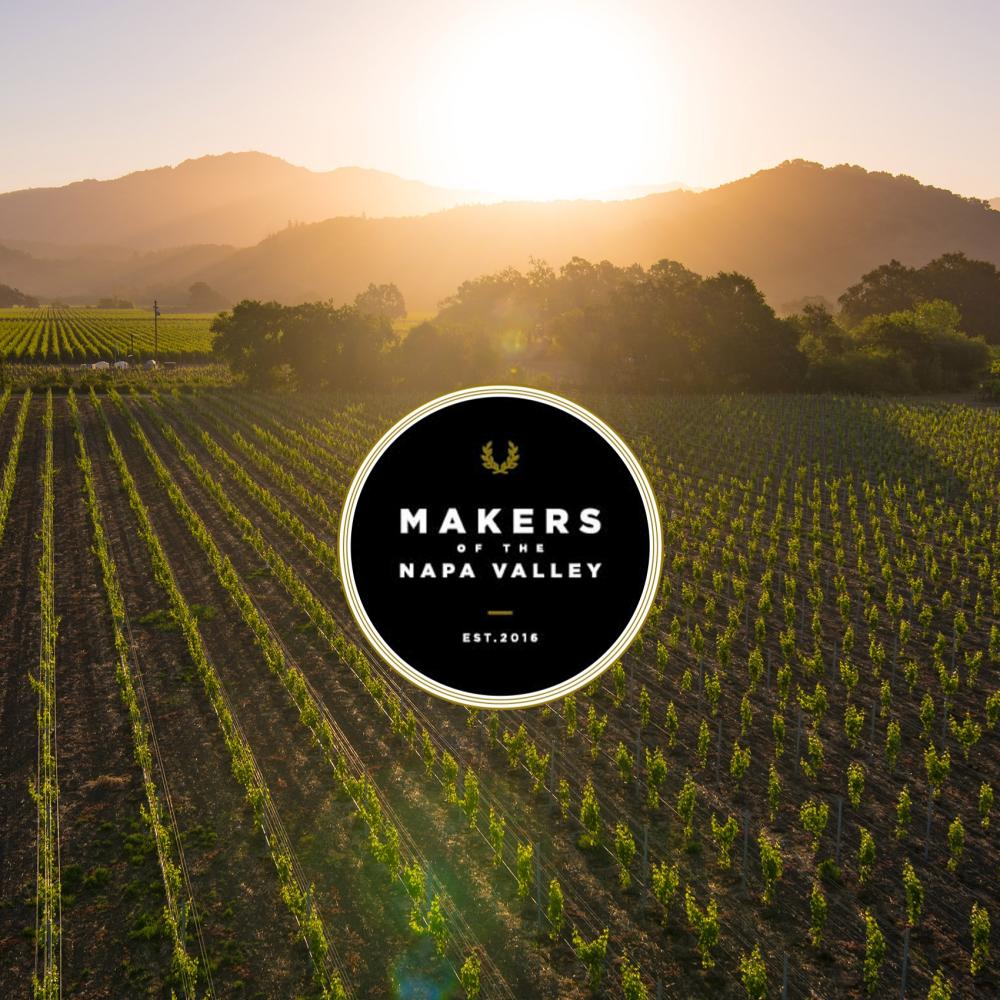 William Callnan III & Nikki Ballere Callnan
Ceramicists - NBC Pottery
Will and Nikki met at a ceramics class back in 1997, and their shared passion became the foundation of their relationship and NBC Pottery. They work out of a home studio in Angwin, in the mountains above St. Helena, molding organic wares that grace the tables of area restaurants. With two young kids in tow, they enjoy exploring the Napa Valley's natural beauty and creative scene.
"We bring a lot to the table, literally," says Will, of their nature-inspired wares. "There's something so different about eating off a handmade organic plate; it warms up the whole experience," adds Nikki.
Chefs regularly drop by the studio to collaborate on designs, and the Callnan's live-work scenario makes it easy for the couple to check on their clay, which is dynamic and in need of frequent attention. It also means their two young kids are growing up involved and immersed in art, both at home and in the greater community.
When the Callnans first moved to the Napa Valley 13 years ago, they taught art while building their business and relationships with a fledgling group of painters and musicians. "Now the arts community is blossoming big time," says Will. "It's great because we create together and we have exhibits together."
The Callnans encourage visitors of all ages to get their hands dirty at the studio. "We'll sit down and throw with them, and we show them the range of work we have," says Will.
What unites all their work is a deep connection to the Napa Valley and its contours. Nikki explains how they create raw edges and rims inspired by local mountainscapes; they will even press a rock or piece of wood into the clay, translating those textures into their products.
"Napa Valley is gorgeous, and sometimes the inspiration is just in keeping your eyes open," says Will. "For us, we're makers, we're wired that way."
Read on for their favorite places, from a perfect picnic spot to a winery with outstanding art.
Experience Napa Valley Like a Local
5 Recommendations from William Callnan III & Nikki Ballere Callnan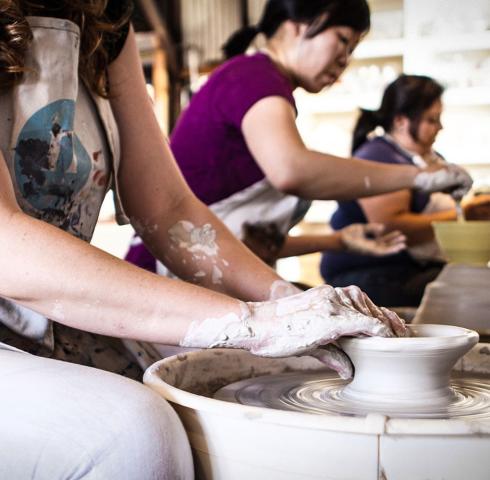 Nimbus Arts
"Nimbus Arts has lots of programming throughout the week and on weekends," says Nikki. "Parents can even drop their kids at a class then go out and have lunch or do a wine tasting." Will adds, "Nimbus is not only terrific for locals but perfect for visitors who'd like to do something a bit different. There may be an art exhibit opening; an opportunity for you to play with clay, paint your own pottery, or try your hand at welding or fusing glasswork; or a 'Sip and Paint' session. You can even build your own art class. If you get a group of 6 or more people together, you can pitch your class idea to Nimbus, and they'll set you up with an instructor to make it a reality."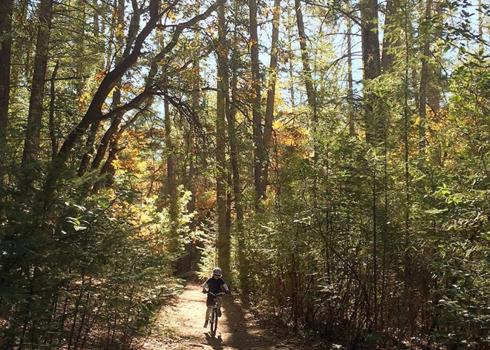 Las Posadas State Forest
"We have an amazing state forest here in Angwin called Las Posadas," says Will. "I love to take our kids, Gavin and Evie, and our dog, Sketcha, through the woods on walks and bike rides. There are so many amazing biking and hiking trails with wonderful views and even some waterfalls."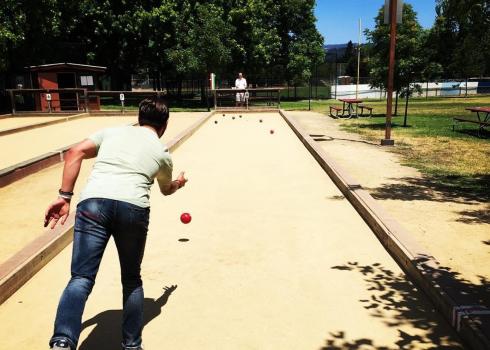 Crane Park
"Crane Park in St. Helena is a great place to bring your family or have a picnic. You can drink wine; throw some horseshoes; play tennis or bocce; hit up the amazing skate park; and browse the farmer's market. The park is off the main drag, so it isn't typically crowded, making it an excellent place to kick back and just hang out. There's plenty of sun and shade, and you might even catch a little league game at the ball fields next door."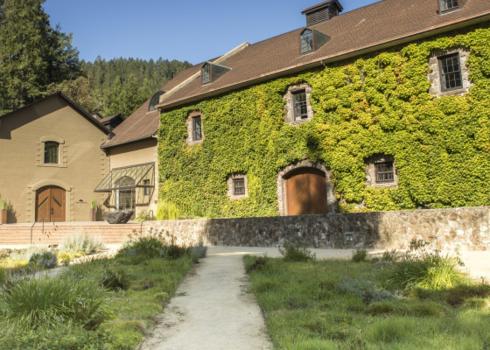 Hess Winery and Art Collection
"The Hess Winery is on Mount Veeder, a bit off-the-beaten path but so worth the trek. Its beautiful architecture showcases works from some of most famous and accomplished artists of our time, including a few of our personal favorites, Anselm Kiefer, Gerhard Richter, and the disturbingly magnificent Francis Bacon. The delicious wines and amazing artworks create the perfect pairing – definitely something to check out."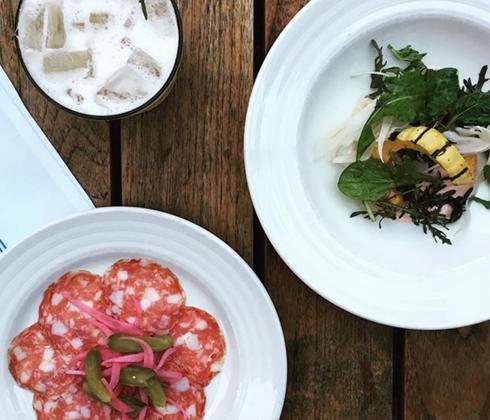 Farmstead at Long Meadow Ranch
"Our go-to restaurant is Farmstead," says Nikki, "it's awesome for the whole family." Will adds, "When we go out, we've got to have a place where the kids can roam. Farmstead has a big outside dining and bar area and the rest of its grounds are fenced and so the kids can play. The atmosphere is lively, and often they have live music or an event going on. There are gardens to stroll, a tasting room, and a gift shop. The food is rich and hearty, with an emphasis on organic and sustainably farmed farm-to-table cuisine. They also have a great happy hour – what's not to love?"
Meet the Makers of the Napa Valley