Napa Valley Town Guide: Oakville and Rutherford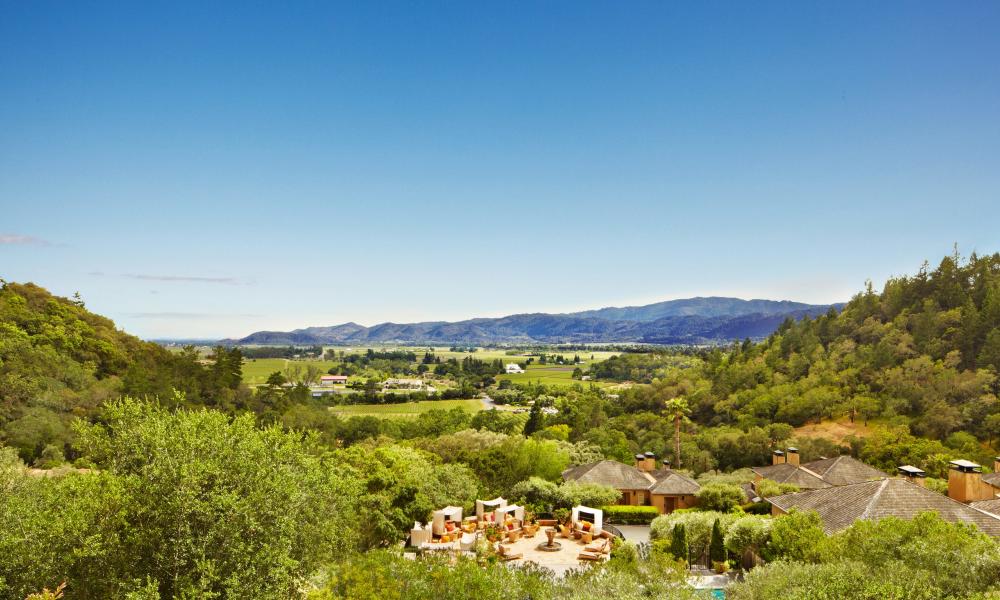 As visitors travel up the Napa Valley, they often miss the tiny towns of Rutherford and Oakville in their haste to get to St. Helena or Calistoga. And they're easy to miss: Rutherford's population is about 165, and Oakville's just 71. But these modern-day hamlets are worth checking out, especially if you're into wine. Between the two towns, they boast nearly 60 wineries, from tiny boutique businesses to some of the largest names in the industry.
Oakville began as a water stop for the Napa Valley Railroad – founded in 1864 by pioneer and entrepreneur Samuel Brannan – which carried passengers from ferry boats in Vallejo to Brannan's resort in Calistoga. It was named, obviously, for the thick groves of oak trees that dotted the valley and hillsides. When H.W. Crabb developed a local vineyard and winery on 240 acres in 1868, he named it To Kalon – which means "the beautiful" in Greek – and today it's one of the most prestigious vineyards in the world.
Rutherford was founded on the nearly 12,000-acre Mexican land grant, Rancho Caymus, which was deeded to early settler George C. Yount from General Mariano Vallejo in 1838. Yount gave a small portion of the grant as a wedding present to his granddaughter, Elizabeth, when she married Thomas Rutherford in 1864, and the family name stuck.
Stay. With the closure of Rancho Caymus Inn, the five-star resort Auberge du Soleil is the only game in town (shown in the picture above). Auberge du Soleil one of the most exquisite properties in the valley, with a cluster of bungalows perched on a south-facing hillside in Rutherford.
Eat. There are several options here. First, of course, is the Restaurant at Auberge du Soleil, which is great for a fancy or special-occasion dinner. There's also the Bistro and Bar for more casual fare – its terrace seating offers killer views, and it features more than 40 wines by the glass. Or pop into the Rutherford Grill, right on Highway 29 for classic cocktails and comfort food. But plan ahead: This one is so popular with locals and tourists alike, it typically has long wait times. And a must-stop is the Oakville Grocery – founded in 1881, it's the longest continually operating grocery store in the state. It makes the perfect detour for gourmet goods, picnic supplies, and fresh-made coffee drinks.
Taste. There's simply no room to list the huge number of wineries based in these two small valley towns. From industry giants like Robert Mondavi, Cakebread Cellars, Silver Oak Cellars, and Opus One to the more intimate places like Elizabeth Spencer Wines, Heitz Wine Cellars, and Martin Estate, you're bound to find something tailored to your specific tastes. The newest addition to the area is Durant & Booth, whose tasting room is right next door to the Oakville Grocery. The winery takes its name from local pioneers Frederick Durant and Joseph Booth, who delivered provisions to the store at the turn of the last century. Or, if you'd like to sample a lot of different wineries in a single stop, check out the Tasting Room at Napa Wine Company, which represents about 30 smaller, cult wine producers. Booking in advance is always a good idea, and required at many places.
Play. There's not a lot to do here beyond wine tasting, but you can try something different with an olive-oil tasting at Round Pond Estate. Or, if you've brought bikes (or rented them in Yountville or St. Helena), you can do a beautiful ride: Take Highway 29 from Oakville Cross Road to Rutherford Cross Road, head east to the Silverado Trail then south and back (roughly an eight-mile loop).