Top Pet-Friendly Napa Valley Hotels: Getaway with your pooch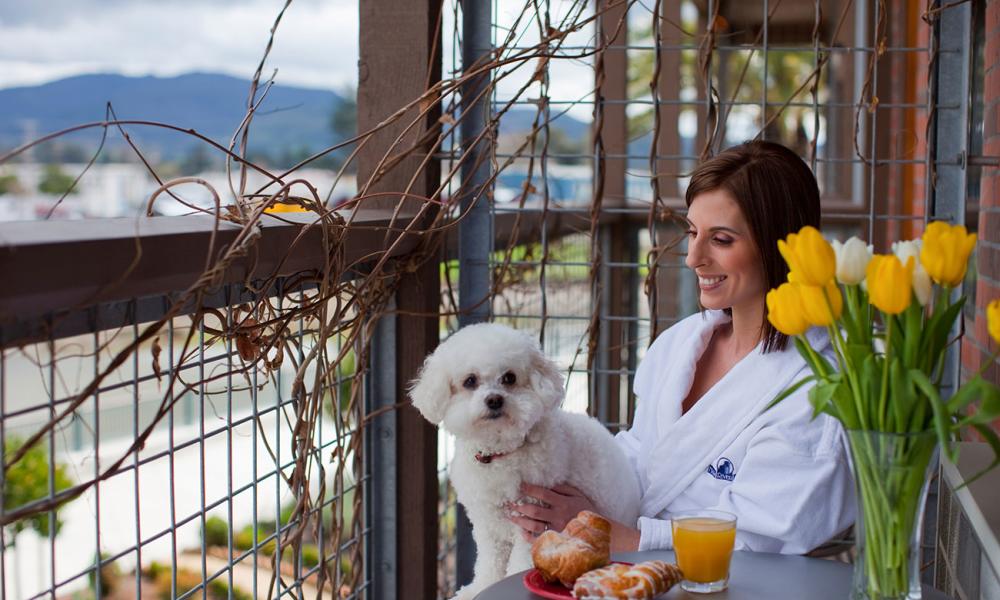 Planning a Napa Valley getaway but don't want to leave your pet at home alone or at a kennel? Don't worry – Napa Valley has plenty of pet-friendly hotels, wineries, and restaurants so you can bring your furry best bud with you! Want to roll out all the stops for your furry friend? Then here are the pet-friendly hotels with the best amenities:
The red carpet rolls out for this VIP (Very Important Pet) experience that includes a custom-designed pet blanket embroidered with the Napa River Inn logo, a color-coordinated logo place mat, stainless steel food and water bowls, a tasty Napa Valley-based Cab-Bone-Nay or Char-Dog-Nay dog biscuit (made with real wine). Take a trip to their spa for a facial while your dog gets a brisk walk, a dog cookie and a mini massage!
You and your pup can relax knowing that upon arrival every goodie your dog could ever imagine will be waiting for him/her in the room! Upon check-in you can expect a water bowl, a dog bed, and treats made special from the hotel's Lucy Restaurant.
Pamper your dog with a custom-designed luxurious dog beds with miniature duvet plus food and water bowls, dog in-room sign, and a pet amenity kit provided at check-in.
Upon check-in, your pooch will receive a plush pet bed, custom pet bowls, doggy bags and treats. If you happened to have forgotten your dog's favorite toy, you will be provided with a coupon for the local pet store, Fideaux.
Other pet-friendly Napa Valley hotel options: