The Napa Valley Gram: What's Cropping up in the Valley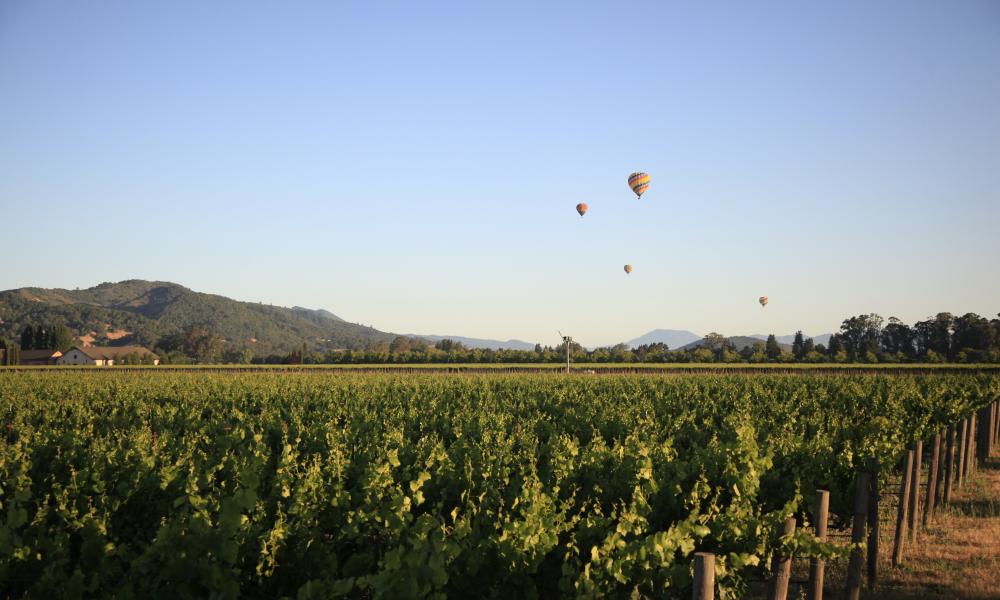 Accommodations
La Residence will reopen in the summer of 2014 following a complete property renovation, under the new name of Senza, a Napa Valley Retreat. Renovations will include eight new suites, bringing the total number of accommodations to 18 suites. Each of the suites offer king beds and deep soaking tubs. Also in the works are a fitness room, conference room and two-bedded spa rooms for couples' massages.
Auberge Resorts will break ground on VieVage Napa Valley, a new destination spa resort in the Carneros district in 2015. The resort will be set on 95 acres of the 712-acre Stanly Ranch. The resort will feature a casual restaurant and bar, bakery, winery, and outdoor gathering spaces with fire pits, barbeques, bocce court, and outdoor concerts. Guestrooms will accommodate families and groups, set amid private communal spaces, vineyards, gardens, and bicycle and walking paths.
Calistoga Ranch has opened an infinity-edge family pool overlooking the resort's vineyards. The pool features poolside food and drinks and for children offers throwback metal lunch boxes illustrated with beloved characters such as Superman. The resort also has a new, tented outdoor venue for special events and weddings overlooking their Cabernet vineyard with a capacity for 100-150 guests.  The Vineyard Venue features reclaimed hardwood floors and rows of twinkling lights.
In the Scottish tradition of putting a golf course to sleep for the night, Silverado Resort and Spa now offers a similar ritual on Friday and Saturday evenings at sunset – bidding the course goodnight to sounds of the bagpipe. Guests are invited to enjoy outdoor drinks on the terrace while listening to the lyrical Scottish tunes echo over the mound of the 18th hole and up to the mansion.
Food, Wine and Shops
Hall Wines has launched a new educational culinary series for guests including a Demystifying Wine & Food experience with a focus on creating wine and food pairings using sustainable, local products following a full tour and tasting. This course is $75 per person and is offered at 12 p.m. on Saturdays. Hall is also now hosting a cooking class series led by David Katz of Panevino for $115, per person, per class. Cooking classes include pizza making, harvest hors d'oeuvres, and holiday entertaining.
Long Meadow Ranch's new café is open daily at 7 a.m. Rustic picnic tables set among trees and flowers are the perfect setting to enjoy coffee and espresso from Stumptown, pastries from Bouchon Bakery and Buttercream Bakery as well as house-made yogurt parfaits, oatmeal, and more.
Charles Krug opened a new Redwood Cellar and Hospitality Center in April for wine tasting. The new contemporary-rustic tasting room features a trattoria-style Italian delicatessen set to open mid-summer 2014. The delicatessen will be open Fridays, Saturdays, and Sundays serving regionally sourced picnic fare inspired by the family's Italian heritage, and featuring recipes by Rosa Mondavi.
Cairdean Estate will open on 58 acres at the base of Spring Mountain in St Helena, as food and wine 'village' this summer. The property will feature a new winery, tasting room, venue for a signature sensory experience, restaurant that will seat up to 100, and a bakery.  Butterscots Deli and Bakery will open in July and guests will be able to picnic on the grounds with estate wine and bites from the onsite specialty vendors.
Modern gastropub The Farmer and the Fox opened this June at the Cairdean Estate in St Helena. Specialties include hearty fare such as a traditional Scotch egg, freshly baked popovers, game pie, and a nightly roast from the rotisserie. The bar features wines and beers on tap and artisanal cocktails.
City Winery Napa opened in April at the Napa Valley Opera House in downtown Napa and features 30 local tap wines, as well as fresh, local menu selections. Just above the dining room is a refurbished flat-floor ballroom, seated concert hall and events space that has room for 300, as well as cabaret-style dinner tables where guests can enjoy a show—ranging from indie, rock, jazz or stand-up comedy.
Napa Valley's French Blue restaurant re-opened in April as Archetype and has partnered with the Michelin-starred culinary team from Solage Calistoga. House specialties include cinnamon walnut rolls with orange cream cheese frosting at brunch, Petrale sole fish and chips with house-cut fries at lunch, and wood-grilled eye of strip loin with bone marrow butter and turnip mousseline at dinner.
Eikos's Seafood Market and Sushi Bar will open at Oxbow Public Market in late fall 2014. Eikos' new Oxbow location will offer classic sushi rolls, as well as specialty and seasonal sushi and sashimi offerings, both from the sushi bar as well as at the retail fish and seafood counter.
Planned for this June, Five Dot Ranch at Oxbow Public Market will open Five Dot Ranch Cookhouse, offering an additional dining option for market visitors, along with an expanded take-out menu. Also new this summer will be beer and wine offerings for dine-in customers.
1313 Main now features a Sunday Brunch menu from 10 a.m. – 2 p.m. This new bunch is served dim sum style, meaning guests can select their meal from an array of passed trays with small plates, tableside. All passed items are sharable and served family style. An a la carte menu will be available as well.
Capp Heritage Vineyards opened a new, chic tasting lounge in downtown Napa this past March. The lounge features an 1880's vintage-style tasting lounge with an oak bar. A 1930's "Art Deco" lounge area features a rotating art display and live music on the weekends. 
Joseph Phelps Vineyards is renovating the property's Spring Valley Home Ranch, which will re-open spring of 2015, including private tasting salons, a private wine club member lounge, wine library and barrel room, along with expanded vineyard views, and a state-of-the-art kitchen. An interim guest center is available for visitors to taste until the permanent center re-opens.
NapaStyle, the signature restaurant and retail shop at V Marketplace, now has a tasting bar featuring Chiarello Family Vineyards wines. Walk-ins are welcomed daily from 10 a.m. – 6 p.m.
Chimney Rockhas launched two new experiences including a seated tasting, the Palisade Preview for $65 per person. This tasting includes estate wines with views of surrounding mountain ranges, along with a lesson in Chimney Rock history and wines. The second experience is a guided vineyard excursion and wine tasting, named the Tomahawk Vineyard Experience for $125 per person. On this tour, guests will learn about the wineries history, viticulture, and the property's winemaking process.
St. Supéry Estate & Vineyards has completed the landscaping and design of its onsite culinary garden on the Rutherford property.  Produce from this new culinary garden will be used in many of the wine and food pairings available to guests. St. Supéry also has started an education experience, Ampelography Master Class, where guests will learn how to identify grape varieties with world-renowned viticulturist Louie Morton. The class is $60 per person.
Black Stallion Winery now has an approachable It's Just Wine basic wine education class that will be offered weekly on Friday, Saturday, and Sunday for guests to learn the basics of winemaking and tasting. Reservations are required, and the cost is $30 per person with a maximum of 10 guests.
Craft a personalized wine blend with Judd's Hill new Bottle Blending Day Camps. The winery features three different options for any size group and can even bring bottle blending sessions offsite for groups. The experience begins at $95 per person for large group blending sessions.
Jessel Gallery in Napa has recently added a watercolor class for 'beginners and beyond' to its schedule of creative coursework. Jessel provides painting materials for new students. Group classes are held on Wednesdays from 6 p.m. to 9 p.m. or Saturdays from 10:30 a.m. to 1:30 p.m.
Ma(i)sonry Napa Valley will hold a Vintner Dinner Series from June through December, offering guests the opportunity to savor each element in Ma(i)sonry's intimate, residential-style sculpture garden. Each event is hosted by a selected winery principal or winemaker who will walk guests through the subtle nuances of a range of personal winemaking narratives and styles. Each dining experience is $150 per person.
Tours
Verve Napa Valley, the full-service events and destination management company, is offering new experiences beginning this summer, including a craft beer trail, yoga in the vineyard, Art of Sabrage, and a day of golf with a PGA professional at members-only clubs and courses throughout the Napa Valley.
Events
The Frys.com Open, part of the PGA tour, will be held this year at Silverado Resort and Spa from October 8-12 on the property's iconic north course. Players include major PGA winners like Stewart Cink, Ben Curtis, Justin Leonard, Geoff Ogilvy, and Mike Weir; two-time major winner Rory McIlroy; and three-time major winner Vijay Singh.
Lucy Restaurant & Bar will host Carteirra founder Peter Stuart and his California winemakers for a private barrel tasting and custom blending dinner with Lucy's Executive Chef Victor Scargle on August 1. Attendees will be lead through a series of tastings and have an opportunity to blend the 2013 Sonoma Chardonnay and Oakville AVA Cabernet Sauvignon barrel samples. Dinner costs $150 per person, inclusive of wine, tax and gratuity.
The Napa Valley Performing Arts Center at Lincoln Theater's new 2014/15 season includes a series of performances by artists such as Sibylle Szaggars Redford with narration by Robert Redford, as well as the Punch Brothers, the family-friendly Kidz Bop, forever classic Pink Martini, Peter Coyote, and Sir Neville Marriner.
Long Meadow Ranch is having a Summer Concert series from July through October. Concerts will take place outdoors in the property's quintessential Napa Valley courtyard, where guests can sip any of the estate's wines while listening to bands such as Woods, Holly Williams, Goodnight Texas, The Brothers Comatose, and Mother Hips.
For more information visit www.VisitNapaValley.com