The most romantic things to do in Napa Valley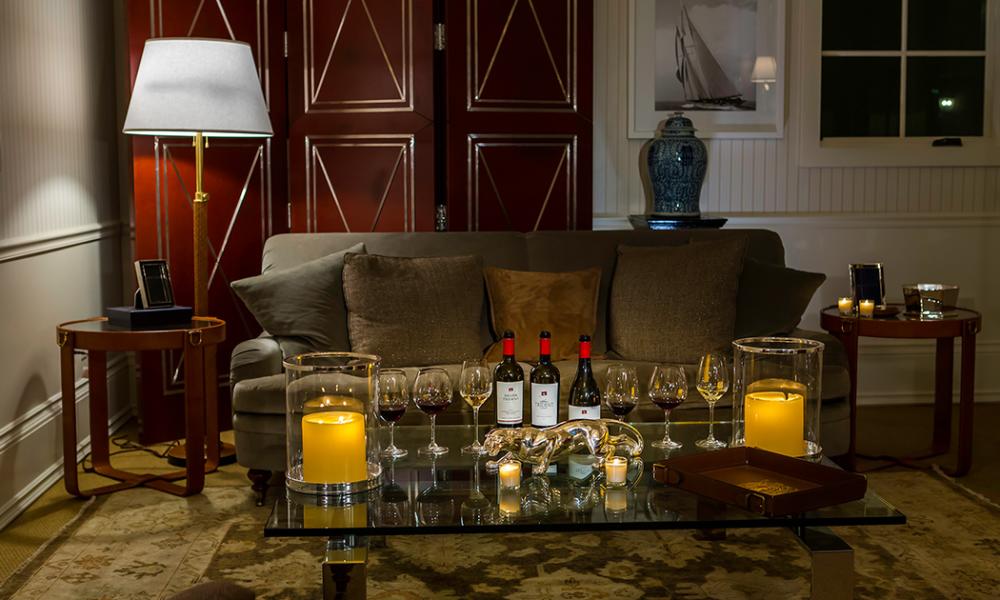 Want to get away to the Napa Valley with your sweetie for a special occasion or Valentine's Day? Here are some of the most decadent, mind-blowingly romantic offerings within the Napa Valley.
Auberge du Soleil, Romance for the Body and Soul
At Auberge du Soleil, wine and chocolate are more than things to be eaten; they're the perfect addition to the spa. From the grape seed exfoliation—mixed with wine and crushed cacao—to the warm, milk chocolate bath, guests will enjoy an antioxidant-filled experience. Couples can sip on port paired with delectable, handmade Belgium bonbons—filled with raspberry and jasmine flower ganache—while soaking in the private outdoor garden. The treatment ends with a full body couples' massage. Offer available February 1-29, 2016. Rates start at $400 per person.
Castello di Amorosa, The Royal Hearts Gala
Celebrate your love at Castello di Amorosa's annual "Royal Hearts Gala." On February 13, 2016, arrive in your evening dresses, suit and tie, heels and dress shoes to enjoy delightful wine and lively entertainment. With the appetizing hors d'oeuvres and the candlelit, multicourse dinner, guests will leave with their hearts happy and stomachs filled. Complimentary shuttles will be available to and from downtown Calistoga. Prices at $195 per Wine Club member, and $245 per guest.
Silver Trident Winery, Candlelit Tastings (pictured above)
Enjoy a magical night of candlelight and wine tasting at Silver Trident Winery. Every night, throughout the winter season, the winery will light its interior with candles from 5 PM – 7 PM. Guests will be offered five wines—including the newest, 2010 Silver Trident Twenty Seven Fathoms Cabernet Sauvignon—along with complementary appetizers, such as Valrhona chocolate topped with Cabernet sea salt. $25 per person.
Judd Hill's Winery and Micro Crush, Bottle Blending Day Camp
Bottle your romance into a personal Bordeaux blend at Judd Hill's Winery. Whether sweet or dry, guests can create their perfect cuveé. Couples can choose the taste of their memories from four different varieties of Bordeaux wines—Cabernet Sauvignon, Merlot, Petite Verdot and Cabernet Franc. Guests can take their custom wine home the same day in three, six, or twelve bottles. A 24-case is available for bottling at a later date. Rates start at $225 for three bottles.
Milliken Creek Inn & Spa, Message in a Bottle & Two Turtle Doves
Make your thoughts into reality at Milliken Creek Inn & Spa with the hotel's "Message in a Bottle" offer. Whether it is handwritten, emailed or dictated, guests are encouraged to send a surprise message in a bottle to loved ones. The sender can elect to have the bottle hidden under a pillow or in the breakfast basket delivered to the room.
Profess your feelings with a release of doves at Milliken Creek & Spa. White doves are commonly known to symbolize eternal love and therefore, prior to leaving the property, two doves will be released in honor of the couple's visit.
River Terrace Inn, Bubbles & Bath package
Escape for a night to the carefree environment of River Terrace Inn. Stay overnight in the Riverview Deluxe Whirlpool room—which overlooks the Napa River—indulging in a bubble-filled evening. Local sparkling wine and a deep-jetted tub are the perfect pair. Also included in the package: handcrafted gift box of organic products.
Spa Villagio at Villagio Inn & Spa in Yountville, Suite Sensation Together
Kick back and relax in one of Spa Villagio's elegant and intimate private spas. Including one-of-a-kind amenities such as an infinity-edge soaking tub, fireplace, and steam showers, this spa treatment aims to please. Rates start at $1,150 per couple.
The Carneros Inn, Retail Therapy & So Inn Love
Live like a celebrity for a day at The Carneros Inn. Give your plus-one a new outfit from the Inn's boutique, PlumpJack Sport and an appointment to see hair and makeup professionals at The Spa. Also included: dinner for two.
To round out your Napa Valley experience, enjoy two nights in The Carneros Inn's Harvest Cottage or Harvest Suite. With a bottle of sparkling wine upon arrival, 60-minute in-suite sensual massage, and dinner in the suite' private backyard, the package has all the desirables.
V. Sattui Winery, Proposal Package
Make the wedding proposal of your dreams at V. Sattui Winery. Enjoy a private wine tasting and charcuterie platter—filled with an assortment of cheeses and cured meats from V. Sattui's own salumeria—on the secluded Vittorio Terrace or in the elaborate Gold Room. The proposal package also invites four additional guests, allows use of the property for photos, and includes a private tour. Package starts at $1,080.