Ten Things to Do Besides Wine-Tasting in Napa Valley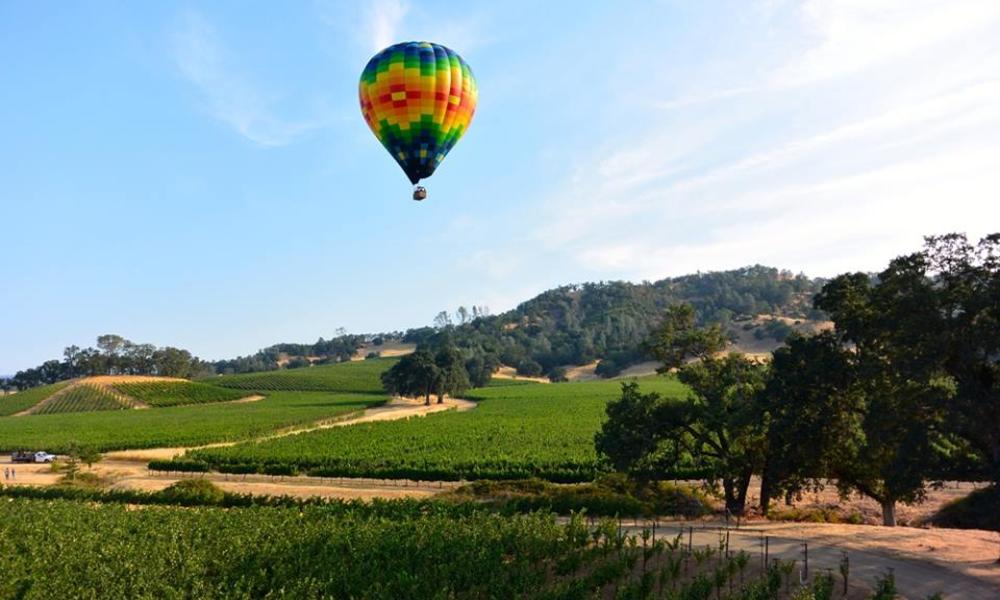 So you're not a wine lover (hey, it happens). Or you've had your fill of tasting rooms and afternoon hangovers. Believe it or not, there's plenty to do in the Napa Valley besides comparing Pinots and Merlots. You can fill your day with these other tastings or choose from a few of our favorite things to do with out-of-town guests:
Go all medieval. Perched on a hill just south of the town of Calistoga sits a historic anomaly: a 13th-century Tuscan castle. Known by the locals as "Dario's Folly," the Castello di Amorosa represents unbridled passion and dedication by Dario Sattui (proprietor of V. Sattui Winery), who spent decades building this authentic replica of a medieval castle. The estate includes all the features you'd expect from a real castle – moat and drawbridge, great hall, courtyards and loggias, an apartment for the nobles, chapel, horse stables, secret passageways and, of course, a prison and torture chamber. Once you enter the grounds, you'll swear you're in Tuscany.
Get down and dirty. The Napa Valley soil isn't just good for growing grapes. At the valley's north end, in Calistoga, the high volcanic ash content is combined with water, peat, and natural minerals to create therapeutic mud baths that have attracted visitors for the past century. Calistoga's main drag, Lincoln Avenue, is full of spas that offer a variety of mud treatments, including Golden Haven Hot Springs, Lavender Hill Spa, Dr. Wilkinson's Hot Springs Resort, Mount View Hotel and Spa, Indian Springs Resort, Roman Spa, and several others.
Just take a hike. As you might expect from its topography, the Napa Valley is surrounded by great hikable terrain. Some of my favorite hikes are at nearby Bothe-Napa Valley State Park, Skyline Wilderness Park, Alston Park, Oat Hill Mine Trail, Lake Berryessa, and Robert Louis Stevenson State Park. By the time your wine-tasting compatriots have made it back to the hotel room for a nap, you will have scaled a mountain.
Get some altitude. If you'd like a truly spectacular memory of wine country, your best option is to see it at sunrise from a graceful, floating hot-air balloon. Several companies offer airborne adventures throughout the valley, including Napa Valley Aloft, Balloons Above the Valley, Napa Valley Balloons, and Calistoga Balloons.
Roll your own. There's nothing more fun than an easy-going game of bocce ball, a sport most people play with a glass of wine in one hand. Order lunch on the patio at Solbar (the restaurant at Solage Calistoga resort) and learn to play on the nearby court. Or, if you happen to have your own bocce balls, there are public courts in Yountville (at Yountville Park) and St. Helena (at Crane Park).
Put a spin on it. The best possible way to experience the valley, in my humble opinion, is from a bicycle – whether you're going for a long, ambitious ride or just carrying picnic supplies to a nearby park. The valley is networked by a series of cross-roads between Highway 29 and the Silverado Trail, if you like to keep it flat, or has a wide variety of twistier routes if you'd prefer to get some elevation. And with the progress being made on the Napa Valley Vine Trail, there are increasing options for getting off the road altogether. Napa, Yountville, St. Helena, and Calistoga all offer good bike shops with daily rentals.
See some art. Wine country isn't just about the outdoors. If great art is your thing, there are several venues for seeing some truly notable pieces. Head to the Hess Collection (a premium winery known equally for its art collection), di Rosa (home of some provocative permanent pieces as well as temporary exhibits), Artesa Winery, or the Napa Valley Museum in Yountville (focusing on local artists and themes).
Head to the water. Yes, we have watersports here, too. The Napa River is increasingly populated with small boats, kayaks, and paddleboards, available for rental from Napa Valley Adventure Tours, Napa Valley Paddle, Getaway Adventures, or High Water Stand-Up Paddle. Or just take a pleasant stroll along the beautiful Napa River Trail.
Enjoy a view. It's hard to find a place in the Napa Valley where there isn't a great view, whether it's a field of mustard on the side of the highway or a spectacular cloud-scape coming over a ridge. Some of my favorite vantage points include the bar terrace at Auberge du Soleil, the aerial tram up to Sterling Vineyards, the Wine Crusher statue at Vista Point, or just taking a coffee out to the deck at Oxbow Public Market. The Napa Valley Wine Train has an open window cart that runs in the summer where you can get some great views as they cart you up and down the valley over lunch or dinner. There are so many places to get a fresh perspective on this beautiful pocket of natural beauty.
Get in the kitchen. It should come as no surprise that, in one of the world's renowned food and wine meccas, there are plenty of opportunities to learn how to cook – from a single day class to a longer culinary retreats. Check out the Silverado Cooking School, Casa Lana, Cooking with Julie, the Culinary Institute of America, and Cedar Gables Inn.
Photo credit: Napa Valley Aloft