Sharpen your skills: A Variety of Culinary Classes Await in the Napa Valley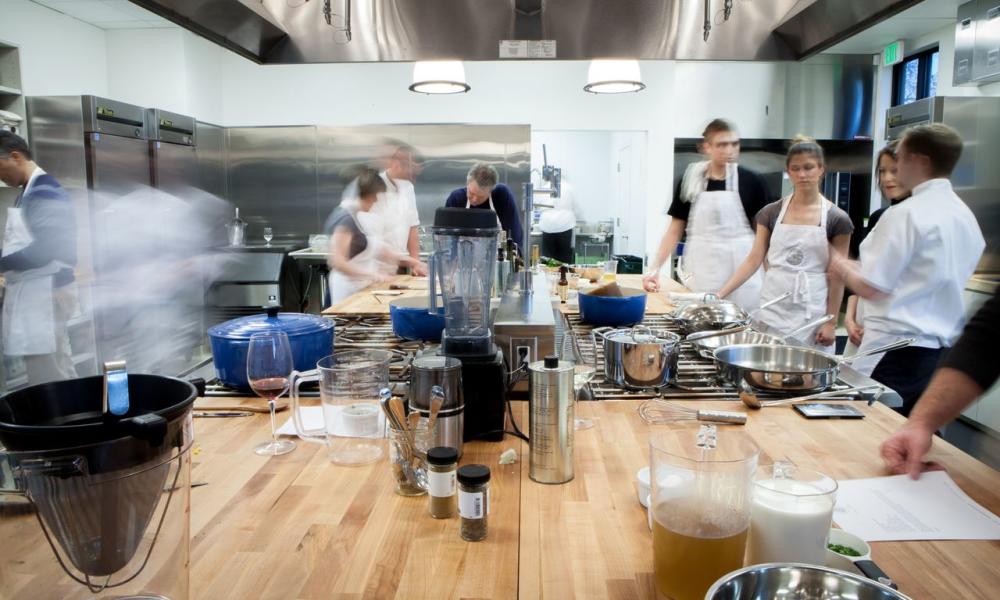 Sure, the Napa Valley is known as a food and wine mecca, and sure, you want to eat well when you get here. But what if you went home with more than just a few extra calories under your belt? For many foodies, a visit to the valley is celebrated with a day (or more) in the kitchen, actually making the amazing meals they enjoy. To no one's surprise, there's an abbondanza of culinary classes for the short-term guest. Check these out:
Cooking with Julie, Napa
Julie Logue-Riordan, CCP, holds monthly cooking classes at the Culinary Center in the Whole Foods Market at the Bel Aire Plaza in north Napa. She's been teaching professional and non-professional students since 1978, and focuses heavily on proper techniques. She is also known for showcasing local producers and taking her students on guided tours of local family farms, olive estates, and farmers markets.
Silverado Cooking School, Napa
Located on the Silverado Trail just outside of downtown Napa, this state-of-the-art cooking school offers a wide range of classes from basic to advanced — as well as some regional/specialty cuisines, winemaker dinners, and couples classes — using only seasonal ingredients. Owner/Chef Malcolm de Sieyes sources organically grown produce from his own Stone Tree Farm, and partners with the finest local purveyors such as Five Dot Ranch, Model Bakery, and the Fatted Calf.
Cedar Gables Inn, Napa
Proprietors Ken and Susie Pope operate this bed-and-breakfast in downtown Napa and also offer custom cooking classes for both B&B guests and non-guests alike. Each class features a different chef, who designs a menu of signature dishes. (Coming on August 16 is Neela Paniz, winner of the Food Network's cooking show Chopped.) The guests are then served the meal they prepared in a formal dining room with candlelight, flowers, fine china, and Riedel glassware.
Cakebread Cellars, Rutherford
The renowned Cakebread Cellars holds regular cooking courses featuring different themed menus in its winery house kitchen, ending with a sit-down meal paired with Cakebread wines. Upcoming themes include paella, tamales, pastas, Dungeness crab, and pizza party for kids. They often sell out well in advance, so plan ahead.
The Culinary Institute of America at Greystone (CIA), St. Helena
Known worldwide as a pre-eminent culinary arts school, the St. Helena campus of the CIA also offers a Saturday Kitchens program for weekend visitors and home chefs. The experience includes a full day of hands-on learning and the chance to explore a specific food theme, such as global street food or gluten-free baking. If your time is limited and you only have a few hours, the CIA also offers demonstration-style "Samplings" classes. Or if you want more time in the kitchen, the CIA offers two, three, and five-day Boot Camps that focus on various types of cuisine, or special techniques.
Napa Valley Cooking School, St. Helena
Located on the Upper Valley campus of Napa Valley College in central St. Helena, this is another full-time professional culinary arts certificate program that has a recreational cooking schedule designed for those who just love to cook. The weeknight and weekend classes feature baking and pastry skills, food and wine pairings, and a line-up of guest instructors from the best cooking schools, wineries, and restaurants in the area.
CasaLana, Calistoga
This Mediterranean-style, luxurious bed-and-breakfast features "Gourmet Retreats" in its professionally equipped kitchen from five hours to five days in length, ending with a sit-down, multi-course meal. Class topics and menus are customized to meet the budgets, objectives, and schedules of the participants — this would make a great private party or corporate team-building event.