The Perfect Gift: St. Helena's Little Book of Big Experiences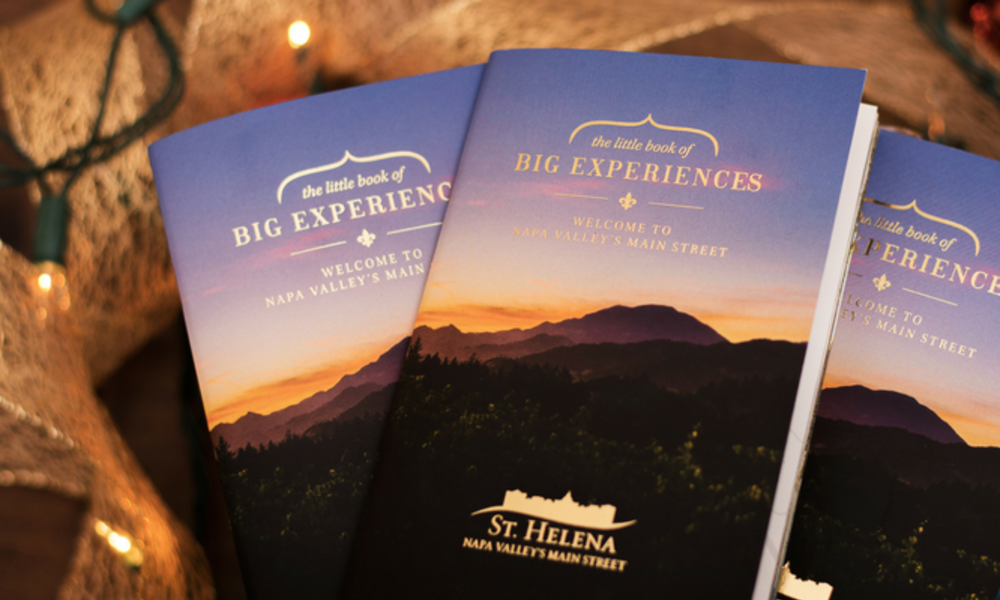 Put St Helena's Little Book of Big Experiences On The Top of Your Gift Giving List
How is it already that time of year? The holiday season is coming up strong and we'd like to help you get your shopping list down to a manageable size. We've all learned our lesson with the dust buster and the "cool" new pots and pans and then that time we thought our partner would be totally excited about a new recliner. We could all use a little holiday gift giving inspiration. St Helena has got you covered, with the gift that keeps on giving all the way through March!
St Helena's Little Book of Big Experiences gives the gift of wine country. We've crafted 25 exclusive, "money can't buy" experiences with our winery, lodging and restaurant partners. The Little Book is valued at over $1,000 dollars and you can get it for only $100. Put this little book under the tree, wrapped next to the Menorah or stuffed in a stocking for the ultimate holiday gift. Perfect for a week long excursion to the Napa Valley or multiple small weekend getaways, we've done all the planning for you. The best time to take advantage of the LBE, as we like to call it, is Sunday through Thursday. This is when the tasting rooms are less busy, you'll always get a seat by the fire and the experiences are even more elevated. All you need to do is pack your bags. Now, let us introduce you to some of our incredible experiences.
Nearly forty years after its founding, Conn Creek is still focused on what Napa Valley does best: Cabernet Sauvignon and other Bordeaux varietals. Conn Creek's flagship wine, Anthology, is a testament to the layers of depth and complexity that can be achieved through the art of blending. The Napa Valley Series showcases single varietals – Cabernet Sauvignon, Cabernet Franc and Sauvignon Blanc. And Conn Creek's AVA Series, produced in small quantities, reveals how individual Napa Valley sub-appellations express themselves from year to year.
LBE Offering(Sunday-Thursday): "The whole is greater than the sum of its parts," describes their Anthology Cabernet Sauvignon perfectly. Enjoy a private, seated tasting in their Anthology Salon. Your guided tasting includes a selection of AVA Series Cabernet Sauvignons, Bordeaux varietals, and our current release of Anthology.
Freemark Abbey sources its grapes from select Napa Valley vineyards they've known for decades. Intimately familiar with the nuance, power and abundance of each specific site, their partnership with local vineyards is at the heart of all their wines. A trailblazer of Napa Valley winemaking, Freemark Abbey continues to evolve. Their property transformation is a sign of their inward commitment to crafting classic Napa Valley wines of superior pedigree and quality. Raise a glass to their 130th anniversary.
LBE Offering(Sunday-Thursday): They invite you to experience their recently restored historic stone winery. Guests will be greeted with a taste of their limited production wines to begin a historical walking tour of the estate highlighting the 130 year history. Your party will be seated in our courtyard for a tasting of limited release, single vineyard and library wines accompanied with artisan cheeses.
Chateau Potelle was born when the founders moved from France in 1980, to be part of the California winemaking adventure. They wanted to be creative in making wine rather than being constrained by the years of traditions that existed in France. The vision at Chateau Potelle is to produce wines with style and character that are representative of their birth place. Like for each of us, our "roots" provide us with a unique culture, a set of mores and traditions…a style and character.
LBE Offering(Sunday-Thursday): Come to a place that reflects the style of their wines … elegant, restrained and extremely well done in all details. VGS promise a St. Helena Food & Wine Tasting experience that is innovative, intimate, convivial & extraordinary. Enjoy their unique Food & Wine Pairings, with food bites from the Michelin-starred Chef Ken Frank of the famed La Toque Restaurant. You will enjoy four wines paired with four food bites.
You're invited to stay at Southbridge Napa Valley, a gem among downtown St. Helena. Enjoy the distinctive beauty of each season and the relaxed country pace of wine country life. At the Southbridge Napa Valley, you will find that all of the spacious twenty-one guest rooms are located on the second level with vaulted ceilings, king beds, fireplaces, down comforters and small Juliette balconies that allow guests to step outside and experience the fresh air from your room.
LBE Offering(Sunday-Thursday): Reserve two consecutive nights directly with them and receive: two Little Books of Big St. Helena Experiences and an amenity of JCB #21 in your room. Each reservation includes a continental breakfast of freshly-baked pastries, seasonal fruit, fruit juices and freshly-roasted coffee from their local purveyors in their first-floor living room. You'll also enjoy complimentary use of Health Spa Napa Valley. Reserve a third consecutive night and you'll receive 20% off that night.
This is just a small taste of what St Helena's Little Book of Big Experiences has planned. Available now to purchase, explore the full offerings here.