Pair Fine Napa Valley Wines with Fine Art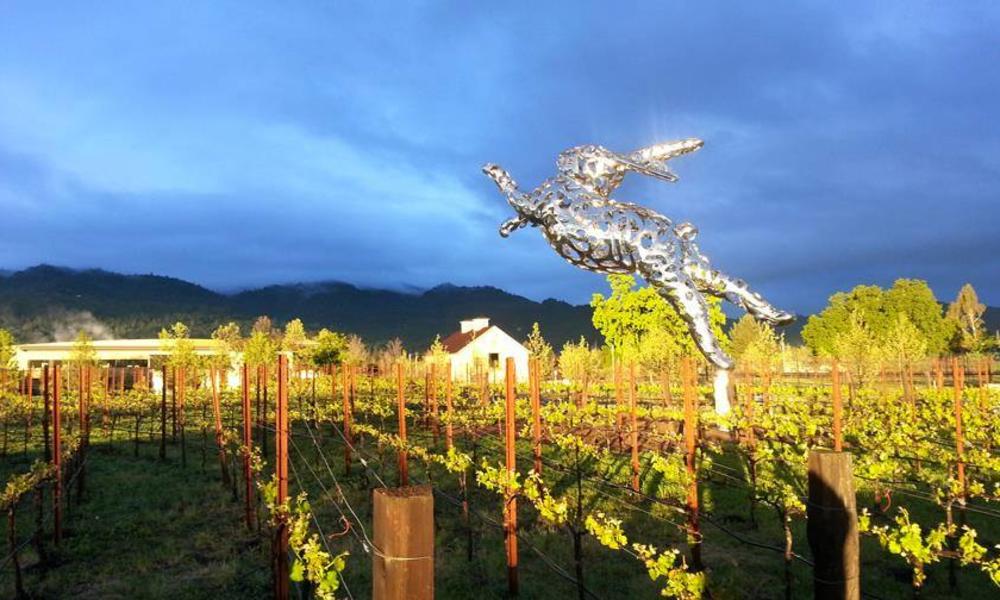 Looking for the wineries that pair art with wine? How about a quick list of the best arts and culture hits? Here's our roundup of Napa Valley wineries with the best art, photography and design:
1. Hall Wines
Hall Wines' newly renovated tasting room is filled with beautiful artworks from all over. Their Wine and Art Exploration tour guides visitors through the new gallery space, glass of Hall wine in-hand. The winery features internationally acclaimed working artists such as John Baldessari, Jaume Plensa, Peter Wegner, Nick Cave, Jim Campbell and many others. Their newest piece is Bunny Foo Foo, placed inside the vineyards, and standing at a whopping 35 ft tall!
An artist herself, Margrit Biever Mondavi has a history of supporting the arts, which has developed into a rotating art collection in the Vineyard Room. Along with the rotating collection, the winery has a permanent collection of paintings. The winery also features Beniamino Bufano sculptures throughout the property.
The fusion of architecture, artistry and wine growing meet at Artesa, the Carneros-based winery with stunning views of the valley below. The winery itself resembles a wine cave, and water features only add to the sense of verticality. Artist in residence Gordon Huether features his work inside and around the winery's property since 1992. His work is on view inside the winery and throughout the property.
Markham's artist-in-residence and the first chief photographer for Rolling Stone magazine Baron Wolman has his photographs of the original music festival, Woodstock, featured throughout the gallery year round. Currently, this body of work is on display until August 31, when a new series of Rolling Stones cover photos will be shown.
The Hess Collection features Donald Hess's own personal art collection, begun in 1966, that includes works by Franz Gertsch, Robert Motherwell, and more. Wine tastings include their Artezine Wines, Hess Select Wines and Hess Collection Wines and be sure to get a peek at the current exhibition with an audio tour.
6. St. Supery 
St. Supery Vineyards has an upstairs gallery overlooking their tasting room with urban California landscape paintings by Suong Yangchareon on display and open for viewing daily from 10am -5 pm.
7. Peju
Peju winery features sculptures thoughtfully placed throughout the estate gardens, as well as an art gallery on the second-floor that showcases top artists in the Bay Area and beyond. On view now are works on loan from The Christopher Hill Gallery until April 23.
The Jessup Cellars Tasting Gallery offers an exceptional collection of original paintings and sculptures. The gallery represents and supports a variety of established and local and up and coming artists. Intended to create a multi-sensory tasting experience, the art encompasses a diversity of styles including abstract, figurative and landscape.
9. Ma(i)sonry
Tasting room and gallery space Ma(i)sonry is filled with distinctive art, sculpture, furnishings and design objects. Collections of art and sculptures on display rotate seasonally with exhibits from Napa Valley favorites, the best in the Bay Area, as well as some the most respected names worldwide – all of which is available for viewing and purchase. Admire or purchase internationally renowned furnishings and designs from Ron Mann, Alexandra von Furstenberg, Hudson Furniture, and Citizen: Citizen. Ma(i)sonry currently offers vintage pieces by Eames, Louis Vuitton and Bertoia among other distinguished design collections.
10. MUMM Napa Valley
MUMM displays its permanent exhibit of original Ansel Adams prints on loan from the Adams family. Their rotating exhibits in their main gallery showcase the work of renowned international and local photographers through out the year. Soak in the valley views while enjoying bubbly before exploring the beautiful galleries.
The Napa Valley is full of art from winery exhibits, art museums to galleries and performing theaters. Find a full listing of Napa Valley arts and culture venues here: http://www.visitnapavalley.com/napa_valley_arts_and_culture.htm