Napa Valley's Greenest Wineries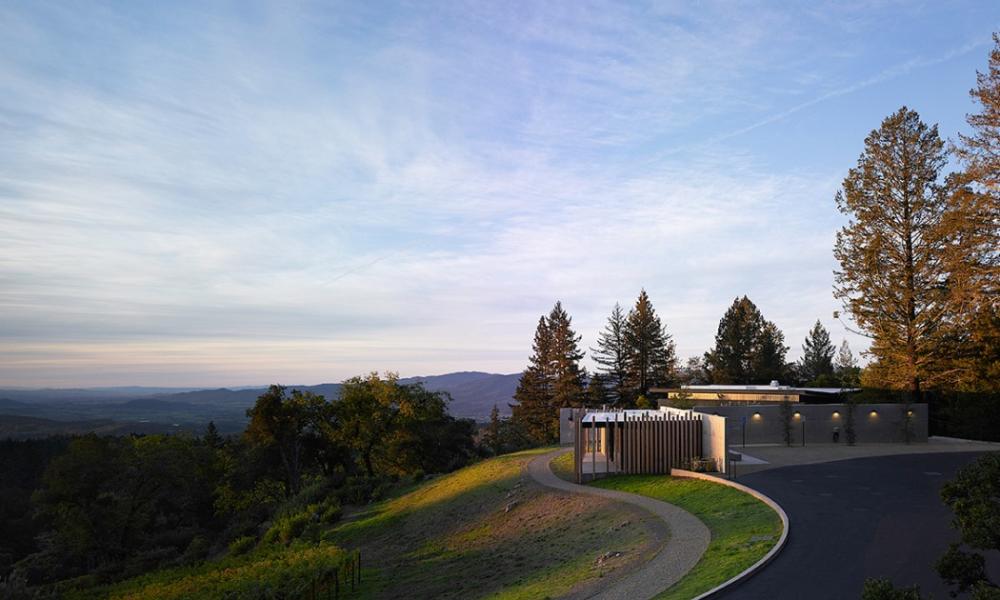 Last year, the Napa Valley Vintners (NVV) nonprofit winery trade association pledged that every eligible member will be in the Napa Green Land or Winery program by the end of the year 2020. This program was developed and administered by NVV to protect and enhance the regional watershed including wild land, roadways, stream banks, drainages, and other vulnerable areas.
Now, you can gain a better understanding of the wine industry's most comprehensive environmental sustainability program by creating your own Napa Green Certified Land and Winery Tour. More than 100 Napa Valley wineries participate in the Napa Green program, many open without an appointment. Here are just a few.
CADE Estate Winery – (pictured above) The first Gold-LEED certified winery in California; fully solar-powered facility; uses organic farming methods and other green practices in wine production and daily operations; uses recycled materials such as green concrete, recycled steel and blue-jean scraps used in the walls for insulation; an Electric Vehicle (EV) charging station. Additionally, CADE teaches all its guests about sustainability – every visit has a thread of green education involved.
Chateau Montelena Winery – Is both a Napa Green Certified Winery and a member of the Napa Green Certified Land program; is 90 percent solar-powered, a move that lowered its carbon dioxide emissions by 6.625 tons; was the first local winery to install a Blink DC Fast Charger following installation of a "Level 2" charger, the latest in charging technology for electronic vehicles; is building an extensive 25,000-square-foot cave system for eco-friendly barrel aging that can hold up to 4,000 barrels at a natural, constant temperature of 61°F, conserving a significant amount of energy; avoids chemical fertilizers and uses a natural compost that contains a combination of chicken manure and the previous season's pomace.
Raymond Vineyard and Cellar – Leadership in Biodynamic® principles; EV charging stations; and the winery is powered by renewable solar energy, making it one of the largest solar-powered wineries in Napa.  Guests can learn about these sustainable practices in a self-guided "Theater of Nature" interactive tour of biodynamic farming, where ten percent of the estate has been set aside to preserve biodiversity.
Domaine Carneros – Sustainable wine-growing; largest solar collection system of any winery in the world; skylights to minimize use of electric lights; naturally controlled cellar temperatures; recycling of bottles, corks, foils, cardboard, paper, plastic wrap and more throughout the entire winery; fish-friendly farming; natural pest management.
The Hess Collection – An active participant in a number of important sustainable certification programs and initiatives; holds certifications in Napa Green Land and Winery, California Certified Sustainable, is a member of the Bay Area Green Business Program; adheres to the Monterey Bay Aquarium's Seafood Watch Program; donates proceeds to One Percent for the Planet.
Starmont Winery – A certified Napa Green Winery, it recycles 100 percent of its winery process water; diverts over 98 percent of waste away from landfills; generates electricity from solar panels; and offers an "eco-hike" through its historic vineyards to teach about its green practices.
Dutch Henry Winery – All of its vineyards are farmed and certified organic; operates a solar panel system on the roof, which off-puts 41,000 pounds of carbon per year; its cave requires no air conditioning; does its own composting; and it provides a Tesla EV charging port.
Peju Province Winery – Its Rutherford Estate earned organic certification through the California Certified Organic Farmers and is a Napa Green Winery. Peju practices sustainable farming at all four of its vineyards throughout the valley; has installed solar panels that produce 40 percent of the winery's annual energy usage; and offers educational farm-to-table culinary experiences.
Joseph Phelps Vineyards – Recently added one standard and two Tesla car charging stations; has installed a solar-panel system to the rooftop of its facility, significantly reducing the winery's electrical costs and an important step toward using 100 percent renewable energy in its production.
Grgich Hills Estate – All vineyards are certified organic – committed to natural winegrowing and sustainability, it farms its five estate vineyards without artificial fertilizers, pesticides or herbicides and they are certified organic; solar panels provide almost 100 percent of the winery's electrical needs while generating an estimated $70,000 in savings each year. Its winemaking relies on wild yeast fermentation.
Here's a longer list of other Napa Green Certified Wineries: Alpha Omega Winery, Beringer Vineyards, Artesa Vineyards and Winery, Beaulieu Vineyard, Bouchaine Vineyards, Charles Krug Winery, Chimney Rock Winery, Cliff Lede Vineyards, Clos du Val, Cuvaison Estate Wines, Domaine Chandon, Duckhorn Vineyards, Etude Wines, Franciscan Estate Winery, Jarvis Estate, Judd's Hill Winery, Laura Michaels Wines, Merryvale Vineyards, Newton Vineyard, Pine Ridge Vineyards, Robert Mondavi Winery, Signorello Estate, St. Supery Estate Vineyards and Winery, Stags' Leap Winery, Trefethen Family Vineyards, William Hill Estate Winery.