Napa Valley's Fabulous Food Trucks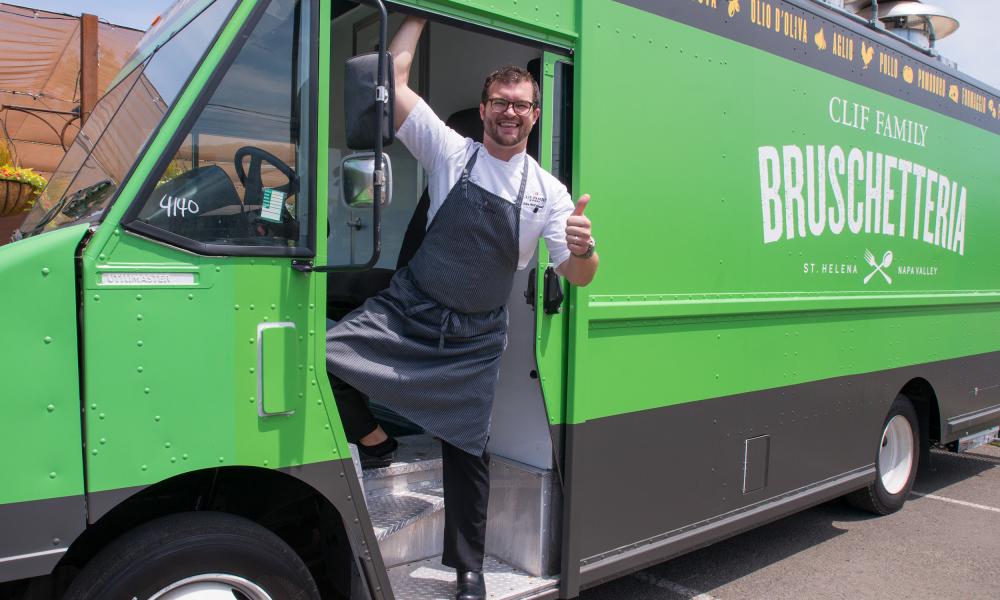 The food truck. When did it go from being a lunchtime staple for construction workers to an ultra-hip social event? No matter. Food trucks seem to be here to stay, and they're a great way to grab some excellent food without the time, hassle, or expense of a sit-down restaurant. As a world-renowned capital of food and wine, the Napa Valley has its share of these rolling eateries – some of which can be found at regular locations throughout the week, others that make appearances at outdoor concerts and other live events. Here are some of our favorites…
The Clif Family Winery launched its much-awaited Bruschetteria food truck on August 13. It's parked behind the Velo Vino patio Wednesdays through Sundays from 11 am to 5 pm. Executive Chef John McConnell (formerly of Terra Restaurant) serves a seasonal menu of bruschettas, spiedini, roast chicken, and farm-fresh salads. Order a meal to go or linger on the patio with a glass of Clif Family wine. (709 Main Street, St. Helena, 707-968-0625)
Cross Road Chicken does "Thursday Night Live" each week at Somerston Estate Vineyard and Winery. The truck features juicy wood-fired chicken, chicken-mozzarella sandwiches, slow-cooked pork sandwiches, Rancho Gordo heirloom BBQ beans, and roasted corn on the cob. (3450 Sage Canyon Road, St Helena, 707-967-8414, or crossroadchix@aol.com)
Phat Salads and Wraps offers a healthy alternative to fast food for a quick breakfast or lunch (8:30 am to 2:00 pm) in Napa. The truck serves a wide variety of salads and wraps with grilled chicken or steak, as well as a yummy spicy tortilla soup. On Tuesdays, the truck is located next to the library at Napa Valley College; other weekdays it's parked on Industrial Way off of California Blvd. (south of Trancas Street). And weekends it can be found at a variety of special events – check the website for details. (707-363-9658)
Napa Valley Crust makes a variety of wood-fired pizzas from its converted vintage truck, and offers salads, appetizers, and desserts. On September 7 it will be a participating vendor at Calistoga's Harvest Table; for other event dates, check out the website, call 707-396-1579, or email laprimapizza@aol.com.
Then there are the taco trucks, where locals claim you can get the best Mexican street food in the valley:
Tacos La Esperanza made USA Today's "Ten Best" list, and for good reason. It's parked on Soscol Avenue across from the Westin Hotel and Wine Train station every day. (707-246-4908)
Tacos Garcia is parked next to Pancha's dive bar in Yountville (6764 Washington Street) every Monday through Friday from 11 am to 9 pm. (707-980-4896)
La Gitana Taco Truck is open 9 am to 6 pm every day but Sunday and can be found at 1102 Tubbs Lane in northern Calistoga (about three miles north of Lincoln avenue on Highway 128/Foothill Blvd.). (707-541-8246)