Napa Valley Wine Tasting Rooms Open After 5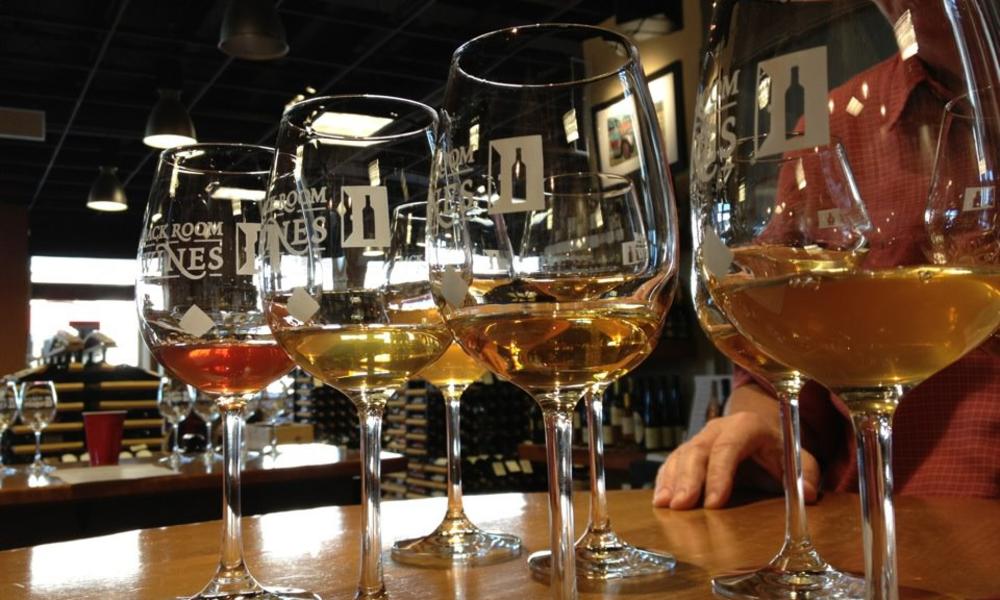 After a bliss-filled day of hot stone massage and trail trekking, you've certainly earned that glass of Napa Valley's finest. But while it may seem like it's always wine-o'clock in the valley, most wineries do close by 5 p.m.
Fret not; though it may take some searching, there are still many places to go to for a sip after 5 – this is wine country after all! A selection of wine bars double as full restaurants (with extensive wine menus, naturally) so you can enjoy fine seasonal cuisine with a variety of tastings. Here is a listing of our favorite wine spots open after 5 p.m.:
Wine Bars Open Past 5
Ma(i)sonry in Yountville
This tasting room slash art and design gallery features an outdoors sculpture garden in addition to its interior splendor. Enjoy an outside or inside seated tasting of a few of Ma(i)sonry's 20 different vintner partners and be sure to browse the design objects and fine art if you're in the mood for a one-of-a-kind souvenir. The last appointment at Ma(i)sonry on Friday and Saturday is at 5:30 p.m.
Jessup Cellars in Yountville
This tasting room is located on one of the main streets of Yountville within walking distance from hotels, restaurants, and shopping. And just across the street from Ma(i)sonry! Relax and taste wines in their spacious gallery amongst a rotating selection of fine art. Jessup is open daily until 6 p.m.
Uncorked at Oxbow in Napa
Across the street from the eclectic Oxbow Public Market, the Uncorked tasting room features arts and entertainment alongside barrel tastings and blending sessions. Open daily until 7:30 p.m., on Thursday and Friday they feature live music and stay open until 9:00 p.m.
PureCru in Napa
Pure Cru's tasting room is located in downtown Napa nestled in between two great restaurants, the Cal-Italian Oenotri and elevated sports bar Norman Rose Tavern. Get a delicious meal at either and stop in for a pre or post-dinner tasting. Open daily until 9 p.m. on weekdays and 11 p.m. on weekends.
Priest Ranch in Yountville
Taste through a selection of current releases at their bar or from a seat at a private table. In colder months, snuggle up with some wine in front of their fireplace. You can also enjoy chocolate and wine pairings or cheese & wine pairings. This Yountville tasting room is open daily until 7 p.m.
Velo Vino in St. Helena
This unique tasting room, with a quiet patio out back, located in St. Helena is where cycling meets wine. And food. And espresso. Enjoy one of a number of seasonal tastings and grab a few goodies from their food line, Gary & Kit's Napa Valley. Their newly launched cold-pressed olive oil is not-to-be missed! This tasting room is open until 6 p.m. daily in April-December and until 6 p.m. Friday through Sunday during the remainder of the year.
Back Room Wines
Nestled in downtown Napa is Back Room Wines, the fine wine shop and wine bar that is open until 7 p.m. daily. They specialize in "off the grid" wines that are harder to find, and feature weekly tasting events, wine and cheese, and have lots of wine and other liquor to purchase.
With Food
1313 Main
The 55 page wine menu at 1313 Main quite literally has something for everyone. They feature tasting flights, and wines by the glass or bottles. Enjoy bites or a full meal from their kitchen. They are open until 10 p.m. Sunday and Tuesday – Thursday and midnight Friday and Saturday, and closed on Monday.
Bounty Hunter Wine Bar & Smokin' BBQ
This wine bar, barbecue shop, and retail outpost is located in downtown Napa. Enjoy an extensive selection of wines by glass, flight, or bottle and be sure to pair it with the famed barbecue menu. The beer can chicken is a sight to see! Open Sunday- Thursday until 10:00 p.m. and until midnight on Friday and Saturday.