The Napa Valley Vine Trail Is Rolling Along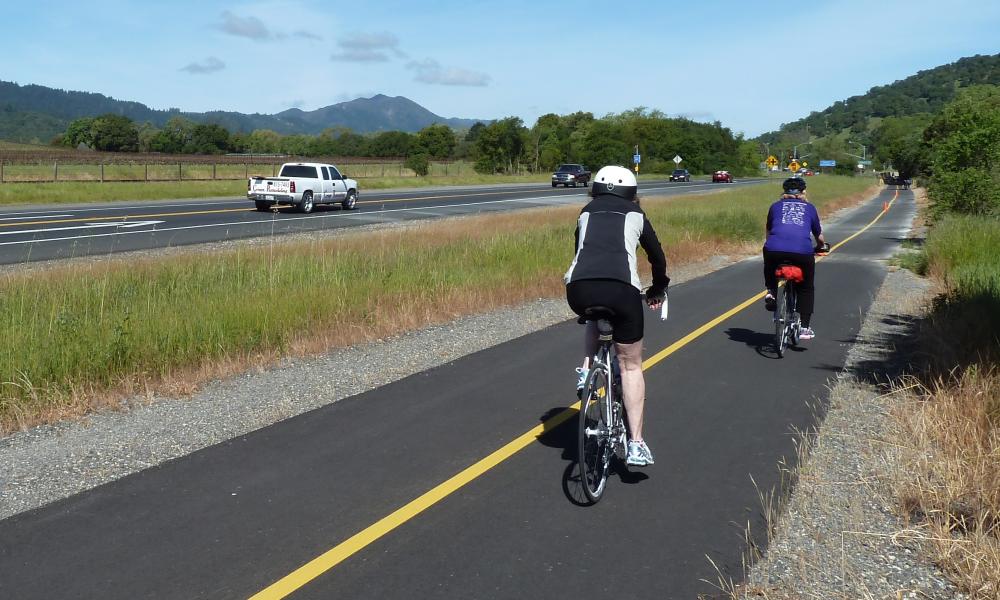 If you're a cyclist, a family, or just one who loves to walk, you should be following the progress of the Napa Valley Vine Trail Coalition – a local nonprofit whose vision is to build a walking/biking trail system to connect the entire Napa Valley. When it's completed, there will be 47 safe, continuous miles of level, paved, free-access trail stretching from Vallejo's ferry terminal to Calistoga – meaning that, if you take the ferry, you can go from San Francisco to Calistoga without a car. Pretty amazing, huh?
Right now, the southern portion of the trail extends from Trancas Avenue/Highway 29 southeast through Napa, along the Wine Train tracks to Soscol Avenue, and then south along the river to Kennedy Park (near Napa Valley College). There's also a short, quarter-mile section open in Yountville. A new Napa section, due to open in May 2016, is under construction from Kennedy Park to west Third Street, and a beautiful bridge was just installed in October. Soon, there will be 12 miles of continuous trail running from Kennedy Park to Oak Knoll Road in northern Napa. And by 2019, there will be another 9.5 continuous miles from St. Helena to Calistoga.
The Vine Trail Coalition is doing a great job of both private and public fundraising – it just received a $6.1-million grant from the Metropolitan Transportation Commission. It also welcomes gifts from individuals, of course, and its Footprints campaign enables donors to buy engraved aluminum footprints to be installed at one of four rest stops along the Vine Trail.
In the meantime, cycling and walking are still an amazing way to experience the Napa Valley. Traffic along Highway 29 is improving – changes in bus routes have led to an increase of ridership by 20 percent, decreasing the cars along that heavily traveled route.
Don't want to lug your bike to the Napa Valley? Here are a few key bicycle rental places throughout the valley:
Napa River Velo – (707)258-8729; 680 Main Street, Napa.
Napa Valley Bike Tours & Rentals – (707)251-8687; 6500 Washington Street, Yountville.
St. Helena Cyclery – (707)963-7736; 1156 Main Street, St. Helena.
Calistoga Bikeshop (707)942-9687; 1318 Lincoln Avenue, Calistoga.