Napa Valley Meets Morocco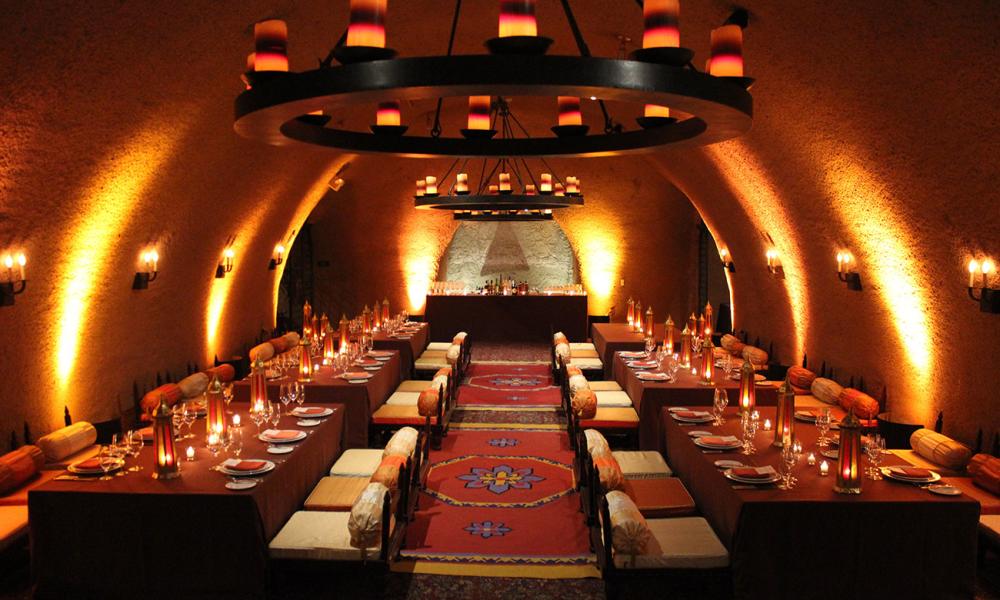 This weekend, March 13-15, Palais Namaskar, a renowned five-star retreat in Marrakesh, is coming to Auberge du Soleil, Solage Calistoga, and Calistoga Ranch for an inaugural culinary series of "Napa Valley meets Morocco" events!
Namaskar's culinary team, led by Executive Chef Antoine Perray, will offer a passport to Morocco through collaborating with Michelin-starred Chefs Robert Curry (Auberge du Soleil) and Brandon Sharp (Solage Calistoga), as well as with Chef Aaron Meneghelli of Calistoga Ranch. The events are as follows:
March 13: Moroccan Mezze Reception at Auberge du Soleil – Chefs Robert Curry and Antoine Perray will prepare an elegant, five-course dinner where French Moroccan meets California cuisine. The menu includes canapés such as falafel with yogurt tzatziki with main course options including confit-spiced pumpkin with duck liver emulsion, and spiced lamb saddle with an organic carrot-and-cumin puree and orange reduction. Auberge du Soleil's Wine Director, Kris Margerum, will pair the dinner with wines from both Napa Valley and Morocco.
March 14: Tagine at Solage Calistoga – Solbar's Michelin-starred Executive Chef Brand Sharp and Chef Perray will lead an interactive cooking class on tagine. Guests will create their own tagines to be cooked by the culinary team, with dinner served in Michelin-starred Solbar. Special guests will pour Moroccan and Napa Valley wines. Added bonus: guests will receive their own tagine to take home, compliments of Le Creuset.
March 15: Moroccan Gala Dinner in the Calistoga Ranch Wine Cave – Calistoga Ranch will transform its Wine Cave into a glamorous evening in Morocco. Belly dancers, indigenous spices, argan oil, and fresh vegetables from the region will bring a festive ambiance, while all four chefs will join forces to prepare dishes indigenous to both Morocco and California, such as chachouka, zaalouk, cheese and truffle briouat, and tafernout bread.
Each resort will complement the food-and-wine experiences with Moroccan-themed activities, including belly dancing lessons and a six-step Moroccan Hammam spa treatment at Calistoga Ranch, while specially priced 2- and 3-day room packages are available at all three resorts. Even Calistoga Ranch, usually open only to resort guests, will be open to the public for the finale gala dinner in the wine cave on March 15th. Tickets to the events and additional details are available at www.aubergeresorts.com