Napa Valley Beer – Not Just Wine Country Anymore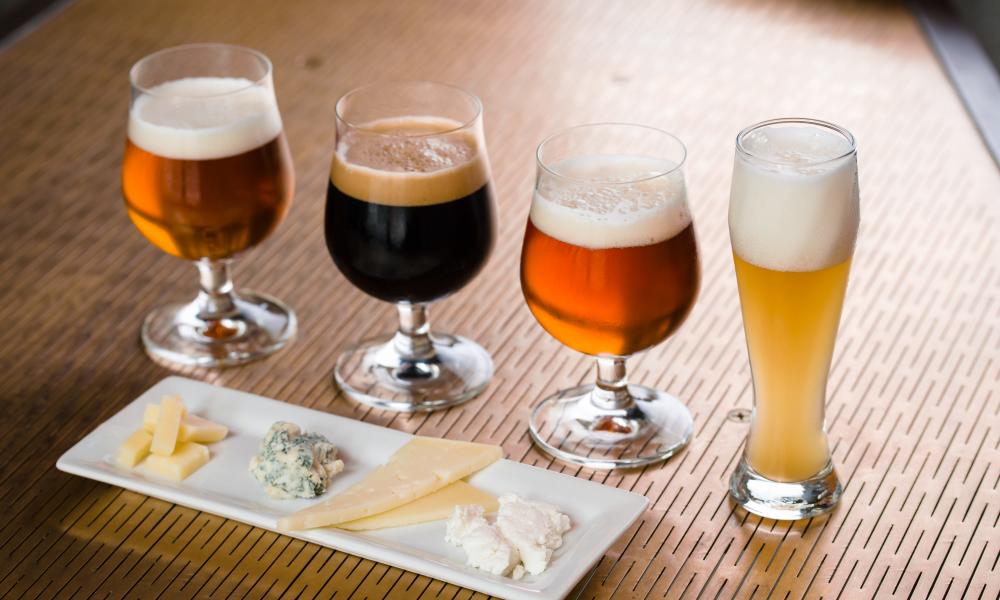 Sure, we know that the Napa Valley is ground zero for world-famous Cabernets and Chardonnays. But if you're interested in trying something a little different, you might be interested to know that it's also the breeding ground for a host of new artisanal breweries and restaurants with extensive beer lists. If you're into craft beer, here are a few spots to put on your itinerary:
Restaurants in Napa
Carpe Diem – This restaurant features a casual-but-sophisticated menu of shared-plate items, which can be paired for you with proprietary beers from the Carpe Diem Brewing Company.
Norman Rose Tavern – You can find this spot in an old bank building in the West End district, with a classic pub vibe. The Tavern offers an extensive selection of beers, both by the bottle and on tap, featuring many of the North Coast's microbreweries. The menu is comfort-centric.
Bounty Hunter – Here you'll find an extensive, international list of lagers, draughts, and ales. Pair them with some killer barbecue, a Bounty Hunter specialty, and you're good to go.
Silo's – Tucked into the historic Riverfront complex, this popular eatery features a wide selection of craft beers and live music every night.
Morimoto – There's no better pairing than beer and sushi. At this Napa restaurant you'll have your choice of ten local and imported beers – including four of Morimoto's own labels – as well as four beers on tap.
Hop Creek – Located in Brown's Valley, west of downtown Napa, this casual gastro-pub features a locally sourced menu coupled with a very long list of both draft and bottled craft beers.
Downtown Joe's Brewery & Restaurant – This Napa favorite complements its comfort-food menu with its own brews, mostly ale-styled. Interesting trivia: The man who built its brewery was Chuck Ankeny, the great-grandson of Theodore Hamm of Milwaukee.
Napa Palisades Saloon – Also located near the Napa River, this saloon offers a huge selection of IPAs and other brews on tap, as well as by the bottle. Its menu features an eclectic variety of hearty burgers, farm-fresh salads, bar snacks, and sides.
Breweries
Napa Smith Brewing Company – Stop in here for a pint and a game of darts. Napa Smith is the county's only production brewery with an onsite tasting brewpub. Craft brewer Don Barkley has made craft beer at the legendary New Albion Brewery and co- founded Mendocino Brewing Company, where he created legendary beers like Red Tail Ale and Eye of the Hawk. The brewpub offers flights of ten brews on tap: Organic IPA, Lost Dog, Bonfire, Cool Brew, Crush Beer, Amber ale, Pale Ale, Wheat Beer, and Pilsner.
St. Clair Brown Winery – This Napa winery is currently building a micro-brewery that will include a ten-barrel, all-grain system which will make up to 300 gallons of beer per day. Its small lot, hand-crafted beers will be brewed fresh daily and piped directly from the finishing tanks to taps at the bar. You can also get "growlers" (jugs) and kegs to go.
Tannery Bend Beerworks – Slated to open in winter 2016, this tiny brewery will feature a unique beer/food collaboration between a brewer and a chef. The "nano-brewery" and tasting room will be housed in a 1,500-square-foot space that will accommodate 25 people with ten bar seats. Each batch of beer overseen by brewmaster Matt Cromwell will total just 15 gallons.
Mad Fritz Beer – This young brewery (founded in 2014) can be found on an industrial side street in St. Helena. Brewmaster Nile Zacherle uses Napa Valley-sourced waters from artesian springs and aquifers; single-variety barleys that are custom craft-malted; and locally grown hops that are farmed using organic and biodynamic principles. For a tasting appointment, call 707-968-5058.
Calistoga Inn & Brewery –The Calistoga Inn was the first place to brew beer commercially in Napa County since the days of Prohibition. It brews four principle beers year-round, as well as seasonal beers, all sold exclusively at the Inn. Stop by for a tour of its seven-barrel, gas-fired brewhouse (call ahead for an appointment: 707-942-4101) or just to enjoy a pint or tasting at the bar or on the pretty patio.
Photo credit: Bob McClenahan