Napa Valley's Arts in April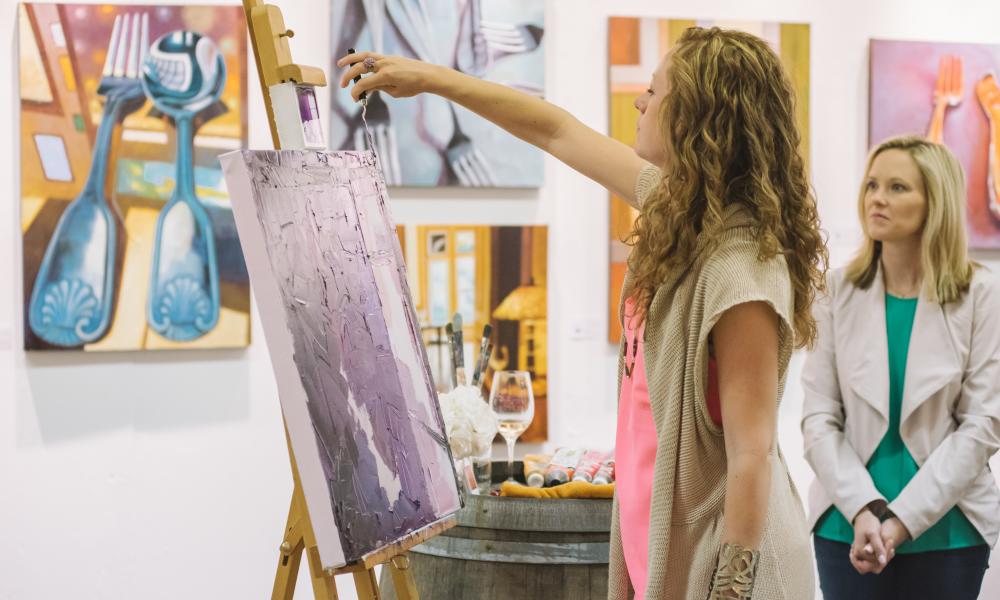 T.S. Eliot wrote that "April is the cruelest month," but in the Napa Valley, it could be called the coolest month. That's because the eighth-annual Arts in April festival will fill the entire county with art fairs and exhibitions, live music and theatre performances, storytelling, culinary arts, and hands-on activities. It's a production of Arts Council Napa Valley with major support from Visit Napa Valley and the County of Napa.
In addition to events at wineries, museums, and galleries, the valley will host four events celebrating the unique cultural landscape of each of its four main towns – Napa, Yountville, St. Helena, and Calistoga. The festival officially kicks off on April 6, 2018 with a Friday-night preview party for the fourth annual ENGAGE Art Fair at Calistoga's Napa County Fairgrounds. 
Here's just a small glimpse of all the artiness planned for the month of April. For a full roster of the month's events, visit ArtsinApril.com.
"First Street Napa: Artist Alley" in Napa. When you visit downtown Napa's newest addition, First Street Napa, you'll get a preview of what this in-progress outdoor shopping and dining destination will offer. Eight large-scale murals and art installations from artists across the Bay Area, as well as live performances throughout the day, give the new neighborhood the feel of a European street fair. There's also wine tasting, three nearby restaurants, the new boutique Archer Hotel, and several new shops to browse. Saturday, April 21, from 2 to 6pm.
"Art, Sip & Stroll" in Yountville. What better way to experience this charming, mid-valley town? Washington Street will be alive with more than 40 artists' booths, ten wineries and tasting rooms, live music in the parks and the plaza, and a food truck roundup at Van De Leur Park. Visit ArtSipStroll.com. Saturday, April 28 from 11am to 5pm.
"Arts in the Streets" in St. Helena. Lyman Park will come alive with Arts in the Streets, celebrating St. Helena' s modern and multicultural identity. In the spirit of this theme, there will be community interactive art from Nimbus Arts for children and adults, short play performances from the Valley Players, poetry from Napa County's Poet Laureate Jeremy Benson, and music from local bands across the valley. Saturday, April 14 from 1pm to 4pm.                                                                                                                    
"Sarafornia: Art, Music, Food Wine" in Calistoga. This four-day grassroots celebration will include the annual kickoff preview party, ENGAGE Art Fair, and other arts and culture programs that highlight the town's bohemian spirit. Additional details are at visitcalistoga.com/arts-in-april. Thursday through Sunday, April 5 through 8.