Napa, it's personal …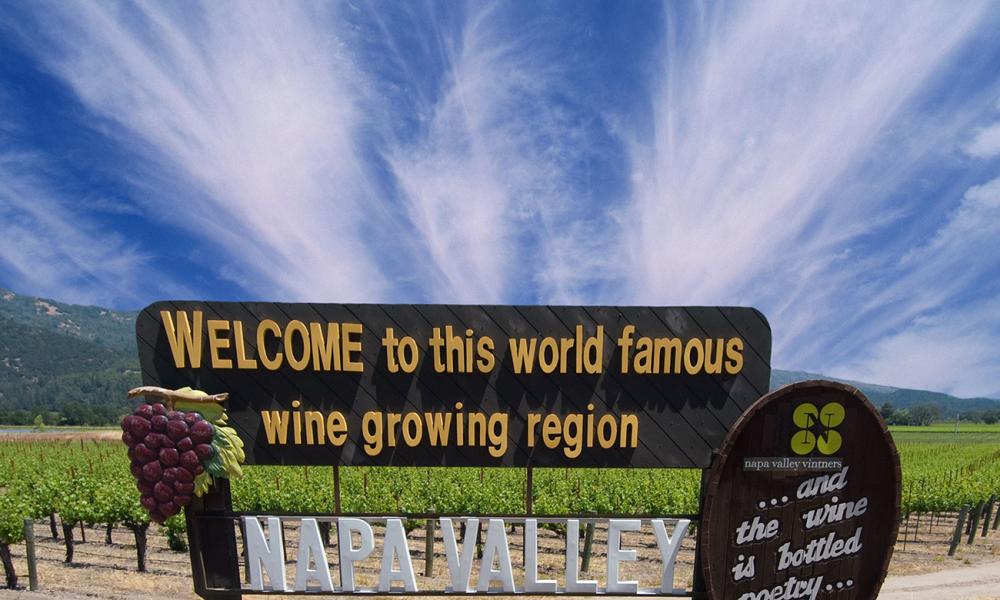 Blogs are meant to be personal but I have a feeling this one should probably come with a health warning: 'DANGER, winelover falls head over heels'. My brief encounter with the Napa has left me a little breathless and greatly inspired. It has provoked an emotional response which I express here, warts and all, in the knowledge that I will return to the hard facts, figures and entirely serious analysis MW-style all too soon.
This therefore, is but a snapshot of visits I made over a desperately short 3 days. Thanks to the overwhelming generosity of the people I met during my visits, I have a full notebook of study facts for which I am extremely grateful. The impressions below are snippets of my thoughts as I left the valley and record the visits in the order in which I made them.
I live and work in a very beautiful wine region, on the banks of Bordeaux's Dordogne river. And although I never take it for granted, often finding myself stopping the car on my way to work to take photos of the vineyards (I have literally 100s of them), you would have thought I would be used to beauty. Napa however, got me; hook, line and sinker. It had me at its 'WELCOME' sign.
A total coup de foudre. How could it not. It was entirely irresistible in its autumn majesty.
Flamingo trees, vineyards burning bejeweled – no real fires thank goodness despite the tinderbox dryness, but row after row of incandescent ruby, pumpkin orange, saffron yellow and luminous gold. My jaded jet-lagged eyes were irradiated by the glory – no photo could ever have done the colors justice.
I began at Spottswoode, welcomed by Beth Novak Milliken in the early evening dusk, a haven of gentle homeland hospitality. I patted beautiful dogs and watched them chasing squirrels up a tree. I met Aron and Landon, level-headed winemakers, immensely calm in the face of my incessant questions. Their pursuit of balance is evident in everything they said and in the wines themselves. And so fundamentally modest – 100 points recently awarded from Parker was the very last thing I learned about the 2010 Spottswoode Estate Cabernet Sauvignon, not the first. How immensely thoughtful to allow me to discover the wine for myself, enjoy its inherent freshness, velvety tannins stretched taut across it black fruited spice and piquant vanilla core, before letting on that Bob happened to rather like it too!
The following morning saw me framed at Raymond. This is indeed a winery experience like no other.
Visceral, playful, not exactly shocking, quite, but distracting to old European eyes in its labyrinth of sensual rooms. The herb garden introductory walk is a stroke of genius. I wandered past trapeze-swinging mannequins, space-suited wannabe winemakers, dog kennels for the beloved pooch, red velvet saloon and leopard skin print carpets, barrel libraries and crystal chandeliers, glass in hand tasting immensely seductive, sweet-kernelled 2012 wines from St Helena, Rutherford and flagship Generations blend. Well, you try explaining it! And isn't that entirely the point; Raymond is all about you, your pleasure, your enjoyment, your fun, just as it is all about Jean-Charles Boisset and his vision. Mutual joie de vivre, mutual gratification, mutual respect.
All that hedonism drove me up the tree-lined avenue to Opus One. Back to Bordeaux? Yes and no. Queenbee-hive like attracting and welcoming swarms of visitors, I was one of at least 50 in the 2 hours I spent there. The experience here is one of supreme elegance, smooth as silk, both opulent and restrained, both grounded and ethereal, and the 2007 and 2010 vintage wines I so enjoyed and respected there, reflect their surroundings perfectly. As David Pearson says, Opus started with no canvas, no estate, no vineyard. It was therefore entirely up to the owners to be free to chase an ideal, it still is, and though now grounded in land and beautiful bricks, there is a feeling that it has arrived exactly where it was heading. How philosophically brilliant, what a feat of grand vision, but no less than to be expected from such men as its founding fathers Robert Mondavi and Baron Philip de Rothschild.
I climbed the mountain to Chappellet as evening fell once again. The view from the vineyards overlooking the lake, drawing the eye to Mount St Helena at sunset is nothing short of soul food.
There is peace to be found here. This is a place of kindness and beautifully concentrated, layered wines, sweet spice and pure fruit. I love the Chenin Blanc story, planted and made for Molly despite taking up prime valuable Cabernet Sauvignon territory. It embodies the concept of 'Do it because you love it, create because you can, but whatever you do, do it well, do it beautifully'. I ended the day with the Pritchard's Hill Cabernet Sauvignon 2009 which was savory and lightly sweet-spiced, beautifully balanced and so very young and graceful still.
My last day took me to Inglenook. This is a place full of benign ghosts; I found it an overwhelmingly emotional experience. My host, the ultimate 'raconteur', Harold, took me on a 3-hour epic journey through time. I was spellbound by the passionate history of land gained, lost and regained, a name misplaced and now reinstated, a quality always inherent yet in need of rediscovery – a haunting tale. There is history here; families honored, the past treasured. There is an exquisite eye for detail – just look next time at the wording on the cork of Edizione Pennino. There is power here, breath-catching and slightly overwhelming. I imagine that is exactly the feeling I would have if I met its owner, Francis Ford Coppola. The Blancaneaux is a powerful knock-out, Rubicon is a revelation, 'a wine to talk back to' as Harold neatly put it, engendering both dialogue and awed silence.
Talking of silence, then there was Bond – oh my, Bond. The line-up here literally left me speechless. The wines floored me in their complexity at first, then had me gabbling at my host Chris, grasping at stilted vocabulary to define, explore, explain, analyze, express. The wines resonate. So yes, this was special for me. Eyrie-like, private, a magical recess of rolling valley vineyards – Melbury, Quella, St Eden, Vecina and Pluribus – eclectic, evocative, powerful characters, profoundly pure expressions of fruit, seamless and timeless tannins. One is gentle, one explosive, one insanely opulent, one utterly charming the other vibrantly headstrong. Gabbling and grasping as I said …
I left the Napa believing that what I had tasted and seen was winemaking reflecting total ownership. Land, climate, soil, water, varietal, all the elements of that hallowed 'terroir' word are honored here, but there are no slaves to it. This is no European stewardship, this is the land of the free. It strikes me that the Napa is doing exactly what it wants to do. I was expecting some emulation, I was expecting to recognize profiles, enjoy the 'l'hommage a', compare to elsewhere, but what I experienced was total individuality. What I tasted was intensely personal, owned, defined, motivated by the pursuit of ephemeral old world excellence, but transcending any formula and going well beyond the established benchmarks. And it's refreshingly, not just about the wines and their owners. It's about you as well, your personal experience is important. The privilege of visiting and tasting is reciprocated in the Napa. What I know for sure is that the places I visited and the wines I tasted are wines to fall in love with, they are special and the rest of the world needs to know more about them.
—
EDITORIAL NOTE: This post was written by Clare Tooley about her visit to the Napa Valley. Follow Clare on twitter @ClareT_y