Meadowood's New Spa Pampers All the Senses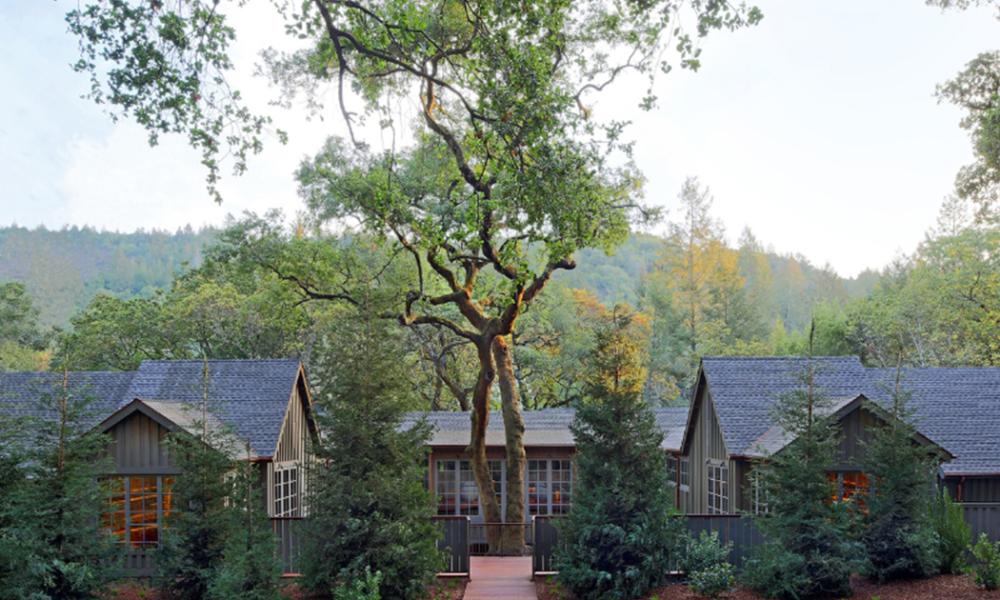 If you're like me and two of your favorite words are "sensual" and "luxury," then you'll want to run, not walk, to the brand new Meadowood Spa at the renowned Relais & Chateaux resort. Meadowood Napa Valley recently conducted a $60-million property-wide renovation, which included redesigned guest rooms and a fully renovated nine-hole golf course. But the real star is the new, free-standing spa, which opened to guests and members on November 2.
Designed by celeb architect Howard Backen and his team at Backen, Gillam & Kroeger Architects and interior designer Leslie Hemmings, the new structure clings to a woodsy hillside and blends in with the natural landscape: rustic-modern lines in a palette of warm grays, muted browns, greens, and black. The simple upholstered furniture is covered in natural flax textured linen and earthy leather. And artisanal items include handmade pottery, silk Tibetan rugs, and hand-woven tapestries. The U-shaped building circles an ancient oak tree, with nature-inspired fountains of wood, steel, and stone lining the treatment area walkways.
Each of the eight treatment suites includes a private bathroom and steam shower, and the comfy lounge area has sliding windows that look out to forested views. Two relaxation gardens – one for women, one for men – each features a sitting area, steam room, sauna, and mineral soaking pool.
In planning the treatment concept, Meadowood consulted with spa and wellness experts to create a "true wellness journey" for its guests. This includes an in-depth conversation with a spa therapist to determine a curated treatment plan for each individual. The all-suite concept means that guests don't need to move around the facility, but receive all their treatments in the privacy of their own suites.
Treatments begin at $225 and packages – which include lunch and private relaxation time in the suite – range from $595 to $1,235. These range from The Essential Journey – a 90-minute experience that includes a wellness dialogue with your treatment provider plus a massage, facial or body treatment – to the five-and-half-hour Meadowood Curated Collection. The culinary menu is supervised by Meadowood Grill Chef Victoria Acosta and features farm-to-table produce from the resort's own garden. And finally, if you have the energy to shop after all that pampering, the Spa Boutique and Estate Boutique showcase a range of luxury items from beauty lines, cosmetics, and fragrances to cashmere, leather, and jewelry.
Sign me up.