A Local Ghost Tour and Other Spirited Valley Venues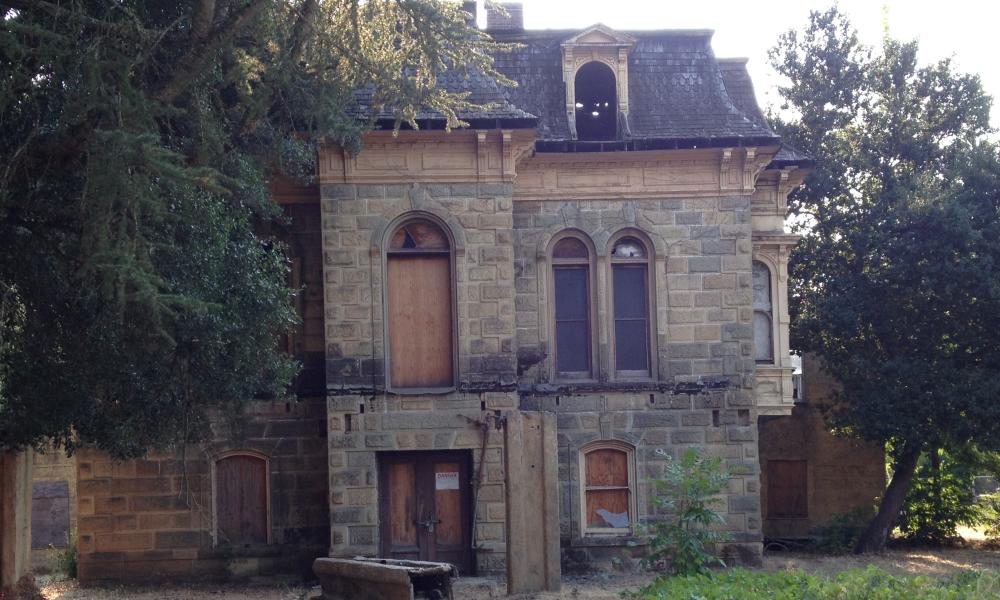 Here's a perfect way to spend All Saints' Day or, in the Hispanic tradition, Día de los Muertos: On November 1, the Napa County Historical Society will offer its first-ever Downtown Napa Ghost Tour, visiting the "sites of ghastly murders, mayhem, and mischief." The tour includes a stop at a local "saloon" for drinks and snacks to sustain you during any spooky encounters.
Costumes are encouraged. November 1 at 5:30 pm; participants must be 18 or older; tour price is $30/person. There are also regular tours offered for groups through Napa City Ghosts and Legends Walking Tours.
Castello di Amorosa in Calistoga is also offering three-hour ghost tours and tastings every Wednesday evening from 5:30 pm to 8:30 pm through November, by reservation only, and include a flight of six premium Italian-style wines. The Castello itself is only seven years old, but many of the materials used to construct the 13th-century-inspired Tuscan castle date back centuries, and it's said that many of the stories and spirits attached to them have been carried from Europe to the Napa Valley. The tours are run by Napa City Ghosts & Legends, a local paranormal researching group. Cost is $75/person, or $60/person for club members. (Note that this tour and tasting experience is limited to those 21 and older.) Call 707-967-6272 for reservations, or go to the website.
In fact, there have been ghostly sightings up and down the valley, and many of the resident ghosts are simply accepted by locals today. Here are a few locations of the most commonly reported apparitions.
The Uptown Theater (1350 Third Street, Napa) – This classic movie house was recently renovated, but it's still hospitable to two ghosts – one a former actress who died on the stage steps when she fell and hit her head, the other a crotchety old man who continues to yell and shove unsuspecting visitors.
Napa River Inn (500 Main Street, Napa) – This old brick building is reported to be one of the most haunted places in the wine country, and has been featured in the national press for its apparitions and unexplained phenomena.
Stags' Leap Wine Cellars (6150 Silverado Trail, Napa) – The winery's manor house dates from 1893 and reportedly is inhabited by a teenaged boy and a former prostitute. Apparently, at some point during its history, the structure was some kind of convalescent facility.
Inglenook Winery (1991 St. Helena Highway, Rutherford) – Originally known as Inglenook, then Neibaum Coppola, then Rubicon Estate, and now returned to its original name, Inglenook is owned by Francis Ford Coppola and is considered one of the five great historic wineries in the valley. It's still home to the spirits of two of the area's greatest winemakers – Inglenook's founder, Gustave Niebaum, and John Daniels, who took over the winery in 1936.
Napa River Bridge (Zinfandel Lane at Silverado Trail, St. Helena) – The current bridge dates from 1913 and has been the site of many accidents. There have been frequent reports of a partial apparition of a young girl standing at the south rail in the early evenings. Apparently a young girl died here in the 1930s when she jumped into the river from this bridge and fatally hit her head.
Private Residence (1300 Cedar Street, Calistoga) – Originally built in 1871 by Judge Augustus Palmer for his new bride, this house has variously been a private home, a bordello, a bed-and-breakfast, and now a private residence again. The most frequent ghosts spotted have been Mrs. Palmer (who died just two years after the house was built); the bordello's madam; a servant named Ruby; Judge Palmer himself who is often found reading a newspaper in the parlor, and two barefoot boys running on the lawn only to disappear into thin air. (Please do not disturb the occupants of this private home.)
For more haunted venues, or for the full stories of the places mentioned above, read Jeff Dwyer's excellent book, Ghost Hunter's Guide to California's Wine Country.