Live Holiday Entertainment: From the Nutcracker to the Blues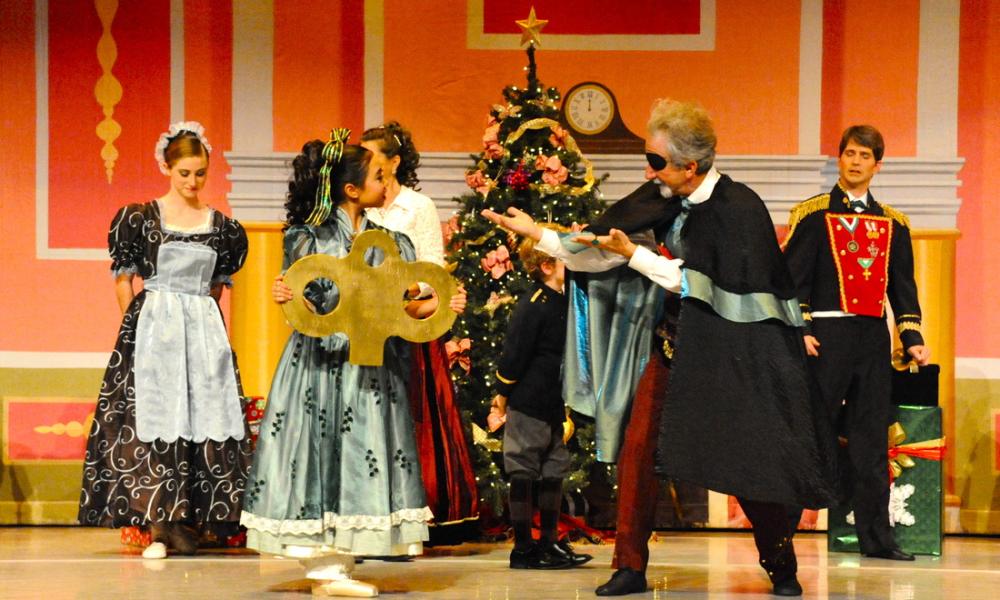 Every Christmas season when I was a child, my mother would take me to San Francisco, where we would tour the shop windows at Union Square, have lunch at the Top of the Mark (ordering Napoleons from the pastry cart for dessert), and then attend the Nutcracker ballet at the Opera House. It rivaled my birthday as my favorite day of the entire year. About thirty years later, I did the same with my own kids, and the joy of sharing that childhood tradition was possibly even more fun than experiencing it myself as a child.
I suspect that's true for most holiday performances – parents want to relive their own memories through their children's eyes. Or perhaps they want to give them the childhood they'd wished for themselves. I'll never hear Tchaikovsky's symphony without momentarily turning into a six-year-old (and craving a Napoleon).
So, good news if you plan to be in the Napa Valley this December, with or without kids. There's a whole variety of live entertainment bound to fill you with the holiday spirit:
The Nutcracker – The Napa Regional Dance Company presents its 14th-annual production of this beloved holiday tradition. The Saturday evening performance will be performed live by the Symphony Orchestra of Northern California. The Lincoln Theater, Yountville. Saturday, December 20 at 2 pm and 7 pm, and Sunday December 21 at 2 pm. Tickets are $25 to $35.
Amadeus and Merry Mozart Celebration – Come party like it's 1775! Celebrate the 30th anniversary of the 1984 film Amadeus with a Merry Mozart party featuring live music, seasonal drinks, and holiday appetizers. There will be a special appearance by legendary conductor and the film's music supervisor Sir Neville Marriner, sharing the backstory of this "Best Picture" Oscar-winner. A screening of the film Amadeus follows. The Lincoln Theater, Yountville. Saturday, December 13 at 6 pm. Tickets $50/person.
Sir Neville Marriner Conducts Mozart – The Mozart love-fest continues with a spectacular "Amadeus" orchestral concert. Sir Neville Marriner, founder of the famed Academy of St. Martins in the Fields Orchestra (which performed the original film soundtrack under his direction), will conduct Symphony Napa Valley in a performance of music from the film and other Mozart master-works. The concert also stars internationally renowned violinist Dmitry Sitkovetsky. The Lincoln Theater, Yountville. Sunday, December 14 at 3 pm. Tickets are $35 to $85.
Merle Haggard – If sugarplum fairies aren't your thing, how about a country western legend? Merle Haggard has scored no less than 39 number-one country hits; won various Grammy, CMA, and ACM awards; become the only California-born artist in the Country Music Hall of Fame; and been the only country musician invited to perform at the White House and serve time in San Quentin Penitentiary. The Uptown Theater, Napa. Friday, December 12 at 8 pm. Tickets $65 to $105. (For ages 12 and over; under 16 must be accompanied by an adult.)
The Robert Cray Band – Or how about a rock-blues icon to get you into the holiday spirit? Robert Cray is considered "one of the greatest guitarists of his generation," having recorded sixteen Billboard-charting studio albums and written or performed with everyone from Eric Clapton and Stevie Ray Vaughan to Bonnie Raitt and John Lee Hooker. He was inducted into the Blues Hall of Fame in 2011 at the age of 57, making him one of the youngest living legends to receive that honor. The Uptown Theater, Napa. Saturday, December 13 at 8 pm. Tickets $45 to $75. (For ages 12 and over; under 16 must be accompanied by an adult.)