Home is Where the Art Is: Napa Valley Galleries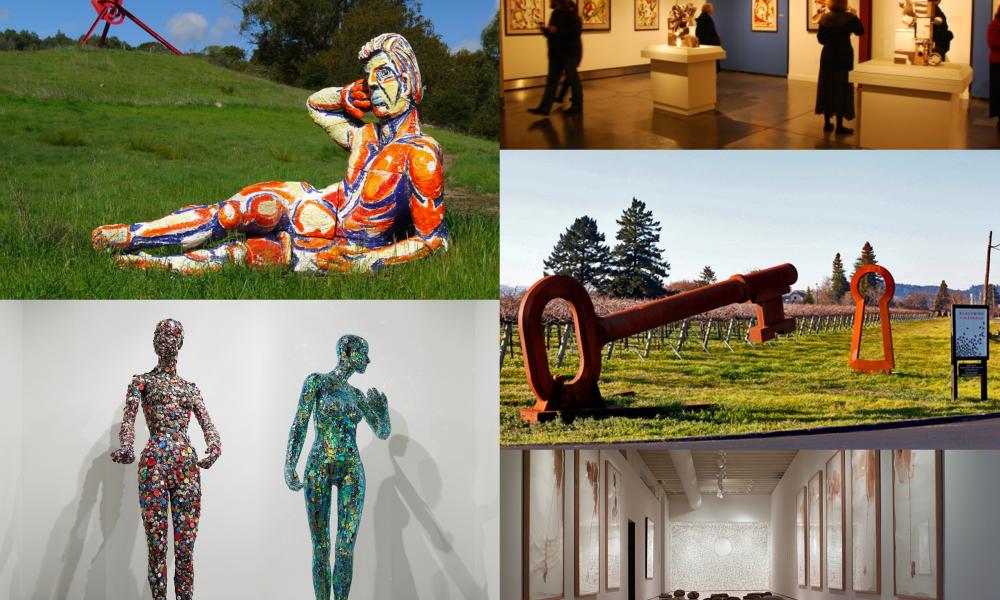 From the south of France to the Hudson River, artists have traditionally gathered in places that are rich in natural beauty and clear light. Is it any surprise that the Napa Valley has attracted painters, photographers, and other visual artists for more than a century?
For art lovers, there's an abundance of galleries and other resources to explore during a visit to the Napa Valley. A number of wineries – including The Hess Collection, Artesa, St. Supery, and Markham – have permanent or rotating exhibits. In Napa, explore Artists of the Valley on First Street, the Grand Hand Gallery on Main Street, or visit Tannery Row, on Coombs Street just south of downtown Napa. This site, origin of the famous "Nappa leather" – is now home to a colony of working artists' studios. The Jessel Gallery and Gordon Heuther Studio are an easy drive from downtown.
In Yountville, there are at least eight galleries along Washington Street and in V Marketplace, including Gallery 1870, Ma(i)sonry, and Blue Heron Gallery. St. Helena's Main Street is home to four galleries, including I. Wolk, Caldwell Snyder, and Christopher Hill. And Calistoga's Lincoln Street features eight galleries, including the Carmel Gallery, Lee Youngman Galleries, and the Gallery at Indian Springs. Also check out Ca'Toga Galleria d'Arte on Cedar Street (half a block from Lincoln). And the Calistoga Art Center (1435 N. Oak Street, near the Fairgrounds) showcases lots of local artistic talent. (For a full list of local galleries, go to The Napa Valley Collection.)
I recently asked an artist friend what particular qualities drew her to this valley from an artistic standpoint. She thought for a moment and said, "The light, of course. And the seasonal changes, which affect the palette. We're surrounded by beauty every day – although many local artists don't paint the literal landscape, the texture of the rural environment shows up in the work of everyone living here."
I also spoke with Olivia Everett, president and CEO of Arts Council Napa Valley. She had a broader view of the local arts community. "Many artists who've moved here from New York or L.A. talk about the value of having a really sophisticated arts community, but at a totally different pace," she said. "They love being near a major metropolitan art center like San Francisco, but in an agrarian environment with more natural beauty. The slower pace here means that everyone has a heightened sense of the beauty around us. And there is a rich source of available materials – like old machinery and farm equipment – that give texture and a sense of history."
Photo credit:
Arena Galleries at Ma(i)sonry
Gordon Heuther Studio
di Rosa
The Hess Collection
Napa Valley Museum